What's Changed: 2017 Gartner Magic Quadrant for Master Data Management Solutions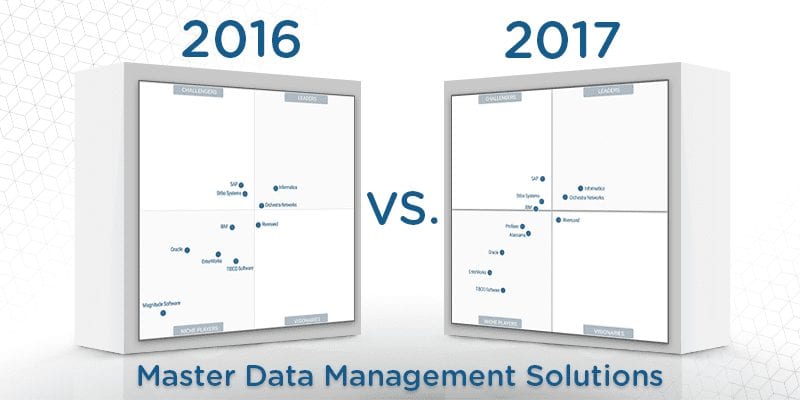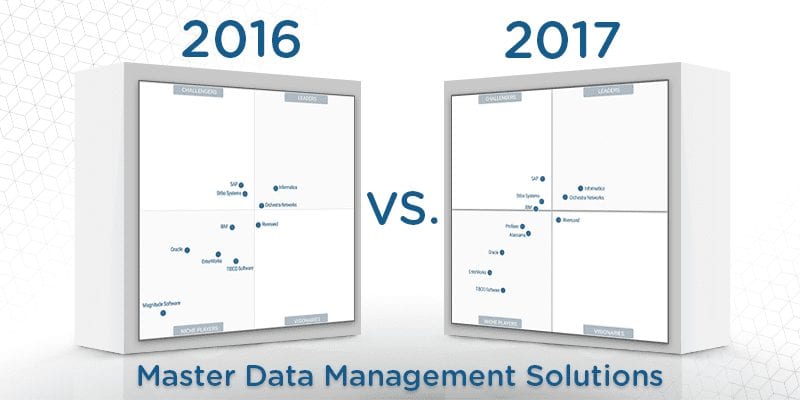 Analyst house Gartner, Inc. has officially released its 2017 Magic Quadrant for Master Data Management Solutions. The report describes this market as moving toward all-encompassing products because organizations need to utilize master data management capabilities in settings outside traditional master data. Gartner defines MDM solutions as software products that "support the global identification, linking, and synchronization of master data across heterogeneous data sources." They allow users to create and manage a centralized system of index, deliver subject areas to stakeholders, and support data governance requirements as well.
This marketplace is driven by buyer evaluations that are based on a single domain, usually pertaining to customer or product data. Gartner identifies that this software space is beginning to reveal a long-term trajectory, adding: "It is becoming clearer in the minds of clients that their organization's most important information assets — which must be governed and made trustworthy — include master data." The researcher describes MDM as an "integral but not high-profile part of an organization's overall information management and governance strategy." However, enterprise companies continue to seek out MDM tools to support current master data needs, as well as their overarching data management frameworks.
Master data is made up of essential company-wide data points. This data typically provides insight related to to the core of the business, including customers, suppliers, accounts, employees, goals, and operations. Decisions about what constitutes as master data are made by management teams and business stakeholders. Once these data standards have been met, users can analyze the data as they need to identify key metrics that reveal areas of concern so appropriate actions can be taken to improve operations.
In this Magic Quadrant, Gartner evaluates the strengths and weaknesses of 11 providers that it considers most significant in the marketplace, and provides readers with a graph (the Magic Quadrant) plotting the vendors based on their ability to execute and their completeness of vision. The graph is divided into four quadrants: niche players, challengers, visionaries, and leaders. At Solutions Review, we read the report, available here, and pulled out the key takeaways.
Ataccama and Profisee are the only new providers included in this year's Magic Quadrant. Magnitude Software was axed for no longer meeting the criteria for inclusion.
For the second-straight year, Informatica and Orchestra Networks make up the class of this software space. Neither provider saw much movement in standing while the two battle it out in the lower-left sector of the leader's column. Informatica touts perhaps the most complete data management portfolio of any provider in the world, and has continued to pump resources into its MDM platform and industry solution accelerators. Orchestra Networks offers an integrated product that scored well in Gartner's customer reference survey. The company saw its revenue grow more than 22 percent in 2016.
The challengers bracket is inhabited by SAP, Stibo Systems, and IBM, who made a sizable jump from its position amongst the niche players in 2016. SAP saw its vertical standing for ability to execute regress slightly, and will continue to battle it out with Stibo Systems for the top spot in this column in the year ahead. A slight gust of eastwardly wind might be enough to push one or both of these vendors into the leaders quadrant next year. IBM's upgrade came as a result of its domain-specific product depth, as well as its expansive data integration and governance platform.
Keeping on theme, Riversand remains the lone market visionary in the space. Outside of a slight uptick in its horizontal completeness of vision placement, its standing is basically identical. The company has shifted its focus a bit in recent months, now zoning in on "a more multi-domain product and marketing position." Riversand's year over year reference customer scores show improvement across all of Gartner's critical capabilities.
The report's two newcomers, Profisee and Ataccama, debut in the niche players column. Gartner positioned them both in the upper-right portion of the quadrant. We think this means that both providers have an excellent shot at seeing their standing increased further next year. Profisee is noted for lower-than-average product pricing and 34 percent revenue growth in 2016. Atacamma earned high scores for its understanding of MDM business applications and high-availability facilities at the product level.
Oracle, EnterWorks, and TIBCO Software round out this Magic Quadrant. The three providers were ranked similarly last year, though EnterWorks and TIBCO made major moves to improve their standing in this column. EnterWorks had the best customer reference score for overall product capabilities and has a keen understanding of its target markets. TIBCO's MDM tool has expansive multi-domain capabilities and a visual MDM feature that integrates data quality dashboarding with stewardship. TIBCO touts a massive installed base of technology users in horizontal verticals as well.
Read Gartner's Magic Quadrant.