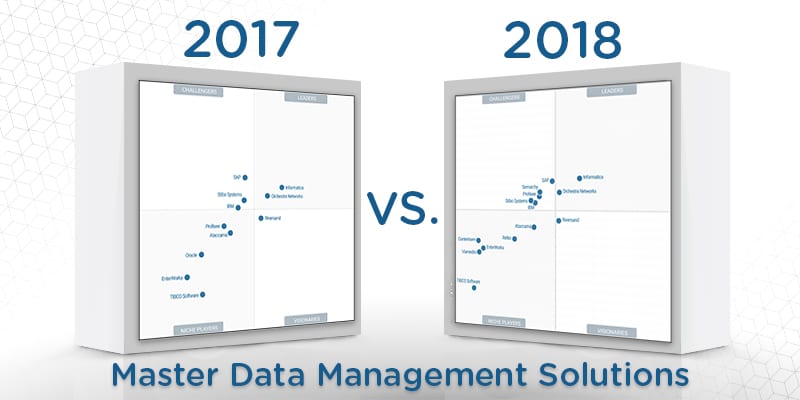 Analyst house Gartner, Inc. recently released the 2018 version of its Magic Quadrant for Master Data Management Solutions. MDM solutions support the identification, linking and synchronization of master data across heterogeneous data sources through semantic reconciliation. They can also be used to create and manage a central system of record or index, and enable trusted data delivery on one more subject areas to all an organization's stakeholders. Gartner notes that MDM tools are agnostic and "do not assume or depend on the presence of any particular business applications to function."
In this report, Gartner focuses on packaged MDM solutions that bring together a range of technologies and capabilities to help sustain the idea of a trusted "golden record" for master data. The researcher adds: "A golden record refers to that within a system of record and to which all other systems of reference (copies) revert for final validation." The range of capabilities these tools encompass is wide and far-reaching, and include workflow and BPM, data modeling, information quality, data governance, and MDM internal integration.
MDM implementation and their requirements depend on, but are not limited to, the instantiation of master data that ranges from maintenance of a physical golden record to a virtualized metadata-based indexing structure. Master data has a unique scope of use cases for design, construction, operations, and business analytics. Organizations are advised to select a tool that best matches up with their design structure, whether utilizing a small, centralized team or a global distribution.
In this Magic Quadrant, Gartner evaluates the strengths and weaknesses of 14 providers that it considers most significant in the marketplace, and provides readers with a graph (the Magic Quadrant) plotting the vendors based on their ability to execute and their completeness of vision. The graph is divided into four quadrants: niche players, challengers, visionaries, and leaders. At Solutions Review, we read the report, available here, and pulled out the key takeaways.
Gartner adjusts its evaluation and inclusion criteria for Magic Quadrants as software markets evolve. As a result, Contentserv, Reltio, Semarchy and Viamedici have been added to the 2018 report. Oracle was removed for no longer meeting the researcher's inclusion thresholds.
For the second-straight year, Informatica and Orchestra Networks are the leading providers in the MDM marketplace. Informatica is one of only three vendors in this report to receive an above average score for initial technical implementation and deployment. The data management mega-vendor also scored better-than-average for account management. Recently acquired by TIBCO Software, Orchestra Networks offers a single integrated MDM product that scored above average across many industries and mastered data domains.
SAP remains the top challenger to Informatica's hegemony, and with an improved completeness of vision standing, is a stone's throw from the leader column. SAP is tops in terms of market share ownership, and has the most customers managing master data across the domains Gartner tracks. SAP also has a broad portfolio of data-centric products, adding to its pull for some organizations. Stibo Systems returns once more as a market challenger, offering its STEP MDM platform that scored highly for data modeling and hierarchy management.
The challengers bracket is where Semarchy makes its debut. The company received the highest score of any vendor for overall satisfaction and value received, as well as for post-sales support. Semarchy offers deployment on-prem or in the cloud, and is one of the more forward-thinking providers in terms of its new Data Hub strategy. Profisee made the leap from the niche players bracket last year. The company offers multidomain capabilities that can be deployed in Microsoft Azure or AWS, and can be both subscription-based and consumption-based if using Azure.
Riversand is the lone MDM visionary for 2018. The company has shifted its focus in recent months, and its new MDMCenter version 8 offers a different approach that provides for discovery, management, governance and analysis of master data in several environments. Riversand also offers vertical-specific solutions. Gartner reference customers speak highly of the company's product innovation as well.
Ataccama is the dominant provider in the niche players space, showing slightly improved positioning from 2017. The company provides "lower-cost, smaller-scope" MDM tools through its Data Quality Center solution, and scales its customers up over time. The company recorded the highest scores of any vendor in this report for vendor pricing, solution total cost of ownership, and vendor responsiveness. Reltio is also a strong player in this space, and according to Gartner's analysis, showed the highest growth rate of any provider in the last year. The company offers the only cloud-centric tool in this Magic Quadrant.
Gartner rounds out its niche players coverage with two familiar faces and two newbies. TIBCO Software and EnterWorks are market fixtures, with the former beginning to invest in cloud-based MDM capabilities. EnterWorks' strong customer sentiment comes as a result of its market understanding, specifically regarding the business applications of its MDM product. Contentserv scored highly for satisfaction with its product capabilities while Viamedici offers flexible pricing and deployment, whether on-prem or in the cloud.
For more, compare the best MDM providers against the field with our new Data Management Vendor Map.
Read Gartner's Magic Quadrant.

Latest posts by Timothy King
(see all)