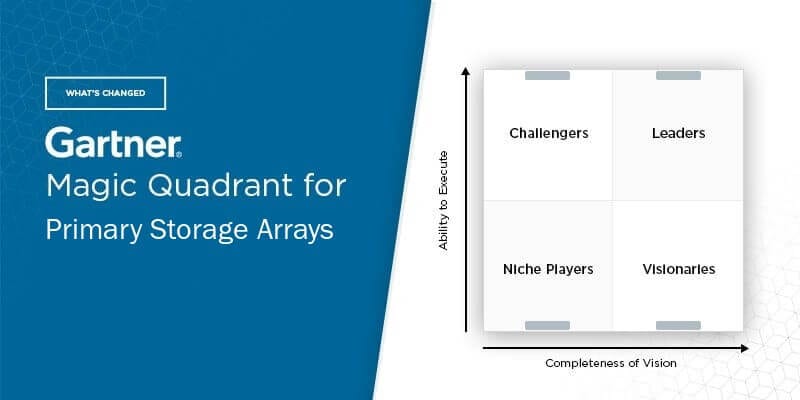 The editors at Solutions Review highlight the key takeaways from Gartner's 2020 Magic Quadrant for Primary Storage Arrays and provide an analysis of the report.
Analyst house Gartner, Inc. recently released the 2020 version of its Magic Quadrant for Primary Storage Arrays. According to Gartner, a primary storage array's primary purpose is "to support a response time and input/output per second (IOPS)-sensitive structured data workloads. Typical use cases include mission-critical workloads such as IBM Db2, Microsoft SQL, Microsoft Exchange and SharePoint, Oracle Databases and applications, SAP HANA, and in-house developed transactional applications. Other use cases include application consolidation, support for virtual environments, and providing persistent storage for container environments."
Vendors represented in this report offer hybrid storage arrays, solid-state arrays (SSAs), or both; developed internally or acquired through an OEM integration. When evaluating a primary storage system, infrastructure and operations (I&O) professionals should consider integration with public clouds; ease of management using AIOps; a comprehensive set of data services to increase availability; and efficiency.
As a strategic planning assumption, Gartner projects that at least 50 percent of enterprises will shift toward operating expenditure (OPEX)-based storage consumption models by 2025, compared to less than 10 percent today. Additionally, by 2023, Gartner predicts that at least 20 percent of enterprises will leverage cloud storage management tools to integrate on-prem storage platforms directly with the public cloud for backup and disaster recovery use cases.
In this Magic Quadrant, Gartner evaluates the strengths and weaknesses of 13 providers that it considers most significant in the marketplace and provides readers with a graph (the Magic Quadrant) plotting the vendors based on their ability to execute and their completeness of vision. The chart is divided into four quadrants: niche players, challengers, visionaries, and leaders. At Solutions Review, we read the report, available here, and pulled out the key takeaways.
Gartner adjusts its evaluation and inclusion criteria for Magic Quadrants as software markets evolve. As a result, Synology, Infortrend, Western Digital, NEC, and Kaminario (now known as Silk) have been dropped from last year's report.
Oracle is the sole niche player in this year's Magic Quadrant. Oracle ZFS Storage Appliances support block, file, and object protocols using the same storage software. Additionally, the Oracle ZFS Storage Appliance ZS7-2, available in all-flash and hybrid configurations, is engineered to provide integration with the Oracle Database and Oracle Cloud Infrastructure.
No vendors were designated as visionaries this year, meaning that the challengers' quadrant is the second most populous in this report. The challengers, Fujitsu, Lenovo, Inspur, and DDN, are all placed in close competition with each other. Closest to the y-axis of the graph, DDN is a well-established company in the high-performance computing (HCP) storage market. In the last year, the provider refreshed its Tintri EC6000 hardware platform and updated its Tintri and SFA operating systems. Inspur's product portfolio comprises the HF and AS series that together address a range of midrange and high-end storage array requirements. The also vendor recently announced the HF5000G5, an end-to-end NVMe-based midrange storage system.
Furthest from the y-axis, Fujitsu's ETERNUS DX8900 S4 can scale to 140PB and 24 controllers, and therefore, can address the application consolidation needs of large enterprises. Fujitsu's closest competitor this year is Lenovo. In order to enhance its territory coverage and presales support infrastructure, Lenovo is taking steps to realign its sales teams to increase channel focus, as well as balance the ratio of technical specialists to account executives.
The most crowded section of the graph in this year's report is the leader quadrant, with Huawei, Hitachi Vantara, Infinidat, IBM, HPE, Dell Technologies, Pure Storage, and NetApp. Leading the pack is Pure Storage. In the past 12 months, the provider has launched FlashArray//C, targeted at application consolidation and long-term data retention use cases. NetApp is Pure's closest competition this year. This vendor sets itself apart through its solution-led focus, emphasized by its Data Fabric hybrid cloud strategy. Also in this cluster of leaders is Dell Technologies, which has provided a range of migration tools to help users transition from installed SC Series, Unity, Unity XT, VNX, and XtremIO platforms to its PowerStore tool. HPE, placed close to Dell and NetApp has made incremental investments in its HPE Primera and Nimble Storage product lines over the last year. Additionally, both HPE Primera and Nimble Storage now support VMware vVOLs and the CSI plug-in for Kubernetes and container automation.
IBM is taking up space in the center of the leader quadrant. The tech industry giant is concentrating on delivering advanced engineering solutions to accelerate performance, expand security features to protect against cyber-attacks and ransomware threats, and improve public cloud affinity. Closest to the y-axis, Huawei recently announced a new series of converged storage systems and released software updates to the OceanStor Dorado storage arrays. The vendor's clients tend to be in the large enterprise and communications service provider verticals.
Rounding out the leader section are Hitachi Vantara and Infinidat. Hitachi Vantara boasts a set of unified AI-powered software tools within Hitachi Ops Center to facilitate management and improve IT operational efficiencies to lower administration and support costs. The final leader, Infinidat, was placed closest to the x-axis in this quadrant. The provider recently made three major operating system updates to its platform, including the introduction of active-active replication, concurrent three-site replication, a new CSI drive, and security enhancements.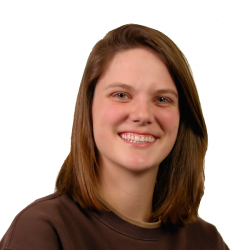 Latest posts by Tess Hanna
(see all)