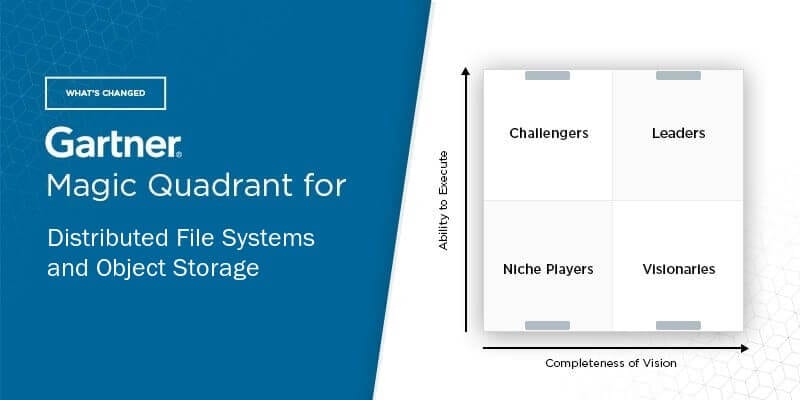 The editors at Solutions Review highlight what's changed since the last iteration of Gartner's Magic Quadrant for Distributed File Systems and Object Storage and provide an analysis of the new report.
Analyst house Gartner, Inc. has released its 2021 Magic Quadrant for Distributed File Systems and Object Storage. The researcher defines distributed file systems and object storage as "software and hardware platforms that are based on distributed designs and that support object and/or scale-out file system technology to address requirements for unstructured data growth." The market is based on distributed computing architectures in which there is no single point of failure or contention across the system. These products must have a fully distributed architecture where data and metadata are distributed, replicated, or erasure-coded over the network across multiple nodes in the cluster. 
Because the unstructured data storage market is evolving, new capabilities are necessary to address the growing challenges that come with that evolution. New challenges include exponential data growth, rapid digitalization, and the globalization of business. Storage infrastructure tools, particularly those based on distributed file systems and object storage, are increasing in volume and capacity of deployments as the platform of choice to address the growth of unstructured data in data centers around the world.
End-users have reported unstructured data is increasing more than 30 percent year over year. Because of this, infrastructure and operations (I&O) leaders are searching for extensible on-prem storage platforms that can address a growing number of digital business use cases with lower acquisition, operational, and management costs. Features I&O professionals are looking for include scalability, flexibility, life cycle management, ease of management, and analytics insights into data. Recently, users have been requesting cyber-resilient unstructured data solutions to prevent, detect, and recovery from ransomware attacks.
Gartner predicts that by 2026, large enterprises will triple their unstructured data capacity stored as file or object storage on-prem, at the edge, or in the public cloud compared to 2021. Additionally, the research firm expects that 60 percent of the global unstructured data storage capacity will be deployed as software-defined storage (SDS) by 2025, up from less than 25 percent in 2021. It is also expected that new consumption models and procurement offerings will emerge to provide end-users with different ways to purchase storage.
In this Magic Quadrant, Gartner evaluated the strengths and weaknesses of 15 providers that it considers most significant in the marketplace and provides readers with a graph (the Magic Quadrant) plotting the vendors based on their Ability to Execute and their Completeness of Vision. The graph is divided into four quadrants, niche players, challengers, visionaries, and leaders. At Solutions Review, we read the report, available here, and pulled out the key takeaways.
Gartner adjusts its evaluation and inclusion criteria for Magic Quadrants as software markets evolve. As a result, Nutanix and Weka were added to this year's report, while Caringo was dropped. Gartner also occasionally lists honorable mentions that did not meet the inclusion criteria, but are potentially of interest to their clients. This year's honorable mentions are Cohesity, MinIO, and VAST. Representative vendors in this year's Magic Quadrant are Cloudian, DDN, Dell Technologies, Hitachi Vantara, Huawei, IBM, Inspur, NetApp, Nutanix, Pure Storage, Quantum, Qumulo, Red Hat, Scality, and Weka.
The leader and visionary sections of the graph are the most crowded this year, both housing five vendors each. Starting with the leaders, Dell Technologies is once again the runaway leader in terms of its ability to execute. The vendor recently added support for larger SSDs and HDDs, S3 access, an external key manager, and object tagging to its Dell EMC ECS offering. Dell's closest competitor in the leader category is fellow industry giant, IBM. IBM's placement could be attributed to its acquisition of Red Hat, which expanded its reach into enterprises with cloud-native workloads, including enhanced support for containerized applications and OpenShift in IBM Spectrum Scale.
The remaining leaders, Qumulo, Scality, and Pure Storage are all placed close together in a cluster on the graph. Qumulo's status may be due to the fact that its public cloud file service integration and hybrid cloud workflow enablement models are well-aligned with the emerging needs of customers. Scality differentiates itself from competitors through its hybrid cloud integration and integrated capability to provide file and object storage in a single solution. Conversely, Pure Storage's strength lies in its FlashArray business and common management system, which delivers an advantage for customers that want to consolidate vendors across block, file, and object workloads.
This year's visionaries are NetApp, Nutanix, Quantum, Red Hat, and Weka. Placed closest to the X-axis, NetApp recently added fully managed object storage services in partnership with Equinix. Nutanix's differentiating features is its rich data analytics tools, which provide monitoring and reporting of abnormal user behavior, performance anomalies, audit trails, and built-in ransomware protection. Placed almost directly on the Y-axis, Quantum integrates a range of technologies, including its StorNext file system, ActiveScale object storage, and tape solutions into a single platform to deliver an eternal archive. 
Weka, a new vendor in this year's Magic Quadrant, offers multiprotocol capabilities and the ability to extend its file system to the object storage that provides better scalability and cost-efficiency compared to traditional all-flash file systems. Rounding out the visionaries is Red Hat. Over the past year, Red Hat Ceph Storage has added an object lock WORM feature and FIPS 140-2 cryptography and has also expanded key management integration.
This year's challengers are all placed together in a cluster near the Y-axis of the graph. Cloudian is the closest to the axis. This placement could be because its strategy to focus on backup opportunities for providing S3-compatible storage with Object Lock technology for ransomware protection is an attractive option for users. Hitachi Vantara's challenger status can be attributed to the fact that the vendor is trusted for its reliability, high availability, and resilient systems. Finally, Huawei potentially earned its challenger placement because it is well-designed to accommodate various unstructured data workloads as a single product for scalable and performant file and object storage services.
The least populous quadrant in this year's report is the niche player section, which only contains Inspur and DDN. Inspur has experienced rapid growth in customers and managed petabytes in the China and Japan regions because of its product features and position in the server market. DDN's niche player placement could be attributed to its proven storage solution for HPC and artificial workloads, including enhancements for deployment and integration in GPU environments to support NVIDIA DGX SuperPOD.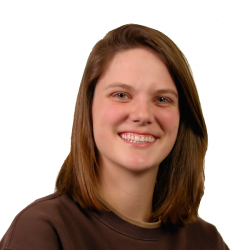 Latest posts by Tess Hanna
(see all)