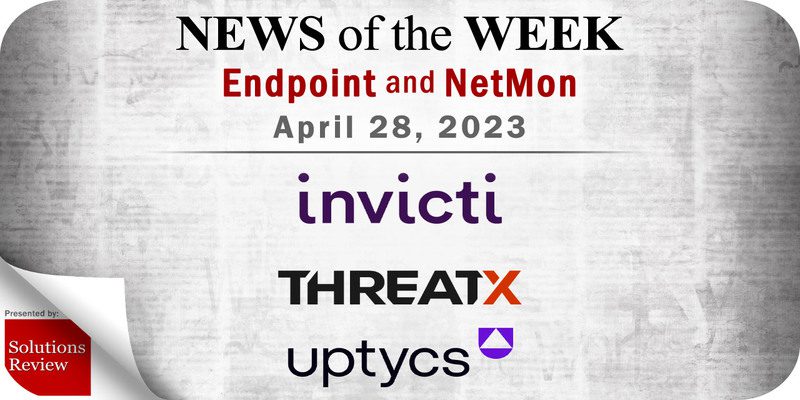 The editors at Solutions Review have curated this list of the most noteworthy endpoint security and network monitoring news for the week of April 28. This curated list features endpoint security and network monitoring vendors such as Invicti Security, ThreatX, Uptycs, and more.
Keeping tabs on all the most relevant endpoint security and network monitoring news can be a time-consuming task. As a result, our editorial team aims to provide a summary of the top headlines from the last month in this space. Solutions Review editors will curate vendor product news, mergers and acquisitions, venture capital funding, talent acquisition, and other noteworthy endpoint security and network monitoring news items.
Endpoint Security and Network Monitoring News for the Week of April 28
---
Invicti Security Unveils Corporate Rebrand at RSA
Acunetix and Netsparker, two web application security companies, announced they are now one under the name Invicti Security. This announcement was made earlier this week at the 2023 RSA Conference. This rebrand introduction came with a new logo, brand colors that pay homage to the two companies that now make up Invicti, and the appsec platform Invicti Helix. Invicti also released the findings of its 2023 Spring AppSec Indicator report, which examined data from more than 1,700 Invicti customers to assess the impact and prevalence of modern web vulnerabilities. The report shares insights and trends to guide best practices in vulnerability identification and remediation.
Criminal IP Launches Official New Service
Criminal IP, a OSINT-based search engine, provided by AI Spera Inc., made their appearance at the RSA Conference. This came shortly after their Cyber Threat Intelligence (CTI) search engine exited beta and launched officially. The new CTI search engine collects and analyzes IP addresses from around the world on a daily basis to detect cyber threats. Additionally, Criminal IP also showcased Criminal IP ASM (Attack Surface Management), an automated SaaS solution that identifies, detects, and monitors all Internet-connected assets while assessing their vulnerabilities.
Tenable Makes Generative AI Security Tools Available to the Research Community
Tenable, an exposure management and cybersecurity solutions provider, this week published a new report outlining the use of generative AI to build new security research tools. The report, titled "How Generative AI is Changing Security Research," highlights four new tools developed by the Tenable Research team that create efficiencies in processes such as reverse engineering, code debugging, web app security and visibility into cloud-based tools. The tools demonstrate ongoing experimentation by Tenable Research with generative AI applications like ChatGPT, and have been made available publicly to the security research community through a GitHub repository.
ThreatX Expands Platform  With New Botnet Console and  API Catalog 2.0
ThreatX, an API and application protection platform, this week announced the expansion of its platform offering with the release of a new Botnet Console and API catalog 2.0. These features made their debut at the 2023 RSA Conference. With the release of Botnet Console and API catalog 2.0, ThreatX offers information security teams the ability to defend APIs and applications from rapidly evolving threats. With the new dashboards, users will have the ability to monitor all bot activity at scale, track API usage with new metrics, analyze key traffic trends, investigate threats, and improve accuracy of bot protection as attack patterns evolve.
NCC Group Appoints Its first Strategy and Transformation Director
NCC Group, a provider of global cyber security and resilience services, is pleased to announce the appointment of Diji Akinwale to the role of Director of Strategy and Transformation with immediate effect. This new role has been created as the Group looks to implement and execute the updated strategy announced on 2 February, and Diji will report directly to Chief Executive Mike Maddison. Diji joins the Group from The Guardian where he served as Group Strategy Director. In this role, Diji successfully supported the media group's international growth whilst increasing recurring revenue and accelerating the development of its digital offering and capabilities. In his time at The Guardian, Diji was responsible for developing and delivering a plan to generate positive cashflow – a key objective and a milestone The Guardian achieved for the first time in many years in Diji's final full year at the group. Before The Guardian, Diji spent several years at McKinsey where he led digital strategy and transformation projects for clients across sectors including technology, financial services and the public sector.
Uptycs Launches "Industry First" Cloud Security Early Warning System
Uptycs, a cybersecurity solutions provider, this week announced the ability to collect and analyze GitHub audit logs and user identity information from Okta and Azure Active Directory (Azure AD) to reveal suspicious behavior as the developer moves code in and out of repositories and into production. The result is an "early warning system" that allows security teams to identify and stop threat actors before they can access crown jewel data and services in the cloud.
---
Expert Insights Section
Watch this space each week as Solutions Review editors will use it to share new Expert Insights Series articles, Contributed Shorts videos, Expert Roundtable and event replays, and other curated content to help you gain a forward-thinking analysis and remain on-trend. All to meet the demand for what its editors do best: bring industry experts together to publish the web's leading insights for enterprise technology practitioners.
The 8 Best Coursera Courses for Cybersecurity in 2023
The editors at Solutions Review compiled and curated this shortlist for the best Coursera courses on cybersecurity in 2023 to give the aspiring cybersecurity expert a strong starting point in their career. The Coursera cybersecurity courses listed below are entry-level and can be a great starting point for anybody trying to kick-off their learning this year. They're also a great reference point for established experts looking to brush up on their knowledge. Whatever your motivation to learn more, Coursera will provide.
Edge Computing: Confronting the Biggest Cyber Threats in 2023
2023 has presented companies of all sizes with a slew of concerning cybersecurity challenges, ranging from data breaches to a massive talent gap to DDoS attacks as acts of warfare. Yet simply understanding what those threats are isn't sufficient to address them, as it can be hard to plan defenses against all of them individually. Companies need to figure out how to address many threats at once in order to be most effective. Making the shift to edge computing infrastructure can serve as precisely this kind of defensive juggernaut, allowing companies to protect against many major concerns in one fell swoop. While not a panacea for all concerns, making edge computing part of your tech stack can improve security and leave your organization much better prepared for what 2023 has in store.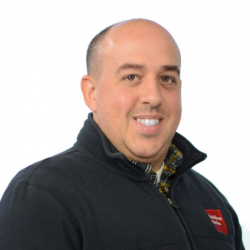 Latest posts by Mike Costello
(see all)