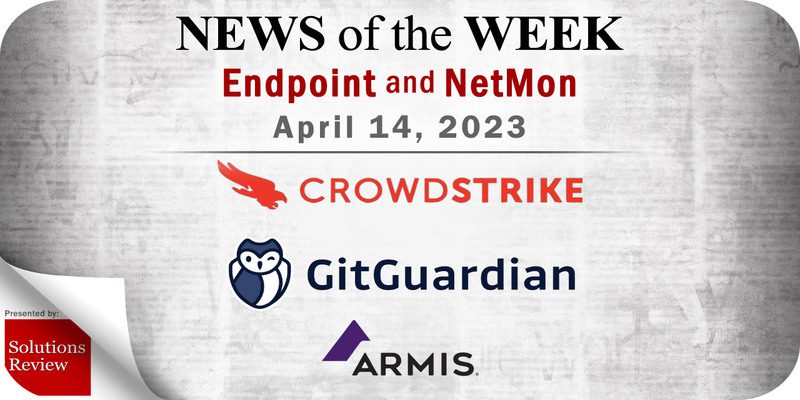 The editors at Solutions Review have curated this list of the most noteworthy endpoint security and network monitoring news for the week of April 14. This curated list features endpoint security and network monitoring vendors such as CrowdStrike, GitGuardian, Armis, and more.
Keeping tabs on all the most relevant endpoint security and network monitoring news can be a time-consuming task. As a result, our editorial team aims to provide a summary of the top headlines from the last month in this space. Solutions Review editors will curate vendor product news, mergers and acquisitions, venture capital funding, talent acquisition, and other noteworthy endpoint security and network monitoring news items.
Endpoint Security and Network Monitoring News for the Week of April 14
---
CrowdStrike Introduces "World's First" XDR for IoT Platform
This week, CrowdStrike introduced CrowdStrike Falcon Insight for IoT, the "world's first" EDR/XDR solution for Extended Internet of Things (XIoT) assets. Delivered from the CrowdStrike Falcon platform, the new offering brings CrowdStrike's renowned protection, detection and response to IoT, OT, medical devices, Industrial IoT and connected devices across the enterprise. As a result, customers can now secure their organization with the same platform across XIoT, IT endpoints, cloud workloads, identities and data.
Versa Networks Selects Calculus as its Distributor Serving Mexico and Other Growing Latin America Regions
Versa Networks, a Secure Access Service Edge (SASE) solutions provider, this week announced that it has selected Calculus Business Solutions Inc. ("Calculus"), a global Information and Communications Technology (ICT) solutions company, as a new distributor in the growing Latin America (LatAm) region. As a result of the joint distribution agreement, Calculus will work with all Versa partners in the region to provide Versa SASE sales support and services to help them grow their businesses. Versa partners will leverage the large, local Calculus engineering team to engage current and new customers. Calculus' experience with Versa solutions and technology make it an ideal distributor which can provide Versa partners with local sales support, design and deployment services, and 24/7 support.
DirectDefense Partners with Claroty to Add XIoT to Platform
DirectDefense, Inc., a cybersecurity services provider, this week announced its partnership with Claroty, an IoT solutions company. Claroty tackles the risks posed by the connectivity between the cyber and physical worlds with its flagship product, the Claroty Platform. This unified XIoT cybersecurity solution is tailored to the requirements of healthcare, industrial, and public sector environments, deployable via on-premise, hybrid, or cloud/SaaS options, and integrates with customers' existing infrastructure to provide a full range of controls for visibility, risk and vulnerability management, threat detection, and secure remote access.
GitGuardian Launches New Software Supply Chain Security Software, Honeytoken
GitGuardian launched its new Honeytoken module, providing intrusion detection, code leakage detection and helping companies secure their software supply chains against attackers targeting Source Control Management (SCM) systems, Continuous Integration Continuous Deployment (CI/CD) pipelines, and software artifact registries. With attackers increasingly targeting components in the software supply chain as entry points, GitGuardian's Honeytoken offers a proactive and pragmatic approach to detect and limit the impact of data breaches. Honeytokens look like real credentials, but don't grant access to actual customer data, instead only triggering alerts that report the intruder's IP address.
Cymulate Announces Major Expansion to ASM Platform
Cymulate, an exposure management solutions provider, this week announced the expansion of its Attack Surface Management (ASM) solution to close gaps between traditional vulnerability management and ASM. Organizations will now have advanced capabilities to visualize risky exposures across hybrid environments. The company achieves this by extending its coverage to include more attack surface discovery and added misconfiguration detection, Cloud-specific analysis, and vulnerability discovery. Previously only for external attack surface management, the new enhancements will analyze Active Directory, Azure, GCP, and AWS Cloud footprints for misconfigurations and remediable security concerns.
Armis and TrueFort Announce Strategic Partnership
Armis, an asset vulnerability management provider, this week announced a strategic partnership and integration with TrueFort, the lateral movement protection company. This collaboration empowers customers by enriching the discovery, understanding, and enforcement of security policies for IT, Internet of Things (IoT), and operational technology (OT) environments.
---
Expert Insights Section
Watch this space each week as Solutions Review editors will use it to share new Expert Insights Series articles, Contributed Shorts videos, Expert Roundtable and event replays, and other curated content to help you gain a forward-thinking analysis and remain on-trend. All to meet the demand for what its editors do best: bring industry experts together to publish the web's leading insights for enterprise technology practitioners.
Datto Partners with Solutions Review for Spotlight Series
Solutions Review is one of the largest communities of IT executives, directors, and decision-makers across enterprise technology marketplaces. Every year over 10 million people come to Solutions Review's collection of sites for the latest news, best practices, and insights into solving some of their most complex problems. With the next Solutions Spotlight event, the team at Solutions Review has partnered with leading managed service provider Datto to provide viewers with a unique webinar called Re-Imagining Endpoint Security with Datto EDR.
RSA Conference 2023 is Right Around the Corner…
RSA Conference is the premier series of global events and year-round learning for the cybersecurity community. RSAC is where the security industry converges to discuss current and future concerns and have access to the experts, unbiased content, and ideas that help enable individuals and companies advance their cybersecurity posture and build stronger and smarter teams. Both in-person and online, RSAC brings the cybersecurity industry together and empowers the collective "we" to stand against cyber threats around the world. Attend live or in person April 24th through the 27th.
EASM: What AppSec and ProdSec Teams Need to Know
AppSec and ProdSec teams have historically dealt with this in various ways. DevSecOps, for example, is a popular solution – many organizations feel that the best way to defend their vulnerable assets is to bring security into the development process early on (so-called 'Shifting Left'), theoretically catching vulnerabilities before they make it into production. The trouble here is that not every vulnerability that makes it into production is present in staging or development. Additionally, application security is not static – a software component may have been considered secure at the time of development, but that may simply have been because the vulnerability hadn't yet been discovered. No matter how much your organization prioritizes Shifting Left, you won't catch everything, and you'll need a plan to prioritize and address the vulnerabilities you miss.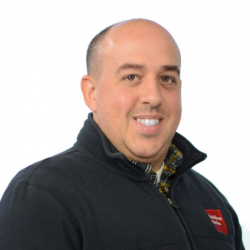 Latest posts by Mike Costello
(see all)