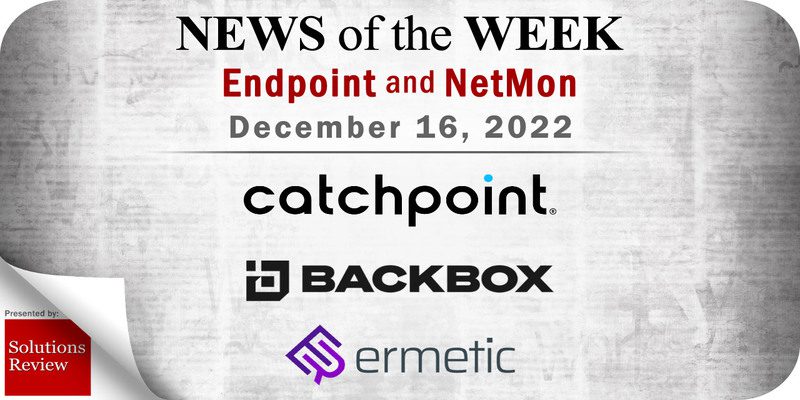 The editors at Solutions Review have curated this list of the most noteworthy endpoint security and network monitoring news for the week of December 16. This curated list features endpoint security and network monitoring vendors such as Catchpoint, BackBox, Ermetic, and more.
Keeping tabs on all the most relevant endpoint security and network monitoring news can be a time-consuming task. As a result, our editorial team aims to provide a summary of the top headlines from the last month in this space. Solutions Review editors will curate vendor product news, mergers and acquisitions, venture capital funding, talent acquisition, and other noteworthy endpoint security and network monitoring news items.
Endpoint Security and Network Monitoring News for the Week of December 16
---
Catchpoint Enhances Platform Capabilities in New Update
Catchpoint, a cybersecurity solutions provider, announced the launch of new Internet Performance Monitoring capabilities designed to help organizations improve Internet Resilience at a time when dependence on the Internet for mission-critical business activities continues to increase for all kinds of organizations. New capabilities include enhanced Smartboard Views, a customer experience score system, performance analysis, and an Earth View Dashboard.
Netskope Unveils Cloud Exchange Platform as a Managed Service
Netskope, a leader in secure access service edge (SASE), today announced that its innovative Cloud Exchange security and telemetry sharing solution is now available as a managed service, offering organizations more ways to provision, deploy, and manage the platform. With this release, companies can leverage seamless access to Netskope telemetry, external threat intelligence, and risk score sharing across existing security investments to stop cloud threats sooner. The company also announced a significant expansion of the solution's Cloud Risk Exchange (CRE) module with the ability to share application risk scores and insights with key technology partners BitSight, SecurityScorecard, and ServiceNow– helping organizations obtain better visibility of the risks associated with their ecosystem of managed and unmanaged applications.
BackBox Unveils New Customized Product Features to General Public
BackBox, an automated network management platform, announced the general availability of new and enhanced features to their network and security device automation platform. These updates will deliver faster time-to-value and better integration for managed service providers (MSPs) and managed security service providers (MSSPs). The release expands on BackBox's industry leading network backup, upgrade, and automation features that MSPs rely on to deliver managed network and firewall management to their customers.
IBM, Casa Systems & Enea Partner to Deliver Private 5G, RAN Solutions to CSPs
Casa Systems, Enea and IBM have built a complete Private 5G solution that combines "best in class" technology with agility for service providers to deploy, or enterprises to build, Private 5G solutions that are more scalable, dynamically adjustable, reliable and secure. Bringing together subscriber data management, with built-in security, interoperability and multi-access 5G, the partnership will deliver ultra-low latency with reduced end-to-end delivery costs and create a path to 5G network deployment with centralized control and edge-based delivery intelligence. The organizations are currently working on a customer Proof of Concept (POC) collaboration in Dallas.
CyberRisk Alliance Releases 2022 Cybersecurity Year in Review Report
CyberRisk Alliance Business Intelligence (CRA BI), the research and content arm of the data and insights company CyberRisk Alliance, released its "2022 Cybersecurity Year in Review: Everything, Everywhere, All at Once" report which highlights seven key areas where cybersecurity practitioners faced significant challenges but, in many cases, were able to make progress thanks to emerging technologies and fresh approaches to problem solving. The report is a mix of original analysis and executive summary of significant findings from multiple in-depth surveys conducted throughout the year by CRA's research team on cloud security, zero trust, endpoint security, extended detection and response (XDR), vulnerability management, email security and threat intelligence. On average each individual survey gathered feedback from up to 300 security practitioners from across the United States, creating a powerful in-depth look at these important topics from a practitioner perspective as it evolved throughout the year, thereby allowing the CRA BI research team to identify key trends in the research and map it to the present state of cybersecurity at the end of 2022 and into 2023.
Solutions Reviews Announce Vendors to Watch in 2023
Solutions Review's Vendors to Watch is an annual listing of solution providers we believe are worth monitoring in the coming year. To help you keep your finger on the pulse of the marketplace, we've turned our gaze to the future of Endpoint Security and NetMon software. Whether its inclusion in a recent analyst report, the release of an innovative new tool, or a bump in venture funding, these are the Endpoint Security and Network Monitoring vendors that have earned watch list status from Solutions Review for the year ahead. Companies are commonly included if they demonstrate a product roadmap aligning with our meta-analysis of the marketplace. Other criteria include recent and significant funding, talent acquisition, a disruptive or innovative new technology or product, or inclusion in an analyst publication. Throw in browser security platforms, an emerging market that's really hit the ground running this year– these are the vendors to watch in 2023.
Palo Alto Networks Teams Up With Google Cloud
Palo Alto Networks, a global cybersecurity leader, announced an expanded partnership that brings together BeyondCorp Enterprise from Google Cloud and Prisma Access from Palo Alto Networks to provide hybrid users secure and seamless access to applications – SaaS, cloud or on-premise – from managed or unmanaged devices Built on the backbone of the Google Cloud network, this cloud-delivered Zero Trust Network Access (ZTNA) 2.0 solution enables users to work securely from anywhere regardless of device type. With Prisma Access, customers get ZTNA 2.0 security for all devices, branch offices and applications. BeyondCorp Enterprise Essentials enables secure access to applications and resources for unmanaged devices. Combined threat intelligence and machine learning (ML) automatically detects and remediates threats to users, applications or enterprise data; all powered by Google Cloud.
Ermetic Announces New Capabilities to Platform
Ermetic, a cloud infrastructure security company, announced new capabilities that enable customers to detect, prevent and remediate security risks in Infrastructure as Code (IaC) deployments both pre- and post-deployment. As part of Ermetic's comprehensive Cloud Native Application Protection Platform (CNAPP), IaC scanning enables organizations to discover and fix misconfigurations, compliance violations and risky or excessive privileges at runtime by generating code snippets that can be integrated with CI/CD workflows.
---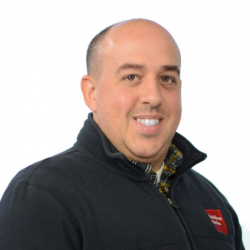 Latest posts by Mike Costello
(see all)