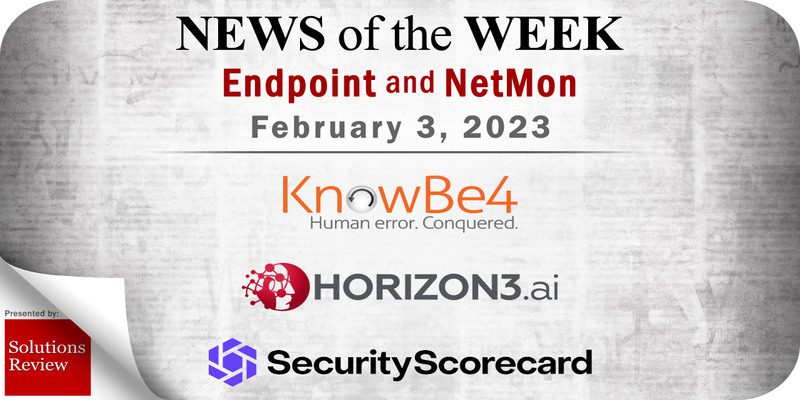 The editors at Solutions Review have curated this list of the most noteworthy endpoint security and network monitoring news for the week of February 3. This curated list features endpoint security and network monitoring vendors such as KnowBe4, Horizon3.ai, SecurityScorecard, and more.
Keeping tabs on all the most relevant endpoint security and network monitoring news can be a time-consuming task. As a result, our editorial team aims to provide a summary of the top headlines from the last month in this space. Solutions Review editors will curate vendor product news, mergers and acquisitions, venture capital funding, talent acquisition, and other noteworthy endpoint security and network monitoring news items.
Endpoint Security and Network Monitoring News for the Week of February 3
---
Vista Equity Partners Completes Acquisition of KnowBe4
KnowBe4, Inc., a security awareness training and simulated phishing platform, this week announced the completion of its acquisition by Vista Equity Partners, a leading global investment firm focused exclusively on enterprise software, data and technology-enabled businesses, for $24.90 per share in cash. With the completion of the transaction, KnowBe4 shares have ceased trading and are no longer listed on the Nasdaq Global Select Market.
Zscaler Introduces "Industry's First" Cloud Resilience Capabilities for SSE
Zscaler, Inc., a cloud security solutions provider, this week announced Zscaler Resilience, a new set of capabilities that extend the resilience of Zscaler's architecture and operations and maintain interconnections between users and devices to critical cloud-based applications. Building upon 15 years of SaaS security innovation, these "industry-first" SSE capabilities enable customers to prepare for and quickly recover from black swan events that could otherwise disrupt or stop business operations.
Horizon3.ai Releases "Through the Eyes of the Attacker 2022"
Horizon3.ai, an autonomous penetration testing vendor, this week issued, "Year in Review 2022: Through the Eyes of the Attacker," its inaugural edition of the cybersecurity threatscape. The report reveals the three major attack themes and ten most common misconfigurations, vulnerabilities and weaknesses attackers are likely to detect and exploit. Findings are derived from nearly 7,000 penetration tests (pentests) using their NodeZero platform. Nearly 1 million assets were evaluated in tests conducted by companies that deploy industry-leading security tools, employ experienced cybersecurity practitioners, and implement compliance policies. Testing revealed conclusively that security teams, tools and policies all require tuning and enforcement, and that in order to accurately assess the effectiveness of an organization's posture, it is crucially important to continually attack the environment in the same way a malicious cyber threat actor would.
Contrast Security Launches New Alliance Program
Contrast Security (Contrast), a code security platform, announced the launch of its new partner program, the Security Innovation Alliance (SIA), which is a global ecosystem of system integrators (SIs), cloud, channel and technology alliances. The goal of SIA is to provide customers with unmatched, fully integrated application security solutions from Contrast and its strategic alliance partners, which include leading multinationals like GitLab Inc., Amazon/Amazon Web Services (AWS), Microsoft, VMware, Wiz, PagerDuty, Armor Code, Zimperium, Anchore, Neosec, Wallarm, Ermetic, Cloudwize, Noname Security, BLST Security, ProtectOnce, Scribe Security, Wib and Legit Security. Additionally, the team will focus on building expanded partnerships with SIs, technology providers and independent software vendors (ISVs).
NowSecure Launches GovAppDB and Threat Assessment Service
NowSecure, a mobile security and privacy solutions provider, announced NowSecure GovApp solution suite to help federal agencies ensure the mobile apps they use are compliant with upcoming federal mandates. With over 15 years working with the public sector and employed experts with more than 30 years accumulated experience in federal and security clearance, NowSecure is uniquely positioned to help federal agencies meet compliance requirements of the upcoming federal mandates.
Security Journey Announces Unified Education Platform
Security Journey, an application security education company, has announced that over 280 HackEDU hands-on lessons for secure coding training have now been integrated into its AppSec Education Platform, taking the total lesson count to almost 700. The company's 450+ customers can now enhance their AppSec education program for 2023 with a programmatic approach and enable teams across the SDLC to comply with evolving regulation, reduce software security flaws and upskill the workforce to combat the 59 percent increase in critical vulnerabilities indicated by CVEs data.
SafeBreach Launches Threat Intelligence Collective
SafeBreach, a breach and attack simulation (BAS) platform, this week launched the Threat Intelligence Collective, a collaboration that enables seamless integration between the SafeBreach BAS platform and leading threat intelligence providers and platforms. Together, SafeBreach and its threat intelligence partners have created a more powerful way for security teams to ingest the latest threat intelligence, validate and visualize their exposure and prioritize remediation actions to prevent a breach.
Aware Unveils Context API Tool
Aware, an intelligence solutions provider, unveiled the "industry's first" Context API providing developers with access to the platform's rich strategic, organizational and risk intelligence to transform the employee and customer experience. Aware's Contextual Intelligence Platform has equipped CIOs with organizational insights demanded by the C-Suite and needed to run and operate the company more efficiently and with less risk. Developers using Aware's Context API easily capture the outputs from its purpose-built machine learning models and apps of Aware's platform into their own applications and systems of record. By unifying data and teams across the employee and customer experience workflows, then capturing rich insights and context within the data, Aware enables companies to solve an endless number of use cases across the enterprise.
Auvik: "Security Challenges are Hindering End-User Experience in the Hybrid Workforce"
Auvik, a provider of cloud-based network management software, shared results of its 2023 Network IT Management Report. An annual report conducted by Auvik, the 2023 edition includes findings from a survey of 4,500 IT professionals across North America, shedding light on the current challenges facing in-house IT professionals and MSPs alike when it comes to network visibility, management and security. One of the key findings of the report involves the gaps in network visibility and security facing the majority of IT teams, especially as remote and hybrid work continues. 86 percent of the respondents support a remote workforce at least some of the time, but only half are performing SaaS and Cloud monitoring or Wi-Fi management– critical components of the new enterprise network in today's hybrid world.
Sectigo Launches Sectigo Certificate Manager
Sectigo, a provider of automated Certificate Lifecycle Management (CLM) and digital certificates, announced the latest expansion to its industry-leading CLM ecosystem, via Sectigo Certificate Manager (SCM). Organizations can now seamlessly issue and manage digital certificates originating from Google Cloud Platform (GCP), AWS Cloud Services, as well as publicly trusted CAs, providing complete visibility and lifecycle control over all public and private digital certificates within a single platform. This functionality builds upon Sectigo's already robust capability and enables enterprises to discover, deploy, install, and renew the lifecycles of all digital certificates deployed within an enterprise ecosystem.
SecurityScorecard: "98 Percent of Organizations Have Relationships With At Least One Breached Third-Party"
SecurityScorecard, a cybersecurity ratings and insights provider, and The Cyentia Institute, an independent cybersecurity research firm, published research that found 98 percent of organizations have vendor relationships with at least one third-party that has experienced a breach in the last two years. The study, Close Encounters of the Third (and Fourth) Party Kind, also found that 50 percent of organizations have indirect relationships with at least 200 breached fourth-party vendors in the last two years.
---
Expert Insights Section
Watch this space each week as Solutions Review editors will use it to share new Expert Insights Series articles, Contributed Shorts videos, Expert Roundtable and event replays, and other curated content to help you gain a forward-thinking analysis and remain on-trend. All to meet the demand for what its editors do best: bring industry experts together to publish the web's leading insights for enterprise technology practitioners.
Digital Experience Management: Tackling the Same Nightmares
Typically, Digital Experience Management for the customer and employee has been handled separately, with one product team focusing on the customer experience and a separate team looking at the employee experience. But the customer and employee digital paths are so similar that the experiences of one mirror those of the other.
---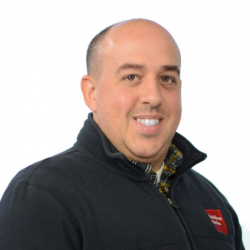 Latest posts by Mike Costello
(see all)