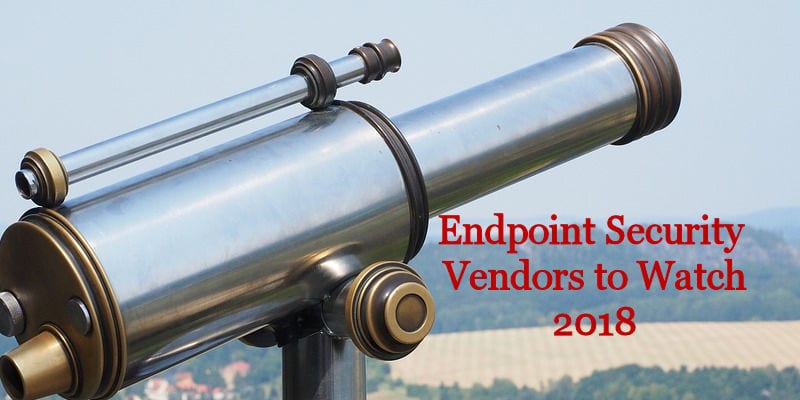 Last year, we declared the endpoint security market mature and full of vendors capable of meeting the basic requirements of a typical customer. With that newfound market maturity comes the inevitable crest and fall of popularity, reputation, and innovation. Endpoint security is becoming more and more important as data breaches flood our newsfeeds and bringing greater anxiety to professionals in every industry. Now more than ever endpoint security providers must adapt to the rapidly improving techniques of hackers to secure their clients' data as mobile usage, the ubiquity of remote logins, and the blurring of personal and professional spaces outpaces even the wildest expectations.
2017 proved a year of surprises with some of the biggest players both struggling and swimming, with newcomers changing the scene in drastic and unexpected ways. As the new year speeds towards us, endpoint security companies are striving to place themselves in a stronger financial and technological position than ever before. The field appears poised for even greater innovations, fiscal risks, and sudden market shifts in 2018. With that in mind, here are six vendors we'll be watching, presented in alphabetical order.
An established player in the endpoint security market, Massachusetts based Carbon Black has big ambitions for 2018. They've brought on Microsoft Veteran Victor Baez to serve as Channels  Chief to help them expand into international markets, with an eye on Japan and China. Additionally, there are more than a few rumors about the company eyeing an IPO in 2018. But the matter is far from settled, as last year saw more than its fair share of similar claims. Carbon Black's endpoint security software detects malicious behavior and prevents malicious files from attacking an organization. Software consistently records all endpoint activity making it easy to track potential security threats and determine root causes. Carbon Black offers custom API's, giving IT teams the ability to integrate security capabilities from a variety of solutions.  
The California-based Crowdstrike, made famous by its DNC breach investigation last year continues to innovate their next-generation, cloud-based endpoint security models with new updates and vulnerability modules. Rumors persist of a possible acquisition by VMware, but so far neither company will confirm. CEO George Kurtz is reportedly pushing for customers to install lightweight software that can monitor for incoming threats and relay their findings back to Crowdstrike to create real-time protection solutions. And they are receiving positive feedback so far: they were an Honorable Mention in Gartner's 2017 Endpoint Security Customer Choice Awards and placed as a Visionary in the 2017 Magic Quadrant for Endpoint Protection Platforms.
Hailing from California, FireEye's reputation for innovation isn't quite what it used to be. Since going public, they've consistently reported lost profits and falling stock values. While they seem to have shaken off rumors of a major database hack—only one employee fell victim to it—they haven't regained the red-hot splendor they possessed when they entered the endpoint security market. New CEO Kevin Mandia's work might be paying off though; stronger sales and stock values last quarter might foretell a comeback next year.  
The Moscow-based cybersecurity firm received commendation for their easy implementation and trusted protection by taking home the coveted Platinum Award in Gartner's 2017 Endpoint Security Customer Choice Awards. The endpoint security vendor has long been regarded for their deliberate choice to focus on internal innovations and research over external acquisitions. They've been in the cybersecurity business since the late 90's, and their prestigious reputation, although recently shadowed by concerns, will most likely carry them through to a bright 2018.
2017 was a good year for Symantec. They took home the Gold Award at Gartner's 2017 Endpoint Security Customer Choice Awards. They recently acquired SurfEasy, a VPN maker in a substantial deal that is sure to add to their consumer security business as well as Israeli security firm Fireglass. And they've seemingly recovered from the financial slump they were suffering in 2016.  With their "Endpoint Security for the Cloud Generation" solution announced last month, they appear to be aiming for a streamlined and affordable solution that offers deception at scale, signature-less protection, and endpoint detection and response all in one.
Even as we speculate on the promising future that is 2018, we can't forget that it is still 2017 and big plays are happening as we speak. At press time, Trend Micro has confirmed its purchase of Montreal-based app security firm Immunio as part of a larger effort to expand its hybrid cloud and container-specific security systems to include features like image scanning and pre-screening for vulnerabilities during the development phase. Based on Trend Micro's statements, it looks as if they intend to have Immunio's vulnerability detection integrated by April 2018. This could be the move that helps Trend Micro push to the front of the endpoint security pack next year.  
Technology research firm Gartner released their 2018 Gartner Magic Quadrant for Endpoint Protection Platforms, which explored the results of global use-cases in endpoint security and placed vendors into 4 different categories: Leaders, Visionaries, Challengers, and Niche Players. It can be seen as another resource in helping your enterprise determine what vendors to watch in 2018—and making the right choice for your enterprise's use case. While preventative cybersecurity has proven to not be 100% effective against all threats, it is still a vital component of any serious cybersecurity platform. It can help dissuade hackers away from your enterprise's IT environment, as they will often look for an easier target to attack.
That's right: with the right endpoint security vendor, you can stop an attack before it ever happens. It might be the most peace of mind available to you in cybersecurity.

Latest posts by Jeff Edwards
(see all)