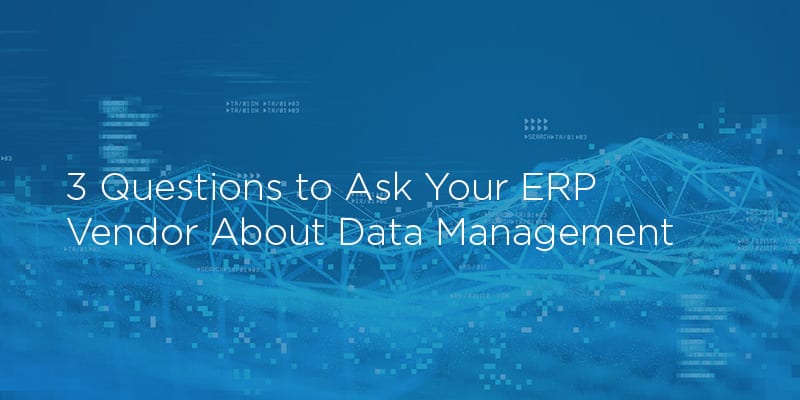 Throughout the process of evaluation ERP software solutions, you will have plenty of questions about functionality. You will undoubtedly take guided product tours, looking to match the software's capability with your unique business process. An ERP solution, however, is a long-term commitment. As you move through the selection process, it will become increasingly important for you to think about long term benefits. ERP data management should be near the top of your list.
But what are the right questions to ask about data management? How can you elicit direct, meaningful responses from ERP vendors to help inform your decision? The following three questions should be central to your conversation with each vendor.
Who owns my data?
Especially in the cloud ERP world, concerns about data security have grown in recent years. When you trust your data to products in the cloud, you should feel secure that your company is the sole owner of its data. In an ideal scenario, vendors should not have access to your information stored on managed servers. It is the vendor's job to provide the software and secure the data— that should be the extent of their involvement.
When you ask this question, most vendors are likely to answer that, of course, you are the owner of your data. Most vendors will also direct you to their privacy policy or security documentation. While important, those documents aren't everything.
You should press the vendor further. Ask this question directly: "For what purposes do you use my data?" The answer should be a resounding no. Simply put, there is no substitute for hearing your vendor say that to you directly.
If I decide to leave your software, how can I take my data with me?
Notice the wording of the question. Being able to leave a solution with your data should be a given in this scenario. However, the vendor should also have both policy and process in place for exporting your data from their system. Preferably, your information can be converted to a universally exportable file (such as a .csv). It can then be imported into another ERP system.
The other factor in leaving ERP software is data migration. To what extent will the vendor help you get that information out of their system?
As with the previous question, it is a good idea to ask this directly. Unless there are mitigating circumstances, a good ERP vendor will help you transition away from their product. Ideally, this service should come at no additional cost. If there are costs involved, you should know that upfront.
While many ERP projects are a great success, they don't always turn out as planned. Experienced vendors know this and will be ready to help when needed.
How is data restricted from (or permitted for) different users?
Many ERP systems grant permissions based on tiers. While that process may be a simple click on the front end, it can become difficult for the company's operations. Many organizations have scenarios where employees are granted permissions to 95% of the documents related to their job function. It's the other 5% that makes things difficult.
When employees have to either request access to other documents or send files to another employee, they waste valuable process time. After all, data flow is one of the problems ERP systems are often created to solve.
Ask your vendor if permissions can be granted on a more granular level. Once customized, every employee who uses the system can access exactly what they need, while being restricted from what they don't.
As discuss ERP solutions with vendors, it's important to understand the basics (features, support, etc.), but data management should be an essential part of your selection process. Pursued in detail, you will feel much more comfortable getting the answers you need from vendors.
---
Looking for more? Download our Enterprise Resource Planning Buyers Guide for free to compare the top-24 products available on the market with full page vendor profiles, key capabilities, an ERP software market overview, our bottom-line analysis, and questions for prospective buyers.
And don't forget to follow us on Twitter, Facebook and LinkedIn for all the latest in the ERP space!
Latest posts by Chris Miles
(see all)