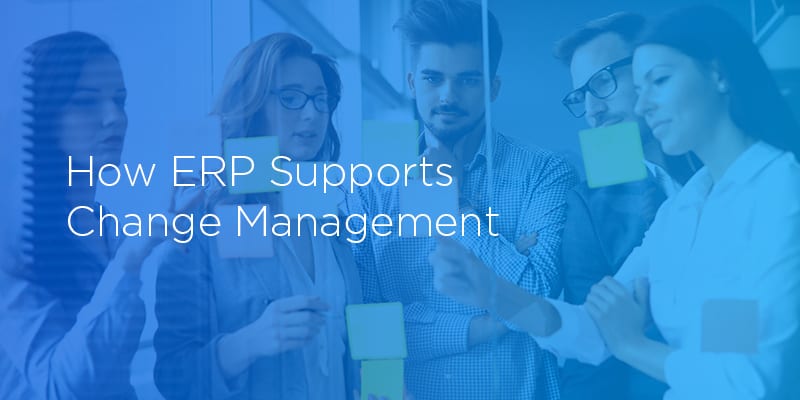 This is part of Solutions Review's Executive Insights Series, a collection of sponsored columns written by industry experts.
Fear of change is really a fear of your ability to manage the transition. Effective change management makes the difference between a good idea and a great transformation. Without an all-in-one ERP system already in place, change management - and change itself - is nearly impossible. A company operating with a handful of scattered legacy software systems lacks agile internal communication channels. Information will be lost, the implementation of new business processes will be tedious, and changes will be reiterated into oblivion.
Implementing a brand new business management system might seem daunting, but it can expand your company's potential for growth and responsiveness to change. By adopting ERP software before internal change is absolutely necessary, your business processes will be more adaptable. When the need for internal change naturally arises, an existing ERP system will be prepared to support the communication and implementation of those changes.
Take, for example, the task of reorganizing a division in your company. Shifting responsibilities, changing lines of authority, and recreating departmental goals are probably the most tangible aims for your proposed change. But, these goals should be supported by company data and made possible through existing management tools. With ERP software, change management tasks are consolidated and backed by data.
Here we outline four key ways ERP software supports change management:
Making Informed Changes
Using dynamic reporting tools, ERP software indicates where changes need to be made. Having access to business intelligence reports that encompass the activities of all departments can reveal opportunities for process improvement and redistribution of responsibilities. If your company functions without a consolidated business management software, these opportunities for change may only reveal themselves when your profitability is threatened.
With ERP software, the changes that your company does initiate will be proactive and backed by comprehensive business intelligence. Change management efforts that are driven by informed executives will have a greater opportunity for success than those driven by an urgent need to preserve the company.
Access to Information
For both company executives and individual team members, access to accurate information is imperative to supporting change management effectively. During an internal transformation, all members of the company should have access to the same information.
An ERP system provides a single source of truth that all employees can access to stay on top of the logistics of a large-scale company change. In doing so, the change is based on clarity and transparency among executives, management, and team members. Leading with these priorities fosters trust throughout the company and dissuades hesitancy to change.
Communication
Accurately communicating internal changes to everyone affected is necessary for logistical purposes, but also for relaying the intent of the change. Without an understanding of the desired result from an internal change, those affected within the company will lack direction in their new or altered responsibilities.
As Carsten Tams writes in Forbes, successful change initiatives are created by communicating vision and strategy relentlessly. Along with understanding the logistics of a change initiative, each employee should be able to openly communicate with those people in the company that are responsible for the ideology of the change. Allowing an ERP system to facilitate this change ensures that there are open communication channels between departments and across hierarchical boundaries.
Data Protection
In the midst of your internal transformation, unprotected data is at risk for being mistranslated, duplicated, or simply lost. With ERP software, any data redundancies and inaccuracies are immediately identified. Integrating databases from every department through an ERP system ensures that information is verified against existing records and is accessible within a protected space.
Having an ERP to maintain the accuracy and security of your company's internal data allows change management efforts to prioritize the implementation of changes outside of administrative concerns. Executives and department heads are freer to focus on changes in working dynamics and preserving their company's core beliefs throughout the transformation as well.
The Power to Change
According to Pash Shrestha, Director of Product Development for Striven, people in a connected company work better, think faster, and make more informed decisions. Connecting your company with an ERP solution can support current change initiatives, while also revealing opportunities for future growth.
With the right ERP solution, change management can be effective, secure, and collaborative. If it's a good fit for your company, business management software will support internal change initiatives and offer leverage for future growth.
Latest posts by Chris Miles
(see all)