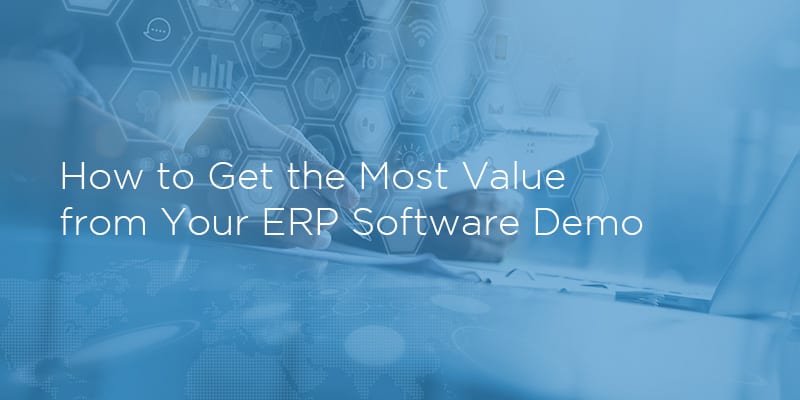 This is part of Solutions Review's Executive Insights Series, a collection of sponsored columns written by industry experts.
An ERP software demo can be one of the most important stages in your vendor selection. Done well, they can be much more than introductions to a product. An ERP software demo can also provide valuable vendor insight and give you the opportunity to zero in on your exact requirements.
Getting the most out of your ERP software demo takes careful planning and teamwork. Your goal for the demo should be to go beyond simply matching your needs to product features and pricing. By the end of the demo, you also should understand what levels of support the vendor offers, what their implementation process is like, and how customizable their solution is to your future needs.
Here are five tips for making sure you get the most value out of your ERP software demo:
Create Your List of Requirements (But Be Flexible)
Before you schedule a demo with an ERP software vendor, make sure you know what you're looking for. Understand, also, that there's a difference between need and want. Your "needs" should be non-negotiable and can help you eliminate ERP solutions that aren't a good match, even without a demo.
Your "wants," also known as "nice-to-haves," can be more flexible. Don't get too distracted with bells and whistles that seem helpful, but don't add real value for you. Instead, think about your core business processes. Visualize a day in your office for employees who will use the software to give your team the strongest sense of what's necessary.
Prepare Targeted Questions
Your software vendor will likely begin the demo asking you about your company and its processes. That's their way of determining whether you'll be a good fit for their product. Just make sure the vendor isn't the only one who gets to decide. Be proactive in pursuing the information that's necessary for you.
By preparing a list of questions, sourced from all stakeholders at your company, you are creating a framework for how the demo will proceed. Think about what features or processes are most important to your team, and lead with those questions. Based on the responses you get, you will know how much more time you should invest with the vendor.
It's also helpful to be familiar with some of the most common questions about ERP software. When you review them, think about how they can be personalized to your company and industry.
Record the Demo
There are many reasons you should be recording your ERP software demo. While you may be the decision-maker, ERP systems require multiple stakeholders. If there are key members of your team who can't be present for the demo, a recording is your best option.
In that scenario, it may not be enough to take notes. A screen recording will produce the most accurate version of your conversation and allow all team members to see what the product looks like. Especially if your decision process takes time, it's good to have documentation for reference.
Request a Deeper Dive
As you debrief with your team, you will likely have questions about features you would like to explore more in-depth. Pay attention to details during your demo, and follow up on anything that seems either interesting or unclear.
A demo isn't the only opportunity you have to connect with your ERP software vendor. If the solution looks like a good fit, you will have many more conversations to follow. Don't abandon your structure, or your proactivity, just because a product seems to meet your needs. Make sure, also, that your team is in agreement. If not everyone is on board at the beginning, those rifts will only amplify as you pursue a product further.
Because ERP systems can be so complex, demos are an essential part of understanding a product's value. If, however, you let the vendor guide the entire demo, you are likely going to be left with more questions than answers. The best demos are mutual exchanges, where both parties move closer to a viable partnership when the conditions are right.
Latest posts by Chris Miles
(see all)