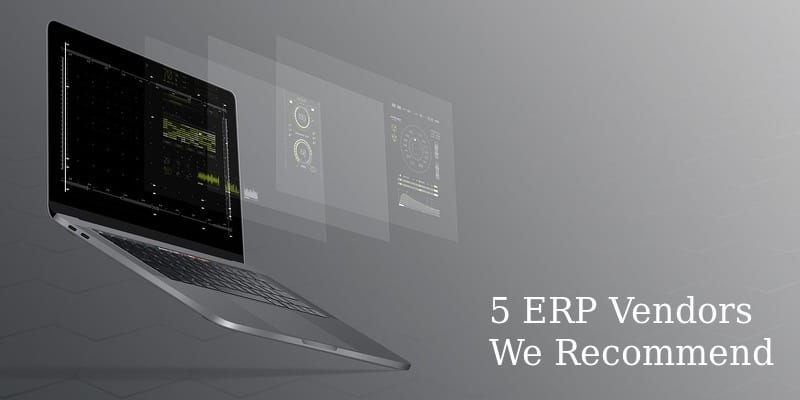 The marketplace for Enterprise Resource Planning (ERP) platforms is maturing on a daily basis, getting more and more crowded with excellent software tools for a variety of use cases, verticals, deployment methods and budgets. Traditional ERP providers continue to offer Supply Chain Management (SCM) and Customer Relationship Management (CRM) capabilities that have remained staples to the market since widespread adoption of ERP software began more than a decade ago. Disruptive newcomers and new customer trends are bringing new technologies to the table, however, so that organizations can take full advantage of data.
There are large providers we refer to as 'mega-vendors', like Infor, Oracle, SAP and Microsoft. There are also the lesser-known innovators with interesting products that play in niche areas, such as IQMS, Workday, Workwise Software and Acumatica. In an attempt to assist you with what can become a daunting task of selecting the right product, these are the top five ERP vendors we recommend.
If you find this helpful, be sure to check out our ERP Buyer's Guide, which features key capabilities to look for before purchasing, steps to take before implementing the ERP tool, a comprehensive overview of the market, and full, one page profiles of the top ERP vendors, including our "Bottom Line" analysis.
Rootstock Software develops and implements cloud ERP software that helps manufacturers and distributors deliver personalized customer experiences, build operations that scale and outservice their competition. Rootstock Cloud ERP allows organizations to take a more customer centric and project-oriented view of operations across a robust suite of modules, including Order Management, Manufacturing, Operations, Supply Chain and Financial Management. When combined with Salesforce CRM, companies gain complete visibility to their organization
and customers.
For an even deeper breakdown of each provider listed, consult our buyer's guide.
---
DDI System's offering, Inform ERP, is a fully-integrated, real-time system that ties every aspect of distributor operations into a seamless workflow. Inform harmonizes distribution operations using powerful tools designed to align daily tasks with new, opportunistic revenue sources and a focus on the customer first. Inform ERP delivers industry specific solutions for distributors to succeed in today's competitive landscape. With a unique competitive edge with an ever-evolving, customer connected, mobile based, and cloud connected platform for success, Inform users benefit with a flexible solution that can operate from on-premise servers or cloud hosted environments, in-house or in-the-field.
For an even deeper breakdown of each provider listed, consult our buyer's guide.
---
Shoptech Software is a provider of best-in-class manufacturing software for your shop. The E2 Shop System is designed with the job shop and make-to-order manufacturer in mind. For 35 years, this software has helped businesses with quick and accurate quoting, real time data collection, flexible scheduling and tight inventory control, and much more. Shoptech takes the responsibility of hosting your data very seriously. That's why the've partnered with the most reliable cloud management company in the business: Rackspace. Customers can benefit from the seamless integration with QuickBooks too.
For an even deeper breakdown of each provider listed, consult our buyer's guide.
---
As an SAP Gold Partner, and one of the top SAP implementation partners in the world, Navigator Business Solutions focuses on helping small and mid-sized companies deploy cost-effective, cloud-based ERP solutions based on the market-leading SAP Business One and SAP Business ByDesign platforms. Navigator also provides award-winning ERP professional services, including installation, implementation, consulting, training, and US-based development. With more than 500 customers, and more than 100 years of combined ERP experience, Navigator has a proven track record of on-time, on budget, and fixed-price implementations.
For an even deeper breakdown of each provider listed, consult our buyer's guide.
---
Epicor looks to help organizations take advantage of economic changes with its ERP solutions suite. Epicor's ERP solution is a global resource planning platform that provides choice, flexibility, and agility to promote growth and opportunity. The company provides ERP solutions for manufacturers, distributors, retailers, and service providers. Built for companies of all shapes and sizes, ERP solutions from Epicor gives you better visibility into global business processes and supply chain, build a more data-driven organization, improve productivity and collaboration and raise the bar for quality and compliance.
For an even deeper breakdown of each provider listed, consult our buyer's guide.
---
And don't forget to follow us on Twitter, Facebook and LinkedIn for all the latest in the ERP space!

Latest posts by Elizabeth Quirk
(see all)