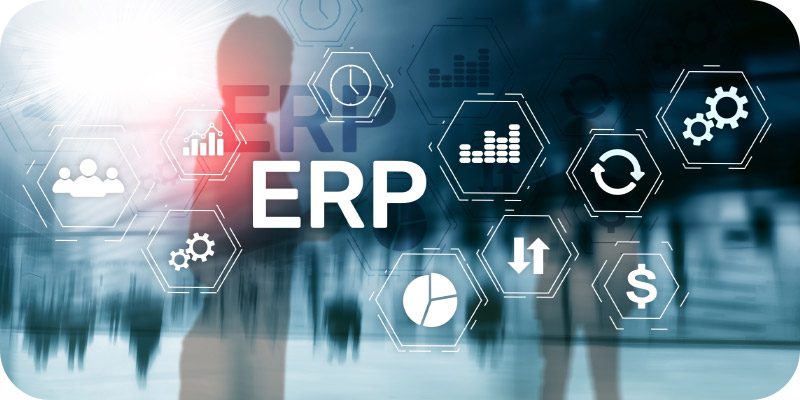 Written by Maria Redka
Big enterprises are known for their impressive market share, social impact, and corporate culture. Behind the success of any enterprise, however, is a ton of hard well-organized work. Today, businesses are constantly evaluating ways to operate more efficiently. Monitoring management procedures to develop effective methods for reaching business goals, or business performance management has been around since the 1960's. In this post, we will tell you everything you need to know about Enterprise Resource Planning (ERP) systems. Wonder what the key features of top ERP systems are? We've put it all down in simple words for you.
What is ERP Software?
ERP is software that unites, streamlines, and standardizes the business processes of the company across different departments. ERP systems work on an integrated software platform using a single company database. An ERP system helps to facilitate the work of human resources, finance, distribution, procurement, and other company departments. With a successful ERP, a company can manage its processes more time and cost-effectively.
ERP systems tie together and define a plethora of these business processes, and enable the flow of data between them. By collecting an organization's shared transactional data from multiple sources, ERP systems eliminate data duplication and provide data integrity with a "single source of truth." Today, ERP systems are critical for managing thousands of businesses of all sizes and in all industries. Towards the beginning, when ERP software first came into the market, it was primarily designed for inventory management. Today, ERP systems have evolved to encompass a lot of other back and front-office operations.
Where Did ERP Come From?
It's fair to say that the first attempts to create an ERP go back to the invention of the first calculation machines in the 1940s. With the creation of IBM in the 1960s and its further development, new opportunities for ERP systems continued emerging.
The term ERP was used for the first time back in 1990. This term was used to define the procedure of manufacturing resource planning and Materials Requirements Planning (MRP) when they reached further than manufacturing and affected enterprise divisions like HR, finance, and others. ERP systems have been rapidly developing since that time.
Modern ERP systems like Oracle, Microsoft, Infor, and Sage emphasize intersystem communication and consolidation. In the future, ERP systems are expected to merge into all-in-one products that function with the help of the technology of cloud computing.
What Does an ERP System Do?
Below are the core benefits of a modern ERP:
Order integration. With an ERP system, all the company orders are coordinated with one tool in a simple and efficient manner. There are no delays and bottlenecks.
Financial information integration. An ERP system gives different enterprise departments tools to handle their finances in one place. This way, there is no wasting time on adapting numbers.
HR information standardization. Many businesses face great challenges when it comes to handling employee personal information, time reporting, training, scheduling, certificating and so on. With an efficient ERP, all of these processes are integrated into the corresponding tool and can be handled easier and faster compared to traditional methods.
CRM tool utilization. With its help, companies can track customer interactions and get insights needed for studying customer behavior better.
Standardization and acceleration of manufacturing processes. With an ERP system, the main and supporting processes of manufacturing can be unified for the sake of cost reduction, productivity boost, and time-saving.
Procurement standardization. An ERP makes it easy to handle purchases across the company departments, analyze and track them.
Facilitation of government reporting. With ERP systems, different departments of the enterprise can send the needed reports to the government easier.
Accounting management. An effective modern ERP system integrates with the company's accounting system and helps businesses analyze their numbers better.
As you can see, an effective ERP system can facilitate a wide range of enterprise processes. You probably wonder how you can choose the best ERP system for your enterprise. Below are the key features top ERPs should have.
Key Features of a Top ERP Solution
Smooth financial management. When choosing an ERP, search for a system that has a strong financial component. Go for software that can securely store, control, and analyze all the financial data of your enterprise. The system should be able to handle budgeting and forecasting. There should be a feature to see the insights of your budgeting so that you can optimize your processes.With the financial management feature, an ERP will help you to increase the profitability of your enterprise, improve the cash flow, cut down the costs of different processes in various departments. In simple words, it will show you where every dollar goes and whether it's spent in the best way.
Robust inventory tracking. Planning your business operations isn't easy for a small business, and it's no cup of tea when it comes to huge enterprises as well. With an efficient ERP inventory management system, an enterprise can manage all of their processes in inventory, logistics, finances, and operations in one place. An ERP system inventory management feature can help businesses increase their efficiency, save costs, improve the supply chain transparency, improve data collection and reporting accuracy, and help the business to expand faster.Managing all the business operations from one place sounds great, doesn't it? However, different ERP systems have different features, so you should be careful when choosing a solution for your business. Transferring from one ERP to another can be quite painful.
Active quality control. Advanced quality control is one of the main determinants of business success or failure. For this reason, ERP systems should have an active quality control feature. ERPs can facilitate business processes by involving every department and employee in the quality management culture. Naturally, every part of the company influences the quality of its products and services in a certain way. ERPs help to boost employee commitment and improvement by generating and deploying transparent quality values every employee can refer to.Active quality management helps companies to improve their compliance, improve management of supplier relationships, and reduce their defect rates. This way, ERPs can help the enterprise reach its goals and objectives in the most effective and practical manner.
Complete Process Automation. ERPs can save an enterprise a lot of money if they have a complete process automation feature. You make your business processes more accurate by automating them. Accurate and error-free data entry software leaves no room for mistakes, so you will always be sure that the numbers you get are accurate and reliable.By automating company processes you can enhance the productivity and overall efficiency of your business in many ways. First of all, ERP system data transparency and uniformity saves you from the trouble of purchasing various document management systems for different company departments. What's more, this feature enables real-time reporting. Cutting downtime is a dream of every enterprise. And, on top of it all, complete process automation makes your employees more motivated, as they can concentrate on challenging non-routine tasks.
Security. This is one more crucial feature a top enterprise resource planning system should have. No matter what great features the software has and what opportunities it offers, it's useless unless it's secure. An ERP system is a place where all your company data and numbers will be stored, and it's vital for your business to keep all this information in a safe place. An ERP system must be well-secured from unauthorized use. Top enterprise ERP systems have a permit-driven architecture that gives users an opportunity to view, modify and delete only the data they have the permission to handle.Flexible deployment architecture of an ERP system is a must. It will give your network administrator an opportunity to configure the best security settings. No matter what core features you go for, security is never to be compromised.
Final Thoughts
Currently, top ERP systems can do a lot for your business. No matter what industry you work for and what services or products you create, an ERP system can leverage your workflow, facilitate communication, and enhance the flexibility and transparency of your business.
ERPs have the potential to facilitate the overall effectiveness of an enterprise in many ways, from automating many processes to enhancing the performance and motivation of every employee. With the right ERP system, you can grow your business efficiency and profit more than ever before. Yet, make sure to choose software with all the right features that fit your needs best.
---
About the author: Maria Redka is a Technology Writer at MLSDev, a web and mobile app development company in Ukraine. She has been writing content professionally for more than 3 years. Maria researches the IT industry and the app development market to create educational content for the company's clients and build MLSDev as a brand. The opportunity to share her knowledge with people who are looking for valuable information to understand more about app development is something that motivates Maria and inspires her to create more quality content.
---
Looking for more? Download our ERP buyers guide for free and compare the top-24 products available on the market with full page vendor profiles. The guide includes four key capabilities to look for in an ERP solution, plus five questions to ask yourself and five questions to ask the software provider before purchasing. It's the perfect resource for anyone looking to find right ERP for their business/organization.
And don't forget to follow us on Twitter, Facebook and LinkedIn for all the latest in the ERP space!

Latest posts by Elizabeth Quirk
(see all)