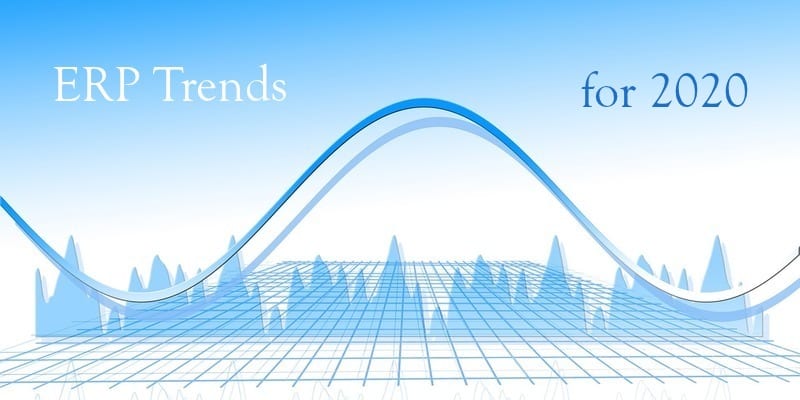 What are some of the most commonly discussed ERP trends for 2020? Over the years, we've seen ERP software evolve to adapt to ever-changing business needs, customer demands, and enterprise technology innovations – such as cloud, machine learning and artificial intelligence. Today, we may be seeing a totally different kind of ERP than what was available twenty or thirty years ago. As 2019 comes to a close, the editors here at Solutions Review are looking ahead. In this light, we've provided some of the most commonly discussed ERP trends for 2020.
ERP Trends for 2020
The Internet of Things (IoT)
The IoT is defined as the interconnection of data from devices that normally would remain disconnected from the Internet. Companies can gain valuable insights into how the ERP system performs with the IoT, like how and where the system is used. IoT technology can improve accuracy and expand data availability, which gives rise to intelligent and much more flexible ERP systems as well.
What's more, blending IoT data with ERP systems can add valuable information to bigger picture within an enterprise, for instance with the IoT, product shipments can be tagged with devices that report transportation time and current location information. As a result, manufacturers can use this information to better plan production schedules and plant locations.
Cloud
Cloud solutions are increasingly gaining attention of business leaders and quickly replacing legacy, on-premise solutions. In 2017, global cloud computing revenue topped $250 billion, and according to Gartner, by 2020, 80 percent of CTOs in leading organizations will facilitate the identification and analysis of emerging technologies to support their companies' digital transformations.
A cloud-based ERP system – which is offered to businesses via a subscription model by cloud vendors, is a great cost effective alternative to on-premise systems (no hardware to purchase, etc.) On a cloud server, the capabilities of ERP software are easily accessible from any device that connects to the Internet, making it easier to maintain because there is no on-premise upkeep required. In today's digital environment where business teams and employees can collaborate on important documents, spreadsheets, etc. and enter important data from remote locations – ERP software is most efficient when it's utilized via the cloud.
Artificial Intelligence
AI-enabled ERP (iERP) systems can create an environment where a company's data is conversational and actionable. Not only that, but these intelligent ERP systems can learn from the data sources, create workflows, and reduce the time it takes to load data and reduce errors in the inserted data. Since AI technology learns the different ways in which an organization and individual users interact with the ERP software on a daily basis, AI-enabled ERP systems can suggest different ways to optimize the system for individual users.
Mobile
Mobile ERP applications allow companies to benefit from improved quality of service, deeper business relationships and more accurate data capture – not to mention access to important data from any location at any time. For instance, an employee from the sales department can check inventory levels or even close a sale from home or while on the road traveling. This convenience of accessing ERP data from your phone, laptop, tablet, etc allows for employee productivity to increase while giving them the tools and information they need to conduct business.
Mobile ERP applications can improve the efficiency of separate business processes too. For instance, a manufacturing business may often run into risks of production delay because of delivery issues. Mobile ERP can dramatically shorten such risks by sending notifications about delivery troubles. In turn, employees will be quickly informed in order to search for the best solution to avoid losses of time and money.
This can increase your customer relationship strategy as well. Employees can easily communicate with customers at any time and place, so if there happens to be an issue with shipping/delivery, employees can contact customers about it letting them know they're working on it and to be aware delivery may be late. Keeping customers informed goes a long way, believe it or not.
---
Looking for more? Download our Enterprise Resource Planning Buyers Guide for free to compare the top-24 products available on the market with full page vendor profiles, key capabilities, an ERP software market overview, our bottom-line analysis, and questions for prospective buyers.
And don't forget to follow us on Twitter, Facebook and LinkedIn for all the latest in the ERP space!

Latest posts by Elizabeth Quirk
(see all)