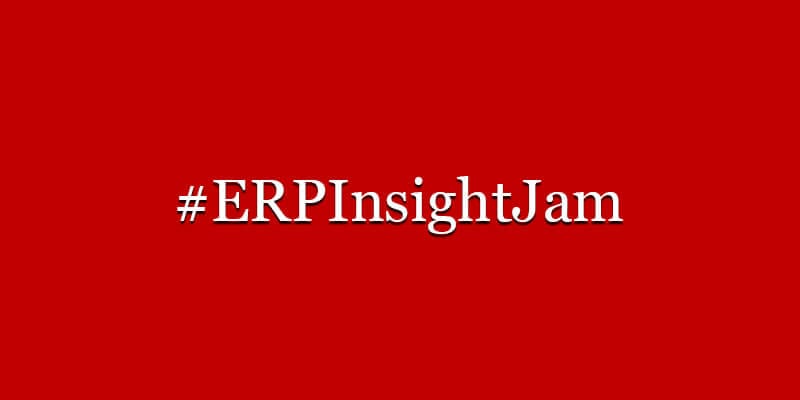 Here it is! The ERP Insight Jam Recap. Solutions Review's first annual ERP Insight Jam was a massive success. With participants spanning from ERP vendors, industry analysts and enterprise resource planning practitioners across the world, people shared their favorite tips and tricks for ERP solutions. Many of these participants also submitted short video clips, which we turned into a compilation video! You can find it here and on our YouTube Channel.
The conversations had were incredibly informed and excellent. Everyone who submitted insights, whether it be via video format or otherwise, were invaluable and really helped out those looking at ERP solutions now and for the future. A few of our favorite comments and tweets from the day are featured here:
THANK YOU to @WorktechReview & @Solution_Review for having @SuiteCentric's COO Sean Gillespie in this ERP advice video for #ERPInsightJam. 🙌

Sean & other executives from companies like @NetSuite & @Oracle discuss the benefits of cloud-based #ERP. Enjoy!https://t.co/jaDMeGOLPW

— SuiteCentric (@suitecentric) December 3, 2019
Proud to be included in @SolutionsReview's "Top 24 Leading #ERP Vendors to Watch in 2020! Check it out – https://t.co/KuVd32wQkN #ERPInsightJam https://t.co/RzABMEjj7t

— Priority Software (@PrioritySw) December 3, 2019
Good advice Ranga! #ERPInsightJam https://t.co/3kVDG4AK9D

— Cindy Jutras (@ERP_cindyjutras) December 3, 2019
ERP in 2020 will be about personalization. Businesses are becoming increasingly complex and harnessing more data than ever before, and many industries have their own personalization and regulatory needs. Tweet your predictions to @VAIsoftware with #ERPInsightJam

— VAI (@VAIsoftware) December 3, 2019
ERP Data Tip 1:

When talking to an ERP vendor, ask this: "For what purposes do you use my data?" The answer should be NONE.

More on our @Solution_Review blog: https://t.co/b08lxCGVRb#ERPinsightjam

— Striven All-In-One Business Software (@SoftwareStriven) December 3, 2019
When evaluating #ERPsoftware solutions, it is critical to know what questions to ask at the beginning to avoid pitfalls later down the line. Have your say! 🗣️ Do you agree? What other questions can we encourage our clients to ask of vendors? #ERPInsightJam #businessadvice https://t.co/tGOpGI6h5T

— Gradient Consulting (@GradientConsult) December 3, 2019
If you are on the lookout for #ERP advice and tips check out this #ERPInsightJam video from @Solution_Review featuring our deputy CTO @cvjepsen https://t.co/2mASh2Ddq4

— Unit4 (@Unit4Global) December 3, 2019
A big thanks to @WorktechReview & @Solution_Review for giving us the opportunity to participate in this #ERP advice video for #ERPInsightJam

Watch TrinSoft's Bobby Haggard and other executives give their best ERP tips. https://t.co/NoarSZ7jTP

— TrinSoft (@trinsoft) December 3, 2019
---
Looking for more? Download our Enterprise Resource Planning Buyers Guide for free to compare the top-24 products available on the market with full page vendor profiles, key capabilities, an ERP software market overview, our bottom-line analysis, and questions for prospective buyers.
And don't forget to follow us on Twitter, Facebook and LinkedIn for all the latest in the ERP space!

Latest posts by Elizabeth Quirk
(see all)