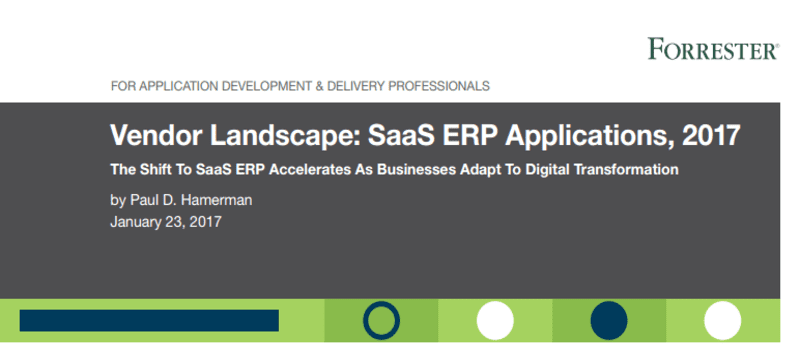 Forrester Research, the Cambridge, MA-based research company, has released the latest version of its Vendor Landscape on SaaS ERP Applications Report.
Software-as-a-Service (SaaS) ERP systems are accelerating as a mainstream delivery model to help companies gain flexibility and leverage modern cloud technologies. Because of this, the market landscape is evolving as SaaS ERP providers battle traditional ERP vendors that are repositioning their solutions to the cloud. Application development and delivery (AD&D) leaders and their business partners should assess the viability of their current ERP deployments and consider the rapidly changing ERP landscape.
Forrester researchers, Paul D. Hamerman, Christopher Andrews, Joseph Miller, Bill Seguin and Andrew Reese, surveyed 17 ERP vendor companies on their SaaS ERP offerings and interviewed 12 vendors for this report in order to help ERP professionals and enterprises choose the right ERP deployment method and solution.
The Forrester Vendor Landscape highlights the benefits of SaaS ERP, discusses what the transition from on-prem to SaaS ERP is like and how the SaaS ERP market is evolving, and evaluates the SaaS ERP vendors ranging from global giants to market disruptors. The transition to SaaS ERP is driving new levels of ERP competition, which Forrester discusses in depth in the report as well.
Multiple graphs are provided in the report including: Pure-Plays vs. Multimode Vendors, The Three Key Strategic Dimensions Evolving the SaaS ERP Market (Industry requirements, Company size & Local/Global), and The SaaS ERP Vendor Market Focus.
Some key takeaways:
Midsize and smaller companies in services industries are adopting SaaS ERP quickly, but the adoption level lags in manufacturing and larger enterprises. Forrester expects adoption to scale up as more robust offerings from leading vendors gain customer success, and vertical-specific offerings will expand as well.
In assessing the SaaS ERP vendors, Forrester found significant differences among the 18 representative vendors surveyed in terms of customer adoption, deployment options, and go-to-market strategies.
Acumatica, Deltek, Epicor, FinancialForce, Infor, Intacct, Kenandy, Microsoft, Oracle Netsuite, Oracle, Plex Systems, QAD, Ramco Systems, Rootstock Software, SAP, Unit4 and Workday are the 18 vendors surveyed and analyzed in the Vendor Landscape.
Read Forrester's 2017 Vendor Landscape: SaaS ERP Applications Report
And don't forget to follow us on Twitter, Facebook and LinkedIn for all the latest in the ERP space!

Latest posts by Elizabeth Quirk
(see all)