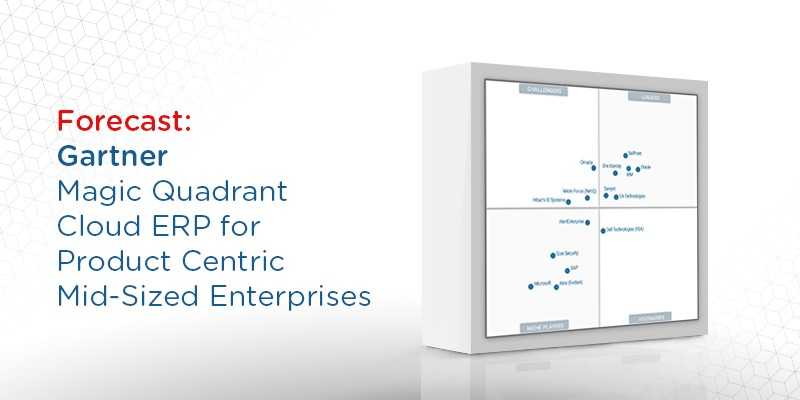 The editors at Solutions Review compiled a few predictions we expect to see in the upcoming Gartner Magic Quadrant for Cloud ERP for Product-Centric Midsize Enterprises report.
If you're a small to midsize manufacturing or distribution company looking for a product-centric cloud ERP, then you're already one step ahead of your competitors—recognizing that the digital era has extended to your industry with no way of avoiding it.
Each year, enterprise technology professionals look forward to the release of Gartner's Market Guide for Cloud ERP for Product-Centric Mid-Sized Enterprises. In 2018, however, it'll be a Magic Quadrant report. Set to be released on March 3rd (according to the company's release schedule), it will be the first companion resource to Gartner's Market Guide for Product-Centric Cloud ERP Solutions.
As the premier report in the marketplace, ERP leaders and distribution and manufacturing companies base many of their yearly initiatives and purchasing decisions on Gartner's advice. Featuring a proprietary research methodology, the analyst house's annual release garners hype unparalleled in the enterprise and on par with Apple's keynote events in the consumer technology space.
At Solutions Review, we share in the excitement as we near the date of Gartner's newest release. It's in this spirit that our editors have compiled a couple of things we expect to see once the report becomes available.
Forecast for the 2018 Gartner Magic Quadrant for Cloud ERP
---
Increase of Cloud ERP Solutions for Product-Centric Companies
As the market guide revealed last year, cloud ERP solutions for product-centric companies are maturing. Over the next three years, it will be adopted by midsize and even larger organizations. Although product-centric organizations haven't been embracing the move to cloud ERP as quickly as service-centric organizations, many consider cloud as a way of increasing value and improving the flexibility of their ERP deployments.
Product-centric organizations view the move to cloud ERP applications to transform business processes to support the shift to digital business. A move to the cloud offers the opportunity to focus more on supporting customer-facing operations rather than expending IT and finance resources on supporting heavily customized on-premises core ERP applications.
Vendor Competition Will Vary
We predict competitive differentiation between vendors will emerge with the delivery of packaged integration, allowing customers to loosely couple their cloud ERP products with other vertical-specific applications such as Enterprise Asset Management (EAM), Product Lifecycle Management (PLM), Customer Relationship Management (CRM).
As a product-centric cloud ERP suite must provide at least financial management capabilities, the vendor may also provide other administrative ERP functions such as Human Capital Management (HCM) either directly or through partner relationships. When being plotted on the Magic Quadrant, we may see various vendors plotted in the Leaders, Challengers, Niche Players and Visionaries quadrants depending on what they offer and for what industry.

Latest posts by Elizabeth Quirk
(see all)