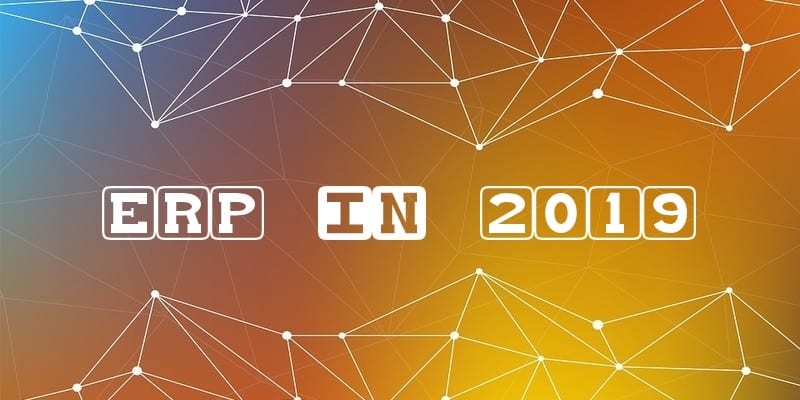 Over the years, we've seen ERP software evolve to adapt to ever-changing business needs, customer demands, and enterprise technology innovations – such as Cloud Computing, Mobility, The Internet of Things (IoT), and Artificial Intelligence (AI). Today, we may be seeing a totally different kind of ERP than what was sold twenty or thirty years ago. So as the new year approaches, we've provided some of the top predictions and ERP trends from industry experts that will continue to evolve over the course of this year and into 2019.
From Eric Kimberling, CEO and Founder, Third Stage Consulting Group
What do you think the future of ERP software will look like? More fragmented and less standardized than today. Too many companies require flexibility and agility, which runs counter to most traditional ERP systems. I suspect we'll see a proliferation of more companies like Salesforce, Workday, and others that carve out niches within the broader ERP space.
Tech trends in ERP for 2019? Cloud adoption has reached a tipping point and will continue into 2019. In addition, blockchain, AI, machine learning, and other technologies that have long been on the bleeding edge of technology will finally start to become mainstream as the large ERP systems mature in these areas.
Where do you think cloud computing will take ERP software? Will on-premise solutions be obsolete? I think cloud will become so prevalent that we will stop hearing the term "cloud." It will just be the norm of how most technology is deployed. I don't know that on-premise will become obsolete anytime too soon, as there are still enough CIOs and IT organizations out there who still want to control their IT within their own four walls rather than in the cloud.
How will ERP vendors change their offerings to keep up with ever-changing business demands? I think it will be difficult for them to be everything to everyone. Big ERP vendors such as SAP and Oracle have the resources to pursue R&D into different industry verticals, but smaller vendors will need to focus their efforts. There will always be opportunities for upstart vendors such as Workday to satisfy niches within the ERP space better than the ERP vendors can.
Digital transformation and ERP, how are they connected? I think of digital transformation as ERP 2.0. ERP is focused on finding one system to automate everything within your business, whereas digital transformation is focused on leveraging various technologies to transform your business model. ERP is still a subset of digital transformation, but the latter encompasses much more than ERP. For example, BI, analytics, Industry 4.0, iOt, and other technologies can be used to augment the traditional back-office functions of ERP.
From Fetty Francis, Content Marketing Specialist at SoftwareSuggest
Modernizing ERP: The ERP systems have been in existence since the 1990s and have been constantly evolving ever since and are here to stay. So, this means that the companies which are using archaic systems like As-400 are to upgrade themselves as they have become outdated and also the new generation employees which have grown up using social media and other advanced technological innovation would not be interested in using the obsolete systems. The ERP developers should modernize their software and make them more user- friendly keeping in mind the quality of the software users.
Increase in Mobility: Cloud computing is becoming more popular and being widely adopted across different businesses. With cloud enabling access from anywhere, a business can now be conducted from the comforts of home. Floor workers, clerks, management and other stakeholders in the business are preferring mobile over desktops to operate their business. With mobile phones being entwined in people's lives, using ERP software on the mobiles will become inevitable. Hence, ERP should make them mobile compatible.
Increase in Data and Business Intelligence (BI): With an abundance of transactional and logical data available and a lot of it being captured through the ERP software, organizations are continuously trying to make sense of the data and make use of it. ERP vendors must invent and device intelligent and efficient methods to make judicious use of the data available. SAP, Infor, and Oracle are some ERP vendors who are investing in business intelligence to use the data sensibly to increase profits.
Increased Competition: The competition is fierce and intense and will continue to be so for many years. Entry point has become more porous, private equity, investment and capital resources will become ever competitive. Companies are required to be adept with the changing market and customer needs and effectively use business intelligence and CRM software to leverage maximum profit for the business.
More Customer-Centric Focus: Most business and enterprises put their customers first. Any business decision is made keeping in mind the customers who are eventually the end users. But this has not yet trickled down to the ERP systems. The ERP software has been built keeping warehouse management, accounts, supply chain and audits in mind but not the customers. However, this is changing now. Big ERP giants are now investing heavily in trying to make ERP more customer friendly. Integrating CRM with ERP is not the only solution. Seamless integration of various factors contributing to business like e-commerce, customer service, social media, finance, and analytics will make the ERP more customer oriented.
Flexible ERP Solutions: The future seems bright for vendors who provide many options for different modules, business types, and functions. Though SaaS solutions offered by cloud computing are making it big, the companies will want an amalgamation of both cloud solutions as well as on-premise solutions. They will want the freedom to choose both or move from one solution to another in the future.
Read our thoughts about the latest trends in ERP here.
---
Looking for more? Download our ERP buyers guide for free and compare the top-24 products available on the market with full page vendor profiles. The guide includes four key capabilities to look for in an ERP solution, plus five questions to ask yourself and five questions to ask the software provider before purchasing. It's the perfect resource for anyone looking to find right ERP for their business/organization.
And don't forget to follow us on Twitter, Facebook and LinkedIn for all the latest in the ERP space!

Latest posts by Elizabeth Quirk
(see all)