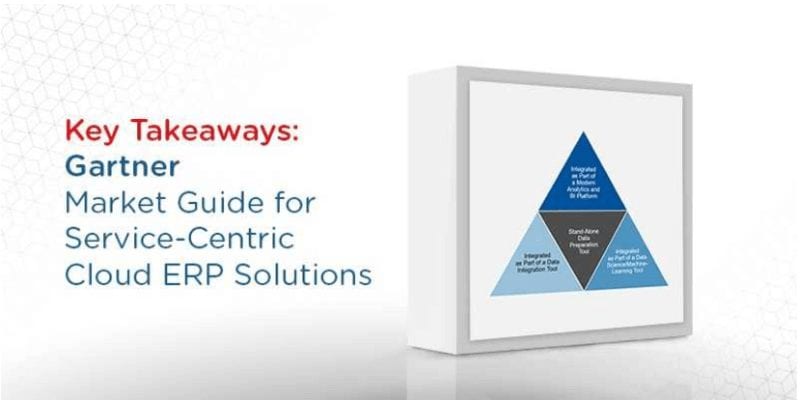 Analyst house, Gartner Inc., has released their 2019 Market Guide for Service-Centric Cloud ERP Solutions, available here. The researcher's Market Guide series is meant to cover new and emerging markets where software products and organizational requirements are in limbo. These Market Guides can be a great resource for understanding how a fledgling space may line up with current and future technology needs.
Gartner adds, "Service-centric organizations are increasingly moving their ERP platforms to the cloud as offerings continue to mature. CIOs responsible for ERP should use this research to understand the competitive landscape of this growing market and make a vendor longlist."
Service-centric organizations have different functional needs to those of product-centric or asset intensive organizations. Gartner defines a service-centric ERP suite as comprising: Financials, HCM and indirect procurement (administrative ERP) PSA, including project planning and resourcing, project management, and project accounting and billing Specialized industry-specific modules or applications.
A service-centric ERP suite must provide at least financial management functionality from administrative ERP and either PSA or industry-specific modules for at least one service-centric industry.
Gartner's Market Guide aims to provide a more overarching view of the software space, the research house does, however, mention the vendors to watch as things take shape. Highlighted in the Guide, these ERP vendors provide cloud ERP solutions for service-centric companies: Acumatica, Deltek, FinancialForce, Infor, Microsoft, MYOB, Oracle, Priority Software, Ramco Systems, Sage Intacct, SAP, Unit4, Workday and Xledger.
Key Takeaways
Analysts define service-centric organizations as not physically manufacturing and selling products, instead, they sell financial or consulting services. Delivered by employees, these services are generally people-centric rather than product-centric.
Looking at some of the key findings of the report, Gartner has found that service-centric cloud ERP solutions are experiencing notable maturation and over the next few years will increasingly be adopted by both large and mid-sized organizations. As of right now, as organizations are being pushed towards next-generation ERP, and are having to make the choice between proven on-prem deployment and cloud offerings. All in all, Gartner recommends that while many vendors provide service-centric solutions, it's incredibly important to find a solution that meets your size, geographic, and industry requirements.
Gartner predicts that service-centric organizations are quicker to hop on the cloud trend than some of their product-centric peers. Because service-centric organizations don't have manufacturing capabilities or an array of on-premise applications to run manufacturing, there's a greater freedom to consider a cloud deployment.
Taking a closer view at some of the representative vendors in the space, we see some familiar faces in Oracle, Infor, and Microsoft, but also some less familiar names such as MYOB and Xledger. To ensure that the list was as relevant and accurate as possible, Gartner required each of the vendors in the space to confirm that they have at least one service-centric cloud ERP offering and at least 50 customers live on their service-centric cloud ERP offering. The Service-Centric ERP Market Guide provides a grid that breaks down each vendor's cloud ERP offering by industry including healthcare, banking and insurance, or education.
Read Gartner's 2019 Market Guide for Service-Centric Cloud ERP Solutions here.
---
Looking for more? Download our Enterprise Resource Planning Buyers Guide for free to compare the top-24 products available on the market with full page vendor profiles, key capabilities, an ERP software market overview, our bottom-line analysis, and questions for prospective buyers.
And don't forget to follow us on Twitter, Facebook and LinkedIn for all the latest in the ERP space!

Latest posts by Elizabeth Quirk
(see all)