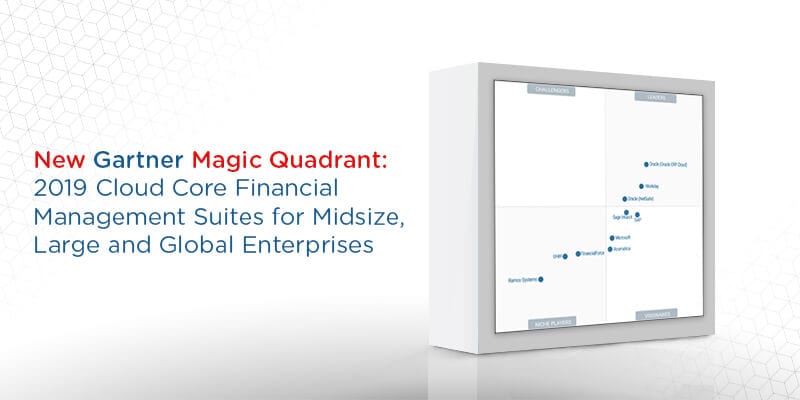 Analyst house, Gartner Inc., recently released their 2019 Magic Quadrant for Cloud Core Financial Management Suites for Midsize, Large and Global Enterprises. Since the previous version of this Magic Quadrant, in 2018, Gartner has seen a major increase in the number of end-user inquiries about cloud solutions in this market, mainly of the public cloud variety. During the same period, the number of inquiries about on-premises and hosted solutions has fallen dramatically.
According to the report, many large organizations with extensive on-premises business application architectures for core financial applications are investigating cloud solutions' capabilities and gauging when they should switch to the cloud. Most are looking for solutions that are minimally capable of providing functional parity with their on-premises counterparts. In many cases, they will find capabilities in today's modern cloud solutions that surpass those of "dated" solutions.
However, for multibillion-dollar organizations this point may be several years off. Many are and have been pursuing a postmodern ERP strategy that surrounds their ERP solution with best-in-class cloud solutions for ancillary functionality. Most require faster processing and better collaboration, and analytics that are easier to use are needed While this strategy currently represents a large percentage of multibillion-dollar organizations, new applications integrating financial planning and analysis (FP&A) and financial close (FC) into core financials may achieve a competitive edge during the next three to five years.
According to Gartner's definition, core financial management suites include:
The functional areas of general ledger (GL), accounts payable (AP), accounts receivable (AR), fixed assets (FA), project accounting, project costing and project billing.

Newer capabilities, when available for inclusion, such as subscription billing, revenue recognition and account hub, as well as process enhancements aided by AI and ML.
Financial analytics and reporting capabilities, including the provision of financial information and of key performance indicators to managers and executives. These capabilities are also gradually being targeted with AI and ML.
Basic indirect purchasing functionality, from creating a requisition through to purchase order processing and AP invoice matching and payment. Many enterprises — especially midsize ones — need some basic procurement functionality within their core financial applications.
Gartner analysts estimate the market for cloud suites will continue to evolve during the next five to 10 years. While rapidly maturing, the roadmaps associated with many cloud solutions evaluated here remain a work in progress in relation to functional depth, industry and geographic support.
Lastly, Gartner plans to publish a partner Critical Capabilities report in the second quarter of 2019, to assess vendors in light of a number of use cases. It will help you identify which solutions are most suitable for your needs. The use cases will include the ability to serve companies of various sizes, as well as those for business units and for EMEA-based enterprises.

Latest posts by Elizabeth Quirk
(see all)