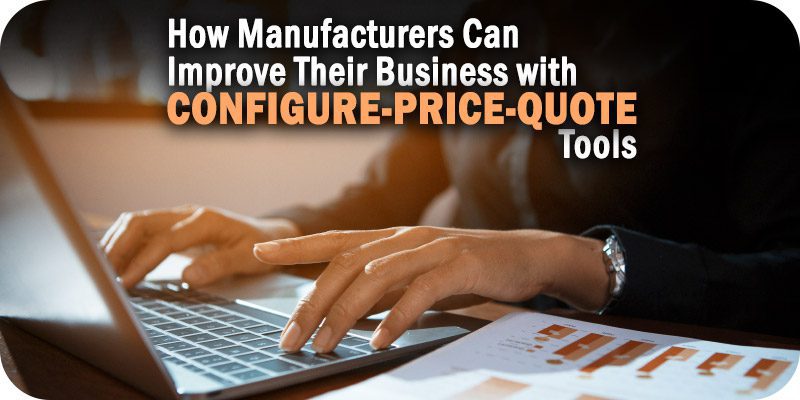 As part of Solutions Review's Premium Content Series—a collection of contributed columns written by industry experts in maturing software categories—Bo Gyldenvang, the CEO at Tacton, shares insights into how manufacturers can use configure-price-quote (CPQ) tools to improve their business.

According to Our World in Data, the manufacturing industry is responsible for approximately 20 percent of the global climate impact from human activities. As the world becomes more environmentally conscious, manufacturers must prepare for the sustainability regulations on the horizon.  Many manufacturers are turning to Configure-Price-Quote (CPQ) tools to help digitize their business and become more sustainable.
However, it requires diligence to integrate CPQ into their existing infrastructure as information is dispersed across the organization's enterprise systems, including customer relationship management (CRM) and enterprise resource planning (ERP). The key is successfully integrating these systems so that manufacturers can reap the benefits of CPQ and improve their sales approach.
Integration across CRM, ERP, and other pricing systems has proven to be great for the bottom dollar. Still, it is emerging as one of the critical ways to become a more sustainable company. Furthermore, tighter integration of pricing systems within the sales cycle can result in more sustainable and profitable manufacturing.
Let me share the critical role of Configure-Price-Quote tools and how manufacturers can complete meaningful integration in CRM and ERP, ultimately leading to more sustainable practices.
How Forward-Looking Tech Can Lead to Better Sustainability Practices 
Manufacturers can take the lead in addressing climate change by fully integrating sustainable practices, starting with the proper CPQ system. Due to compliance and measurement challenges, executing the impact of ESG aspirations or requirements throughout the value chain is challenging. However, due to a lack of cross-departmental coordination between the sales and manufacturing teams, "low-hanging fruit" objectives are often ignored. CPQ can help manufacturers avoid or correct supply and demand imbalances. 
For customizable items, Configure-Price-Quote systems generate quotes and handle orders, assisting in creating legitimate configurations with authorized pricing. With the correct CPQ solution, manufacturers can deliver goods compliant with local emissions laws and other sustainability standards while optimizing product design to promote sustainable manufacturing.
CPQ tools may help companies find and suggest ecologically and energy-friendly materials that match client demands by reducing the need for human entry, minimizing mistakes, and ensuring accuracy. They can also optimize pricing and bidding for more sustainable solutions. A properly set up CPQ platform may optimize bids to select the configuration with the least negative environmental effect and communicate the reduction achieved to the customer. Additionally, CPQ systems can assist in lowering the quantity of CO2 by proposing environmentally friendly and energy-efficient goods.
Not only can these practices contribute to a greener society, but they can also yield a return on investment (ROI) for manufacturers. According to Capgemini, over 80 percent of firms observed improved brand recognition, better environmental, social, and governance (ESG) ratings, and increased productivity and efficiency due to sustainability programs. 
The Role of Integration with Configure-Price-Quote Tools 
CPQ integrations are strategic efforts to eliminate internal silos and deliver a seamless client experience. CPQ combines and uses data from your surrounding business systems to improve the quality of quotes, orders, and client journeys. 
Success With Your CRM Integration
Configure-Price-Quote allows manufacturers to speed up response times and increase customer satisfaction through CRM systems. CRM enables you to locate sales prospects, record customer desires, specify the services you sell, send estimates, and make sure clients accept the deal. A CPQ system is required for highly configurable products to match client requests with technical solutions, provide exact pricing, and develop accurate quote documents.  
This implies that there must be integration between the CRM and the CPQ. Accounts and opportunities within the CRM are often sent into the CPQ along with customer data. In addition to any other client requests that the sales representative would enter while configuring, CPQ would then use this data to drive the configuration.
Technical solutions, prices, and quotes are created by the CPQ and then returned to the CRM so sales representatives can continue the process and seal the deal. This method supports an accurate sales funnel and projections by the CRM constantly updating the most recent quote changes and opportunity sizes. By creating tighter integration with your CRM and CPQ, you can improve efficiency and effectiveness in your operational CRM processes through sustainability.
How to Approach ERP Integration 
The CPQ and ERP integration must support the transmission of hierarchical BOM structures, which the ERP can subsequently interpret into manufacturing BOMs and routings. Planning and forecasting production is a crucial function of ERP tools. Given the lengthy sales cycles and numerous deal revisions, ERP tools need reliable information as soon as possible. Integration can supply the ERP with expected order contents even before the order has been placed, allowing the ERP to set up inventory and logistics accordingly. This can lead to greater efficiency and sustainability in order processing, increase customer satisfaction, and improve the bottom line.  
This intricate pre-order relationship between CPQ and ERP could go the other way. The ERP can determine the projected delivery time once it has received the order materials for a running quote from CPQ. Such calculations, which consider stock levels, order pipelines, shipping delays, supplier capacity, and historical lead times, might be too complex for bespoke items. The estimated delivery time can be automatically incorporated into the estimate after being received by the CPQ and then transmitted to the customer. 
With excessive waste in the value chain due to unnecessary and unsold parts on stock, it has historically been a challenge to achieve success in ERP, leading to practices that are not sustainable. However, with more robust integration of ERP and the power of CPQ tools, manufacturers can drive environmentally conscious product workflows that work better for the company and the consumer.  
Start Your Journey Towards Sustainability with Tighter Integration 
Automating laborious procedures, matching consumer expectations, and building a genuinely data-driven ecosystem depend on integrations. The only way to obtain the information required to make wise and valuable decisions is to embrace CPQ integrations. Adhering to more sustainable practices in manufacturing won't happen overnight. However, with the right SPQ tools and a clear pathway toward integration across your systems, you are well suited to build sustainable growth in your sales processes and do your part toward global climate change. 
---
Latest posts by Bo Gyldenvang
(see all)