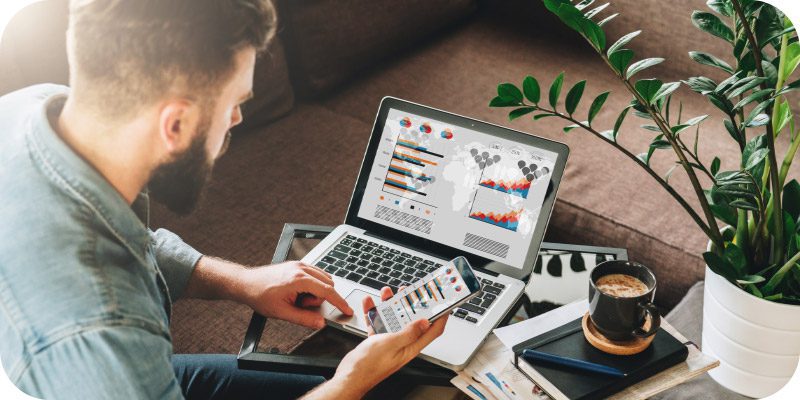 Enterprise Resource Planning (ERP) software was designed to help companies manage their core business processes, such as sales, purchasing, finance, HR, accounting, Customer Relationship Management (CRM), inventory, etc. Today, ERP solutions are integrated systems that utilize a central database that allow organizations to collect, store and manage important data from multiple departments. When used correctly, ERP systems drive efficiency, lower operating costs and increase a company's profitability by streamlining and optimizing important business processes.
Choosing an ERP solution is no easy task, in fact, it can be quite overwhelming if you're just starting to start the research and/or selection process. Searching, evaluating, purchasing, and deploying an ERP solution is not as simple as it once was. There's no such thing as a one-size-fits-all approach when it comes to ERP software. Solutions today come in a variety of different flavors, each features a particular set of capabilities, strengths, and drawbacks. Choosing the right vendor and solution is a complicated process—one that requires in-depth research and often comes down to more than just the solution and its technical capabilities.
Here at Solutions Review, it's our job to help simplify that process. To that end, we've created a variety of buyer resources and articles to speed the evaluation of enterprise technology solutions. In our Enterprise Resource Planning Buyer's Guide, we offer readers a full ERP market overview. This includes company and product profiles and best use cases for the top-24 providers, ten questions for prospective ERP buyers, and our bottom line analysis.
In addition, here are some very important criteria you should be on the lookout for when choosing an ERP tool.
Cost
It's important to consider the cost of your potential ERP tool. Obviously you'll want to choose one that gives the company a maximum Return on Investment (ROI). There are a lot of ERP solutions available on the market today, so it may be helpful to start with the less expensive models and compare them to the more expensive ones. Which features do you really need in your ERP system? Are there add-ons you can purchase separately? You don't want to end up with a huge ERP tool with all these capabilities, of which more than half you won't need or use. Before purchasing an ERP, consider your company budget, figure out which features you really need and which you can live without.
Integration Capabilities
ERP software that incorporates all business areas and locations, provides data centrally and automates processes is much more efficient than siloed solutions. An integrated ERP minimizes frictional losses in the exchange of information, dispenses with time-consuming and error-prone synchronization processes and avoids data redundancies, media discontinuities and manual duplicate entries.
Industry Suitability
As every company is different, so are there needs, demands and mission goals. For many companies, however, there is an necessary need for special functions to ensure all workflows are mapped and to fully utilize the value creation potential of ERP. The big "all-rounder" ERP solutions do not necessarily support every industry-specific process – in the worst case, these will have to be programmed retrospectively through time-consuming customizing.
Scalability
Since an organization never really maintains the same process for its entire life-cycle, your ERP solution should be able to grow with the company – whether establishing several domestic sites, adding more channel partners, or expanding internationally. Keep in mind: a local presence of the ERP vendor makes the process of implementing the ERP system in new branches much easier. Choosing a software provider that gives 24/7 support is also something you should definitely consider when choosing an ERP tool.
User-friendliness 
Your ERP software should be flexible enough to provide each user with exactly the required information at any particular time – if possible on an intuitive user interface and at the push of a button. User-friendliness of a solution is important because end-users will be interacting with the system on a daily basis, if the system is complicated and hard to manage/use, individuals will not be so willing to adopt it. Not only would this be a waste of money (the ERP investment) but that means potential issues can easily come to the surface with no way of easily overcoming them. As a result, the company will see severe consequences in profitability and efficiency.
Future Reliability
We recommend choosing an ERP software provider that offers a vision and the technological expertise for how they will continue developing the software to the state of the art for many years to come. It's better if the provider doesn't just see itself as a software manufacturer, but as a partner who accompanies the company through its digital transformation.
---
Looking for more? Download our ERP buyers guide for free and compare the top-24 products available on the market with full page vendor profiles. The guide includes four key capabilities to look for in an ERP solution, plus five questions to ask yourself and five questions to ask the software provider before purchasing. It's the perfect resource for anyone looking to find right ERP for their business/organization.
And don't forget to follow us on Twitter, Facebook and LinkedIn for all the latest in the ERP space!

Latest posts by Elizabeth Quirk
(see all)