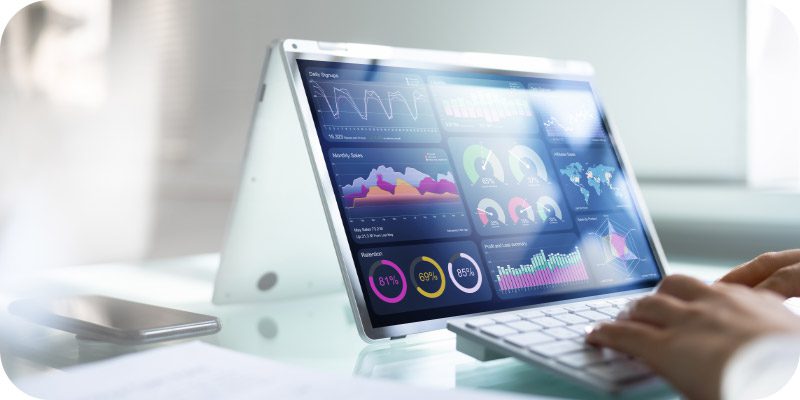 In a recent study, nearly 81 percent of the business polled claimed they had either implemented the use of ERP software in the last year or were in the process of implementation. There is no denying just how helpful these programs can be when it comes to managing the processes, services, and products that make a business unique.
As a business begins to grow, keeping up with the various resources at its disposal can grow increasingly difficult. With an easy-to-use and effective ERP system, you can make great strides when it comes to managing and utilizing the resources you have. In this light, we spoke with Wendy Dessler, who helps businesses find their audience online through outreach, partnerships, and networking. Below she's provided us with some of the benefits that come with investing in reporting software that features real-time ERP data.
How to Improve Your Workflow with the Power of ERP
Adequately streamlining the various processes you and your employees have to deal with on a daily basis is a great way to improve workflow. With a user-friendly ERP system, your employees will be able to extract custom reports in a hurry. These reports can be used to detail problems that need to be fixed in order to improve workflows. By making your employee's jobs easier, you can increase both morale and productivity levels in a fell swoop.
Trying to manually calculate your sales margins and profit ratios as your business continues to grow can be nearly impossible. With the help of an adequate ERP system, you will be able to automate this tracking and get the information you need with ease. Being able to access synchronized reports that detail key business metrics can be extremely helpful. These metrics can alert you to changes that need to be within your business to foster more growth.
An Integrated Approach
One of the biggest benefits of having an ERP system is the fact that they put all of your essential processes into one database. Things like inventory, accounting, human resources, and even order management can be handled under the ERP umbrella. This means you will no longer have to spend countless hours looking for mistakes in ordering or attempting to handle human resources issues. The key to improving the efficiency of your daily processes is by streamlining them with the help of this type of software.
Many ERP systems on the market allow business owners and employees to share a database. This means that anyone with access to this software can generate reports on a host of different subjects. Regardless of what department an employee operates in, the implementation of this software can help them perform at higher levels due to the information it offers.
Increase Customer Satisfaction
If you are like most business owners, keeping customer satisfaction levels high is your main priority. Without accurate data, meeting your customer's needs will be increasingly difficult. Selling products to the general public can be very lucrative. However, failing to accurately track your inventory can lead to missed sales opportunities. With an ERP software program, you can rest assured that the inventory levels you have in your system are accurate.
The last thing you want is to tell a customer you have a product in stock when you really don't. This inventory inaccuracy issue can make a customer angry and may lead to them seeking out the help of your competitor. Rather than losing business due to these inaccuracies, now is the time to embrace the power of ERP software.
Higher Transparency
Among the most essential business assets you have are information and data. Making sure your data is safe and secure can help you avoid catastrophic situations in the future. Without proper data security, the sensitive information your business has may fall into the hands of cyber-criminals. Most ERP and reporting systems allow you to protect data while keeping it accessible to all of the employees a company has. If you have a host of strategic information that needs a heightened degree of security, this software allows you to keep it by itself. Being able to dictate who can access certain information can help you keep it safe and secure.
Simplified Business Accounting
One of the biggest struggles a growing business will have is in relation to their accounting. If your company is bringing in more money, you will need to find a way to put this capital to work. Looking for a way to make business accounting easier for your employees? The best way to accomplish this is by investing in a powerful ERP system. By sharing important data regarding HR, finances and accounting with employees in these departments, you can make it bookkeeping easier. ERP systems are generally used to analyze and integrate financial data. This will reduce delays and increase the amount of productivity your business enjoys.
No More Redundant Data
When multiple employees enter the same data by mistake, it can lead to lots of problems when this data is put into the management system. The confusion and consistencies caused by this redundancy can cause you and your employees to make mistakes. Instead of letting these issues drag down accuracy and productivity levels, you need to embrace the power of ERP software. By linking together all of your databases, you can eliminate these redundancies as soon as they are detected. Implementing the use of this software is the best way to keep data accurate and completely accessible to team members.
---
Looking for more? Download our ERP buyers guide for free and compare the top-24 products available on the market with full page vendor profiles. The guide includes four key capabilities to look for in an ERP solution, plus five questions to ask yourself and five questions to ask the software provider before purchasing. It's the perfect resource for anyone looking to find right ERP for their business/organization.
And don't forget to follow us on Twitter, Facebook and LinkedIn for all the latest in the ERP space!

Latest posts by Elizabeth Quirk
(see all)