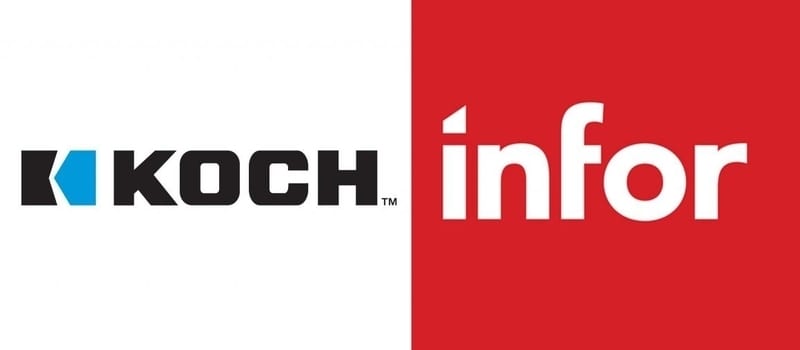 Koch Industries has agreed to invest over $2 billion in Infor Inc. to help bolster cloud capabilities. The New York based Infor is a supplier of enterprise of enterprise resource planning, software that helps companies follow the various components of their businesses. The company's strategy uses Amazon Web Services, which allows it to invest in deep industry functionality rather than maintaining its own data center infrastructure.
"Some of the largest companies in the world have approached Infor looking for a modern alternative" to legacy software options, said Infor Chief Exectutive Charles Phillips.
The privately held Koch Industries claims more than $100 billion in annual revenue, which as Philips noted is more than Oracle, SAP, Salesforce, Workday, and NetSuite combined. This revenue comes from constituent companies, including Georgia Pacific, Molex, Koch Minerals, and Flint Hills Resources. 
This deal should give Infor the financial boost to compete with larger software rivals. The fact that business software companies are consolidating at a rapid pace helped to drive this investment.
The Koch investment is expected to close in the first part of 2017. Cloud based providers of supply chain management systems are growing more quickly than their more established counterparts in an expanding market, according to Chad Eschinger, an analyst and researcher for Gartner Inc. The sales of supply-chain management software grew 11% to $11.1 billion in 2015 and is expected to reach $17.6 billion in 2020.
This past June, Infor had agreed to acquire Predictix LLC and merge the company's consumer demand forecasting technology into its own supply chain management systems for retailers. The move is happening alongside a growing interest in cloud-based services, or software hosted on remote servers, which allow companies to better manage inventory and orders and to allow communication between separate parts of supply chains.
"Traditional companies all want to transform themselves and interact with their customers in a digital way, but don't have the expertise to do that," Phillips said. Infor gives Koch that expertise.

Latest posts by Elizabeth Quirk
(see all)