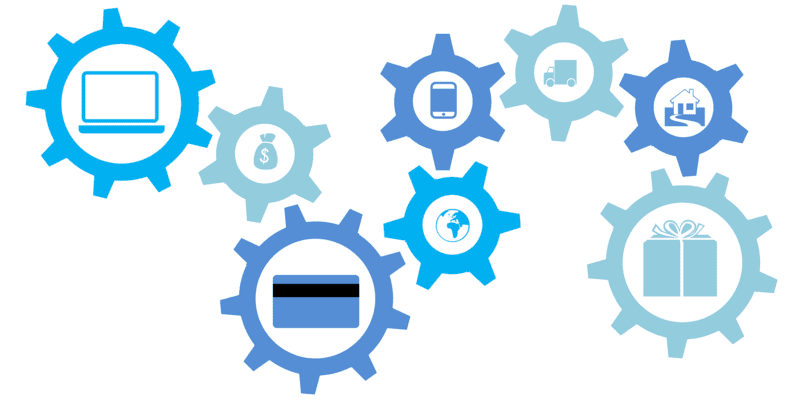 Are you looking for an ERP order management system? For pretty much every manufacturing and wholesale distribution company, ERP software is the glue holding the whole operation together. This could either be a simple bookkeeping tool, or a much more extensive ERP system. ERP order management modules handle order entry and status, tracking, credit limit checking, and delivery dates. It's an essential feature for most manufacturers.
Looking for an ERP Order Management System?
Before setting out to buy an order management system, you should have a solid idea of what needs you're looking to satisfy. It helps to write down what your current order management looks like. Identify what the current business requirements are for your current system and start to speculate what your future requirements will be. These speculations should inform your purchase decision making.
You need a system that follows an order all the way from the front office, through customer relation management (CRM), and then across a number of channels. "I would go outside a pure order management system," said Tyler Wilson, senior ERP consultant at Panorama Consulting Solutions in Denver. "I would look at something that's all-encompassing. Look at something that can integrate with your order management to feed it to the receivables, and that can capture your customer data and put it right into your customer master files."
What is an Order Management System?
Achieving a single view of demand, inventory and supply is one of the most problematic challenges for businesses. Order management systems provide a way to not only increase efficiency, improve fulfillment but improve the customer experience. An order management system can provide one centralized place to manage orders from all sales channels. Centralizing this in one system is critical to delivering a superior customer experience by providing order status, on-time deliveries and meeting customer expectations for buy, fulfill and return anywhere.
While order management often plays a critical role while dealing with the complexity of the fulfillment process, a traditional system no longer cuts it. The biggest reason why is that ERP was never really expected to manage sales processes. ERP order management systems were initially intended to be internal systems, that managed the manufacturing processes. ERP began in the 1970s to allow manufacturers the ability to translate large amounts of of materials into materials needed assemble each component of a product.
When ERP systems began to evolve, they started to become incorporated into other areas as well, such as human resources and finances. That fact that all these applications were centralized in one place, made them a critical resource for managing an entire business. Today, even the smallest business in manufacturing utilize some form of an ERP product.
Alden Morse from Business2Community.com believes that ERP order management may not be the best idea for some manufacturers citing clunky user interfaces, a lack of comprehensive omni channel capability, and a slow adaptation to mobile ordering as reasons that he hasn't recommended ERP order management products.
Final Thoughts
If you're looking to invest in an order management system, you should be cognizant of the road ahead. System implementation can be a rather lengthy process, with some users recalling that the whole process took up to a year to fully complete. During the time that the new order management software is being implemented, you should allow your employees to familiarize themselves with the new functionalities before you make the transition.
---
Looking for more? Download our ERP buyers guide for free and compare the top-24 products available on the market with full page vendor profiles, including key capabilities, an overview of the ERP software market, questions to ask before purchasing, and our bottom-line analysis.
And don't forget to follow us on Twitter, Facebook and LinkedIn for all the latest in the ERP space!

Latest posts by Elizabeth Quirk
(see all)