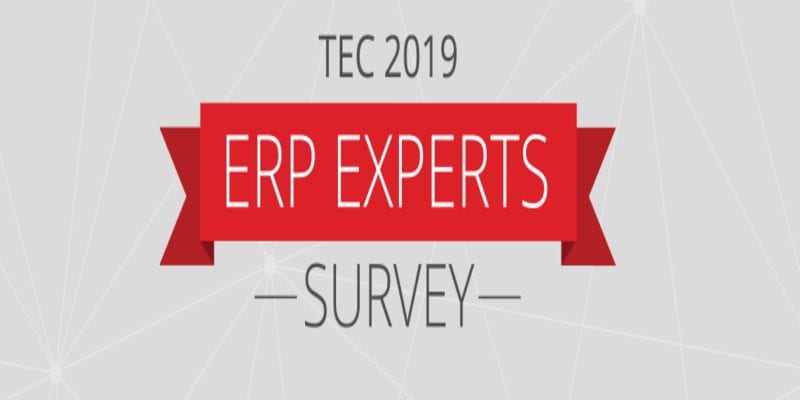 Technology Evaluation Center (TEC) recently published their 2019 ERP Experts Survey. Available here, TEC surveyed ERP software experts from across North America for their insights on technology trends and other market forces impacting ERP in 2019. Respondents included industry analysts, consultants, and vendors.
Some of the questions were open-ended, while others presented a list of possible responses and asked the experts to pick their top choices. But in all cases, TEC provided an open opportunity for respondents to comment upon or qualify their answers. The survey results are presented in two parts:
Emerging ERP technology and trends: provides experts' opinions on trends in technology and the changes they're forging in the ERP landscape, including predictions for 2019.
Expert ERP project advice from A-Z: covers opinions and benchmarks for everything from ERP budgeting to selecting, implementing, and maximizing your investment in new ERP software.

The survey was constructed by various staff at TEC. In particular, Ted Rohm, Senior ERP Analyst, and Predrag (PJ) Jakovljevic, Principal Analyst, provided subject matter expertise. Below are some survey results in infographic form, provided by TEC.

Read the 2019 ERP Experts Survey here.
---
Looking for more? Download our ERP buyers guide for free and compare the top-24 products available on the market with full page vendor profiles, including key capabilities, an overview of the ERP software market, questions to ask before purchasing, and our bottom-line analysis. It's the perfect resource for anyone looking to find right ERP for their business.
And don't forget to follow us on Twitter, Facebook and LinkedIn for all the latest in the ERP space!

Latest posts by Elizabeth Quirk
(see all)