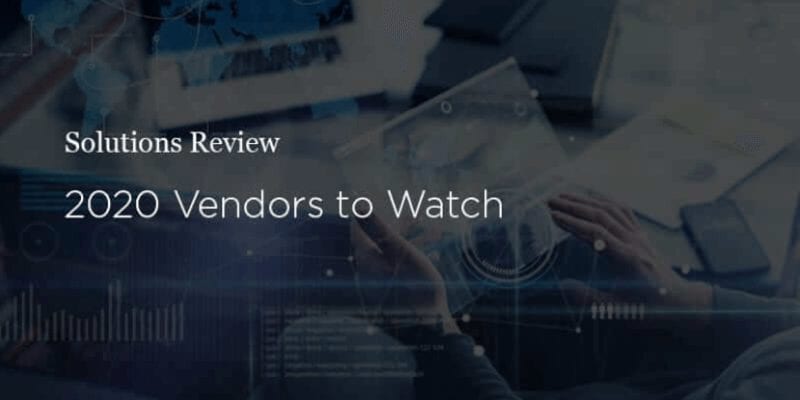 Solutions Review's ERP Vendors to Watch is an annual listing of solution providers we believe are worth monitoring. Companies are commonly included if they demonstrate a product roadmap aligning with our meta-analysis of the marketplace. Other criteria include recent and significant funding, talent acquisition, a disruptive or innovative new technology or product, or inclusion in a major analyst publication.
The process of searching, evaluating, purchasing, and deploying an Enterprise Resource Planning (ERP) solution is not as simple as it once was. There's no such thing as a one-size-fits-all approach when it comes to ERP software. Solutions today come in a variety of different flavors, each features a particular set of capabilities, strengths, and drawbacks. Choosing the right vendor and solution is a complicated process—one that requires in-depth research and often comes down to more than just the solution and its technical capabilities.
In that spirit, we've turned our gaze to the future of ERP software. Whether its inclusion in a recent analyst report, the release of an innovative new tool, or a bump in venture funding, these are the ERP providers that have earned watch list status from Solutions Review for the year ahead.
ERP Vendors to Watch

Infor is a global provider of cloud-based business management software products for companies in industry-specific markets. Founded in 2002 as an ERP software company primarily focused on manufacturing, Infor has since expanded to offer ERP solutions to industries such as: automotive, distribution, construction, fashion, food & beverage, hospitality, retail, and more. Today, Infor offers industry-specific CloudSuite solutions for businesses of all sizes. Building on robust ERP systems such as Infor LN, Infor M3, and Infor CloudSuite Financials, CloudSuite solutions deliver last-mile functionality for process and discrete manufacturers; global and SMB wholesale distributors; and service industries requiring end-to-end financial, supply, human capital, and enterprise performance management.
For an even deeper breakdown of each provider listed, consult our buyer's guide.
---

In 2016, Oracle acquired NetSuite in a definitive agreement saying "Oracle and NetSuite cloud applications are complementary, and will coexist in the marketplace forever." That being said, the two offer leading cloud-based ERP solutions designed for small, medium-sized and large enterprises. From advanced financials to supply chain management to billing and beyond, NetSuite and Oracle ERP solutions give companies the tools they need to accelerate growth and drive innovation, in industries such as: financial services, healthcare, education, manufacturing and retail. Oracle NetSuite ERP is a horizontal package designed for a wide range of industries. It permits customers in ny industry to manage their front and back office functions, plus web operations, all from a single and reliable source.
For an even deeper breakdown of each provider listed, consult our buyer's guide.
---

Founded in 2008, Acumatica provides cloud and browser-based business management software designed for small, mid-sized businesses and large enterprises. Acumatica delivers adaptable cloud and mobile technology with a unique all-inclusive user licensing model, enabling a complete, real time view of your business anytime, anywhere. Acumatica ERP provides the full suite of integrated business management applications, including financials, distribution, manufacturing, project accounting, field service, Commerce Edition, Construction Edition, and customer relationship management. Acumatica provides its Studio feature, which empowers business process changes while enabling software customization instead of requiring businesses to change their business processes.
For an even deeper breakdown of each provider listed, consult our buyer's guide.
---

Established in 1972, Epicor Software Corporation provides cloud-based industry-specific business software designed around the needs of manufacturing, distribution, retail, and services organizations. With three ERP platform offerings, (Epicor ERP, Epicor Prophet 21 and Epicor Eclipse) ERP solutions from Epicor helps customers harness data and automation to stay productive and profitable. With capabilities spanning from customer relationship management, content management, BI and Analytics, to eCommerce and sales and financials – Epicor ERP products give you room to scale and evolve with a software system that helps you keep pace with technology in the age of Industry 4.0.
For an even deeper breakdown of each provider listed, consult our buyer's guide.
---
Looking for more? Download our Enterprise Resource Planning Buyers Guide for free to compare the top-24 products available on the market with full page vendor profiles, key capabilities, an ERP software market overview, our bottom-line analysis, and questions for prospective buyers.
And don't forget to follow us on Twitter, Facebook and LinkedIn for all the latest in the ERP space!

Latest posts by Elizabeth Quirk
(see all)