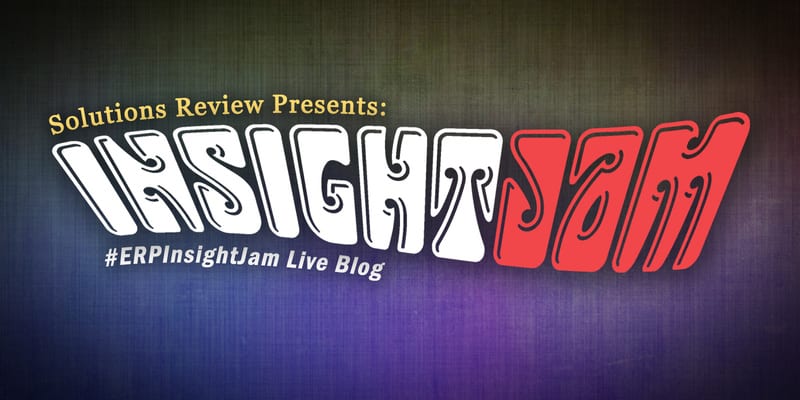 Solutions Review presents its second annual ERP Insight Jam community web event! Our editors will live blog all the news, tips, and insights in this space.
The ERP Insight Jam is an enterprise resource planning community web event. Solutions Review editors are bringing the best and brightest minds in the industry together for a one-day social media gathering. Participants will include industry analysts, experts, influencers, practitioners, and software solution providers tweeting under the hashtag #ERPInsightJam.
With technology conferences currently on hold, Solutions Review is hosting this free virtual gathering as a way to provide our site audience with guidance, best practices, and advice on various topics related to enterprise resource planning as we enter 2021. The tagline for the event is "Evaluating & Modernizing ERP," with an eye toward helping enterprise resource planning leaders make the most of the all-digital world that business has shifted to in 2020.
Wondering what's in it for you? Join us for the ERP Insight Jam to get advice on enterprise resource planning software buying, best practices for piloting new and emerging technologies, and find out what the future will bring. It's also going to be a top-notch networking event featuring many of the foremost thought leaders in the field. Uncover insights personalized to your interests. From analysts to IT and the Public Sector, there is sure to be something for everyone.
Our editors will reveal a new featured "insight" every 15 minutes throughout the day. Coverage begins December 16th at 8:30 AM EST, and here's what to expect.
12/16/20, 8:30 PM
Thank you for making this a successful, knowledgeable and informational Second Annual #ERPInsightJam! Be sure to check @SolutionsReview for more content. See you next year!

— William Jepma 💻 (@WorktechReview) December 17, 2020
12/16/20, 8:15 PM
Check out our #ERP buyers' guide for more info on the top #ERPVendors, #Vendor Profiles, and Category Overviews. #ERPInsightJam https://t.co/3Wykguo0c3

— William Jepma 💻 (@WorktechReview) December 17, 2020
12/16/20, 8:00 PM
According to @UnanetTech: "Four key #ERP trends we expect to see in #2021 are #analytics, #integrations, #mobile and #integrations." #ERPInsightJam

— William Jepma 💻 (@WorktechReview) December 17, 2020
12/16/20, 7:45 PM
On the topic of #ERP #Automation, Lucas Hayden of @unanetAE had this to say "[…]capabilities should include the ability to automate processes across applications but also create automations within the ERP." #ERPInsightJam

— William Jepma 💻 (@WorktechReview) December 17, 2020
12/16/20, 7:30 PM
Here are our recommendations for the 9 best #MRP #Software Solutions for #Manufacturing out there right now. #ERPInsightJam https://t.co/X7fmiRGSS7

— William Jepma 💻 (@WorktechReview) December 17, 2020
12/16/20, 7:15 PM
Here is our guide for the best #ERP Solutions for #Healthcare Professionals in 2020 – essential now more than ever. https://t.co/N3f7vrucWl

— William Jepma 💻 (@WorktechReview) December 17, 2020
For your consideration: The top 10 best #ERP #implementers and #resellers in 2020. #ERPInsightJam https://t.co/mGiUNLwT1f

— William Jepma 💻 (@WorktechReview) December 17, 2020
12/16/20, 7:00 PM
Here is our guide for the best #ERP Solutions for #Healthcare Professionals in 2020 – essential now more than ever. https://t.co/N3f7vrucWl

— William Jepma 💻 (@WorktechReview) December 17, 2020
12/16/20, 6:45 PM
Here's our guide to the Top 9 #ERP #Vendors of the year, based on #MarketShare. https://t.co/B0wS9GltL7

— William Jepma 💻 (@WorktechReview) December 16, 2020
12/16/20, 6:30 PM
These are the 11 best #ERP Solutions for #Government and #PublicSector workers from Solutions Review. #ERPInsightJam https://t.co/QaI019RAs5

— William Jepma 💻 (@WorktechReview) December 16, 2020
12/16/20, 6:15 PM
Here are our picks for the 9 best #ERP Solutions for #construction companies in 2020. #ERPInsightJam https://t.co/GsXgAUrwOC

— William Jepma 💻 (@WorktechReview) December 16, 2020
12/16/20, 6:00 PM
These are four major players in #CloudERP for Product-Centric #Enterprises. Keep a lookout! #ERPInsightJam https://t.co/gwXKRPMQ5n

— William Jepma 💻 (@WorktechReview) December 16, 2020
12/16/20, 5:45 PM
Here are the Top 10 #ERP System #Integrators for your company, from Solutions Review. #ERPInsighthttps://t.co/v6TGtwznrG

— William Jepma 💻 (@WorktechReview) December 16, 2020
12/16/20, 5:30 PM
This is the Solutions Review dissection of the 2020 @Gartner #MagicQuadrant for #CloudERP. #ERPInsightJamhttps://t.co/45HzKPXDfz

— William Jepma 💻 (@WorktechReview) December 16, 2020
12/16/20, 5:15 PM
Here's the Solutions Review guide for the 11 Best #ERP Solutions For Businesses in #Retail. #ERPInsightJamhttps://t.co/b51HcDlNQp

— William Jepma 💻 (@WorktechReview) December 16, 2020
Solutions Review has provided this guide to the best #ERP solutions for #Shopify. #ERPInsightJamhttps://t.co/RuVn2MTYB9

— William Jepma 💻 (@WorktechReview) December 16, 2020
12/16/20, 4:50 PM
Here's the Solutions Review guide for the 11 Best #ERP Solutions For Businesses in #Retail. #ERPInsightJamhttps://t.co/b51HcDlNQp

— William Jepma 💻 (@WorktechReview) December 16, 2020
12/16/20, 4:37 PM
This is Solutions Review's list of the 11 Best #ERP Solutions For #Startups and Growing Businesses. #ERPInsightJam https://t.co/pjZG30Xhqy

— William Jepma 💻 (@WorktechReview) December 16, 2020
12/16/20, 4:23 PM
Here are our picks for the 8 best #ERP Solutions for #ecommerce and #OnlineBusiness. #ERPInsightJam https://t.co/DzVkS1drCX

— William Jepma 💻 (@WorktechReview) December 16, 2020
12/16/20, 4:03 PM
Solutions Review has created a list of 8 of the Best #ERP Solutions for #SmallBusinesses in #Manufacturing. Take a look! #ERPInsightJamhttps://t.co/9H2BlkrusV

— William Jepma 💻 (@WorktechReview) December 16, 2020
12/16/20, 3:42 PM
Here are six of the most #essential #ERP courses any ERP expert in the making needs to check out! #ERPInsightJam https://t.co/mCACBUpXbD

— William Jepma 💻 (@WorktechReview) December 16, 2020
12/16/20, 3:17 PM
@unanetAE's Lucas Hayden on #Mobile #ERP: "[…]the industry should expect their ERP to keep up […] so business leaders can interact with their projects on a desktop, pick back up on an iPad and give status updates from analytics viewed on their phone." #ERPInsightJam

— William Jepma 💻 (@WorktechReview) December 16, 2020
12/16/20, 3:02 PM
Here's a listing of four more #CoolVendors from @Gartner_inc, this time in #sourcing and #procurement. #ERPInsightJamhttps://t.co/UrYo1EJN3S

— William Jepma 💻 (@WorktechReview) December 16, 2020
12/16/20, 2:51 PM
Solutions Review recalls four #CoolVendors in #Manufacturing Industry Solutions for #ERP. #ERPInsightJam https://t.co/GwSBAZxxdu

— William Jepma 💻 (@WorktechReview) December 16, 2020
12/16/20, 2:35 PM
On #ERP #Analytics, Lucas Hayden, Director Producer Marketing of @unanetAE, said "ERP's should provide both expert-informed pre-built #dashboards and the ability to perform exploratory dashboard design to report on the #KPI's that matter most to each firm." #ERPInsightJam

— William Jepma 💻 (@WorktechReview) December 16, 2020
12/16/20, 2:16 PM
Our guide gives a look at four major players in #transportation #management systems. #ERPInsightJam https://t.co/Fn2C7Vtkze

— William Jepma 💻 (@WorktechReview) December 16, 2020
12/16/20, 1:55 PM
In these uncertain times of #alldigital business, Solutions Review provides a guide on how to manage your business and its #ERP to meet the demands of this "new normal". #ERPInsightJamhttps://t.co/Pol6ym3FO3

— William Jepma 💻 (@WorktechReview) December 16, 2020
12/16/20, 1:35 PM
Next up, the guide to the 7 Best #Capital #ProjectManagement Tools in 2020. #ERPInsightJamhttps://t.co/e8u5VSYn70

— William Jepma 💻 (@WorktechReview) December 16, 2020
12/16/20, 1:25 PM
Here's the Solutions Review guide to the 7 Best #Accounting Tools and Software in #ERP for 2020. #ERPInsightJamhttps://t.co/rDlquOcqrn

— William Jepma 💻 (@WorktechReview) December 16, 2020
12/16/20, 1:00 PM
Looking to start up a new #ERP project? Here's our list of some of the top #ERP #consultingfirms to consider in this stage. #ERPInsightJamhttps://t.co/AYopwnY9hL

— William Jepma 💻 (@WorktechReview) December 16, 2020
12/16/20, 12:45 PM
Here's our list of the 7 Best #ProfessionalServices #Automation Tools for 2020. #ERPInsightJamhttps://t.co/fov90w7ptz

— William Jepma 💻 (@WorktechReview) December 16, 2020
12/16/20, 12:30 PM
Here's a review of Solutions Review's Top 7 #ERP Articles and #BestPractices. #ERPInsightJamhttps://t.co/7HPs3xOoKs

— William Jepma 💻 (@WorktechReview) December 16, 2020
12/16/20, 12:15 PM
For newcomers and veterans of #ERP alike – a guide to #ERPSoftware and how to select the one right for you. #ERPInsightJamhttps://t.co/BQUa9Zjzf3

— William Jepma 💻 (@WorktechReview) December 16, 2020
12/16/20, 12:00 PM
Here's a helpful guide to #ERP #customization management for you ERP implementers out there! #ERPInsightJamhttps://t.co/09NziqtgCE

— William Jepma 💻 (@WorktechReview) December 16, 2020
12/16/20, 11:45 AM
Unsure whether your #business is ready to look into #ERP or not? Here are the top three signs to tell you it's time to look into ERP. #ERPInsightJamhttps://t.co/lsLnjOHr5M

— William Jepma 💻 (@WorktechReview) December 16, 2020
12/16/20, 11:30 AM
#AI is the way of the future in many industries – ours included! Here are three ways #ArtificialIntelligence has been shaping #ERP in 2020. #ERPInsightJam https://t.co/EeSfPEMh1X

— William Jepma 💻 (@WorktechReview) December 16, 2020
12/16/20, 11:12 AM
Here are some of the best #ERP Certifications available for #IT professionals right now. #ERPInsightJamhttps://t.co/yEA6Fea7Ma

— William Jepma 💻 (@WorktechReview) December 16, 2020
12/16/20, 10:40 AM
Here's a list of five #ERP #freetrials and #demos available to check out during the #software selection phase. #ERPInsightJam. https://t.co/uSMeu7ODKA

— William Jepma 💻 (@WorktechReview) December 16, 2020
12/16/20, 10:22 AM
Here's our list of five of the best #ERP #podcasts worth hearing right now – perfect for the all-digital world we're in right now. #ERPInsightJam
https://t.co/voxV8GCA0B

— William Jepma 💻 (@WorktechReview) December 16, 2020
12/16/20, 10:15 AM
Check out our list of the Top 14 Leading #DistributionERP Vendors from 2020. #ERPInsightJamhttps://t.co/TgvxP2DMjd

— William Jepma 💻 (@WorktechReview) December 16, 2020
12/16/20, 9:52 AM
Read below: Solutions Review's list of the Top 24 Leading #Manufacturing #ERP Vendors of 2020. #ERPInsightJamhttps://t.co/fFQLXQ1S8I

— William Jepma 💻 (@WorktechReview) December 16, 2020
12/16/20, 9:21 AM
Solutions Review takes a look at the implementation of #ERP and how it is affected by the #cloud in this discussion with Rich Murr, CIO of @Epicor. #ERPInsightJamhttps://t.co/RN1CZPvmsk

— William Jepma 💻 (@WorktechReview) December 16, 2020
12/16/20, 9:08 AM
Hoping you are all as excited for #ERPInsightJam as we are! Here's a guide as to what to expect from the Insight Jam throughout the day.https://t.co/Bgt9ZR4mrm

— William Jepma 💻 (@WorktechReview) December 16, 2020

Latest posts by Sam Marcus-Mayer
(see all)