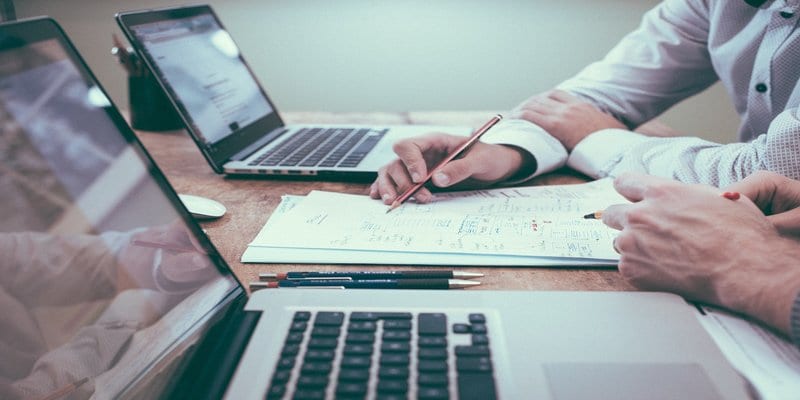 Our editors have compiled a list spotlighting ten of the best ERP implementers based on their reputation, services, business size adaptability, and experience.
Often, businesses turn to ERP implementers and resellers to assist in getting on board with software solutions. This is an essential step for many organizations, whether due to inexperience, business expansion, or a general need to modernize and upgrade the implemented solutions. A firm of experienced consultants and advisors can make a monumental difference during this critical process.
With that in mind, the editors at Solutions Review have compiled this list of the best ERP implementers. Our team selected these companies based on reputation, breadth of services, business size adaptability, specifications, and experience. All businesses have been listed in alphabetical order for your convenience.
The Best ERP Implementers and Resellers to Know About
---
Albrecht Solutions is a consulting company specialized in business process engineering and business software for small to medium-sized businesses. As a business software provider, it designs and implements highly customizable ERP systems to help manage a business's supply chain, warehouse, sales, distribution, manufacturing, and financial processes. Albrecht Solutions aims to bring clients large consultancy thinking at low rates. Its Microsoft Dynamics certified consultants get hands-on experience in several industries. 
---
Alta Vista Technology is an ERP Consulting firm with over 250 years of combined experience and 500 implementations. Alta Vista Technology is a Sage Intacct Premier Partner. It also specializes in Microsoft Dynamics GP and Dynamics Business Central. The reseller prioritizes an intimate experience with its clientele, as the intent is to create a customer-paved journey with attainable goals. Implementation includes benchmarking and future planning to drive home this forward-thinking process.
---
ArcherPoint is a Microsoft Dynamics Gold ERP Partner specializing in Microsoft Dynamics NAV and Dynamics 365 Business Central ERP solutions. Regardless of industry, ArcherPoint acts as a business solution provider and partner businesses can depend on to deliver results. Its team includes worldwide experts in Dynamics NAV ERP solution design, development, 24/7 support, upgrades, accounting, manufacturing, retail, distribution, printing, and other critical business areas.
---
Dean Dorton is a firm that provides an integrated suite of audit, tax, business management, consulting, and technology solutions. The firm allows its clients to strategize, adapt, and change in every stage of business. From startup to growth and proper succession planning. Dean Dorton emphasizes innovative technology, leading a cloud revolution of financial, operational, and compliance tools that transform how companies do business. It supports businesses of all sizes, from construction and real estate to healthcare and education.
---
Earnest & Associates is a business consulting firm that provides personalized guidance and solutions that empower SMBs. It implements best practices solutions and Implementation Accelerators that enable clients to deploy ERP solutions at the pace that best suits their organization. Through its comprehensive and personalized Agile Implementation Methodology, ISOC, Earnest & Associates makes the deployment of Infor's ERP platforms and the application of "best practices" processes a practical endeavor for the SMB, especially those with limited resources.
---
Express Information Systems believes that helping people get more time back in their day by working smarter with fewer steps will produce thriving companies and teams. As a Sage Intacct, Microsoft Dynamics GP, and Dynamics 365 partner, Express Information Systems helps clients drive their business forward with solutions that help their accounting, reporting, HR, payroll, customer management, project management, distribution, and inventory management systems. Specializing in working with mid-market companies, it specializes in transferring from small business-centric solutions to a great demand down the line. 
---
Innovia Consulting's top priority is a pragmatic approach to getting the job done and dedication to client success. It is a Microsoft Dynamics 365 Business Central consulting and IT services firm with over 30 years in the business, three offices and 20 satellite locations throughout the Midwest, and hundreds of implementations. Innovia Consulting works with companies of all sizes to integrate software such as Microsoft Dynamics Business Central, Microsoft 365, Azure, and Power BI services.
---
Massey Consulting specializes in accounting software. Its consultant team comprises experienced veterans of accounting, controlling, and information systems management. Clients benefit from efficient, integrated software solutions that allow the focus to shift more to business and less on software. Massey Consulting integrates front-end operations management systems with the back-end financial software, Intacct or Dynamics GP, to create a seamless business management tool.
---
Sikich LLP is a professional services firm specializing in accounting, technology, and advisory services. Sikich offers a combination of services uniquely crafted to address a business's challenges and opportunities. With a team of consultants and advisors with decades of experience as entrepreneurs, business owners, and industry innovators, Sikich can provide insights and transformative services to help strengthen every dimension of its clients' businesses.
---
Skyline Consultants is a  consulting firm that specializes in Microsoft Dynamics. Their goal is to provide each client with the ability to achieve a greater sense of purposeful customer engagement through powerful and unique solutions to everyday business dilemmas. Skyline Consultants has dedicated itself to learning and harnessing the strength of progressive technology in conjunction with a staff of experienced professionals. Skyline Consultants can provide businesses of all sizes with solutions to the industry's most complex problems.
---
Latest posts by Sam Marcus-Mayer
(see all)