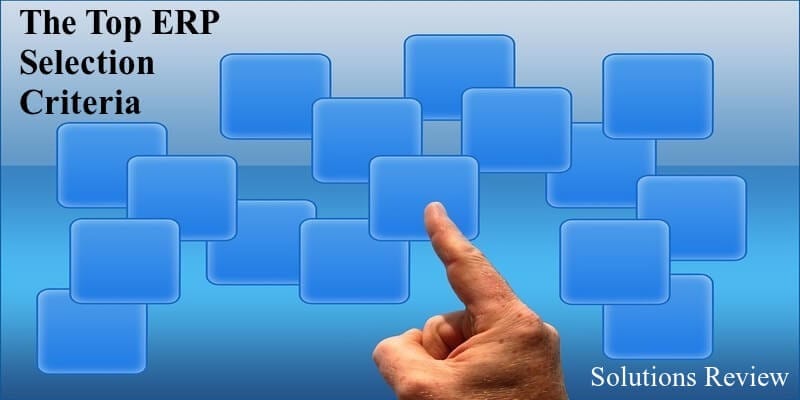 Selecting the right ERP tool for your business is no easy task. There's no such thing as a one-size-fits-all approach when it comes to ERP software. Solutions today come in a variety of different flavors, each features a particular set of capabilities, strengths, and drawbacks. Choosing the right vendor and solution is a complicated process—one that requires in-depth research and often comes down to more than just the solution and its technical capabilities. In this light, we've provided some of the top ERP selection criteria for you here to help smooth it all.
How do You Know if You Need ERP?
Complex Accounting
If you're like me, numbers are not your friend, and dealing with them is time-consuming. There are accounts that need to be tracked both internally and externally. Internally, so that you keep your employees paid through the year and ensure that the processes are running smoothly. Externally, so that you know how much money is flowing into your account through sales. This means twice the scares and twice the amount of time spent on tracking them.  It's a daunting task but it doesn't have to be that way if you opt for an easy-to-use ERP software.
You Use Multiple Systems to Run Your Business Operations
As mentioned earlier, there are plenty of processes involved when managing a business. However, in today's world, organizations look to digitize these processes. You'll be amazed at the number of software solutions available for each of these processes. This results in using multiple software and it can get chaotic as your business begins to scale. It can pose a serious problem when managing your business. To solve this, implement an ERP solution in order to have all these processes and data in one collaborative platform.
More Reasons to Buy an ERP Solution
ERP software has the ability to improve organizational collaboration, automates and streamlines workflows to help identify the best fit solution that can meet the business needs along with financial goals. ERP software ensures data accuracy and integrity while streamlining real-time, up-to-date information to all departments of an enterprise. What used to be a long and costly implementation processes is no longer true today, thanks to the advent of cloud computing, which has also opened up ERP access to smaller companies.
Real-Time Analytics & Data
One of the greatest benefits of ERP software is access to real-time analytics. This allows companies to see important information as it becomes available, so you can rest easy knowing that the data you're looking at is always relevant and up-to-date. Real-time analytics can help you when making critical business decisions and ensures process optimization.
Similarly, having high-quality data allows businesses to leverage the power of ERP software analytics tools for powerful planning and forecasting, predicting demand and supply position, along with better decision-making.
Flexibility
An ERP system can bring a lot of flexibility to your business, in the sense it handles different languages, currencies and accounting standards – all while managing your multi-location business. This ability helps support comprehensive management of new processes, departments, and more. It also helps you take control of your business activities, provides better customer service, client satisfaction, and gives businesses a competitive advantage.
Better Decision Making
Similar to having access to real-time analytics, a clutter-free and easily understandable interface of ERP software can help you make better, more informed business decisions for your company. With spreadsheets, charts, and graphs available with the click of a button, you can more readily make crucial decisions that will help business processes move along smoothly.
Reduced Complexity
Having the ability to integrate all areas of the business ensures every business function relies on a single database and delivers accurate, real-time information. As previously mentioned, ERP systems eliminate data duplication and provide data integrity with a "single source of truth." Not only that, but ERP software provides a simply designed system of workflows which makes employees more efficient and reduces business complexity.
ERP Selection Criteria
5 Features to Consider While Selecting a New ERP
Gathering information about ERP solution vendors in order to help the selection process go as smoothly as possible is a best practice you should consider when looking for an ERP system. Below are five steps to use when evaluating ERP vendors.
Which vendor know my industry the best? Will they keep up to date with technology changes or are they static when it comes to innovation?
Does the vendor's technology platform and architecture support my company's IT strategy?
Many vendors will claim to have the right functional fit for your company's unique needs, the key here is to identify the vendor solutions that closely align with best practices in your industry.
Does the vendor offer ERP support? This should include education and training programs along with maintenance and phone support, user groups and partner network.
Many vendor prices initially appear similar, but there are several factors which can impact the cost, like annual support fees, implementation rates and ongoing support. To make the most informed decision, look to understand the Total Cost of Ownership (TCO) over a five year period.
5 Items to Consider
To help simplify the process even more, we suggest taking a look at these five items to take into consideration when choosing an ERP solution:
Customer Reviews / References: Customer reviews can go a long way, so don't be afraid to ask for customer references to get their opinions, first hand, whether or not the ERP tool you are looking at fits the description. But make sure these customers actually purchased the vendor's software. Were they happy with the software and services? Why or why not?
Support: Test the vendor's support systems. A good solution provider should go out of their way to make sure you are completely satisfied with the software. Do they respond quickly? How will these support services scale when you onboard your firm?
Technical Resources: Take a look at provided learning materials such as knowledge bases, documentation, or wikis. What does the vendor provide for customers to educate themselves?
Advisory Capability: Look for a provider that understands your business situation or industry, and whose people seek to be more of a long-term partner rather than just make the sale. If they can provide guidance rather than simply product specs, you will have a better chance at working through whatever challenges lie ahead.
Experience in Development: Be sure that the vendor has long-term experience in developing and improving its products.
More Resources
To make it even easier for buyer's that may be in niche and specific industries, we've gone even further by creating two more ERP buyer's guide. Our Manufacturing ERP Buyer's Guide includes the top-24 ERP providers that offer strictly ERP solutions for the manufacturing industry. Similarly, our Distribution ERP Buyer's Guide focuses on vendors that provide solutions for the wholesale distribution industry.
Although some of the solution providers in the Manufacturing Guide bleed into our Distribution Guide, it's helpful for some to see the specific solutions (and the differences) in order to pick one that best fits their businesses/organizations needs.
Pair these with Solutions Review online directory of ERP vendors, platforms and software solutions. It includes an abbreviated overview, contact information and links to each company's social media handles for the top-24 ERP providers. If you would like a printed version of this page including complete solutions profiles and a list of the top questions to ask in an RFP, click here for a free PDF.
So, if you're in the beginning process of buying your first ERP solution, or if you're looking for something a little different than what you already have, we hope these are the perfect resources to get you started on the decision-making process.
---
---
Looking for more? Download our ERP Buyers Guide for free to compare the top-24 products available on the market with full page vendor profiles, key capabilities, an ERP software market overview, our bottom line analysis, and questions for prospective buyers.
And don't forget to follow us on Twitter, Facebook and LinkedIn for all the latest in the ERP space!

Latest posts by Elizabeth Quirk
(see all)