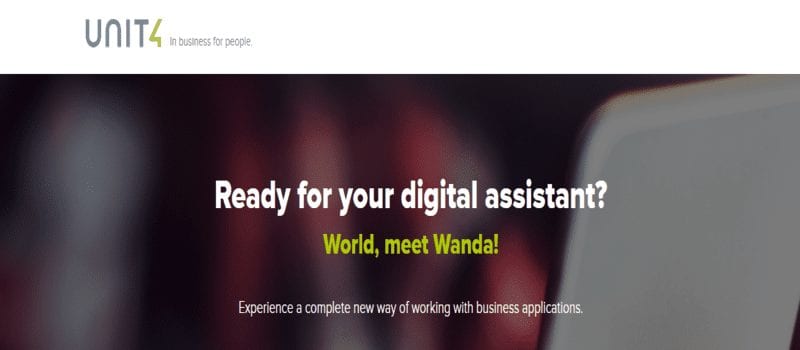 Unit4, a leading provider of enterprise applications empowering people in service organizations, has recently announced the release of its enterprise digital assistant, Wanda.
This is a completely new, out-of-the-box Enterprise Resource Planning (ERP) user experience. As core component of Unit4's Spring '17 launch, Wanda is an important milestone on the company's journey to deliver self-driving enterprise software.
To ensure natural user experience, Unit4 has built its digital assistant to be embedded in the user's chosen interface, accessed through Skype, Slack and Facebook Messenger. According to the press release, Wanda provides a simple and friendly gateway to data in the Unit4 Business World On! ERP system, adding a level of intelligence and context to suggest actions and help users complete tasks faster.
Available as a cloud service, Wanda requires no user training. This digital assistant proactively helps people automate, prioritize and complete repetitive tasks in a fraction of the time they used to. Users can even communicate and interact with their enterprise systems in the same way they would with their colleagues – via chat. Employees can benefit from the data in their ERP system without logging in!
"We are delivering the most helpful ERP in the market, a self-driving assistive and conversational user experience," said Stephan Sieber, CEO of Unit4.
Wanda is built on Unit4's People Platform, the engine behind the development of self-driving applications, powered by Microsoft Azure. Because of this, it benefits from the most sophisticated analytics and machine learning technology available today.
"Microsoft's broad consumer experience gives it an edge as a platform vendor, bringing consumerization to the enterprise and democratizing complex technology. We are using our expertise in designing and deploying this state of the art technology to support people's productivity so they can create value for themselves and their organizations," added Sieber. "Convergence of conversational user experiences with augmented solutions that self-learn will fundamentally change how enterprise software serves people."
With Spring '17, Wanda delivers customers a market leading bot architecture to build on for the future and five new assistants:
HR Assistant
Purchasing Assistant
Time Assistant
Travel Assistant
Approval Assistant
Don't forget to follow us on Twitter, Facebook and LinkedIn for all the latest in the ERP space!

Latest posts by Elizabeth Quirk
(see all)