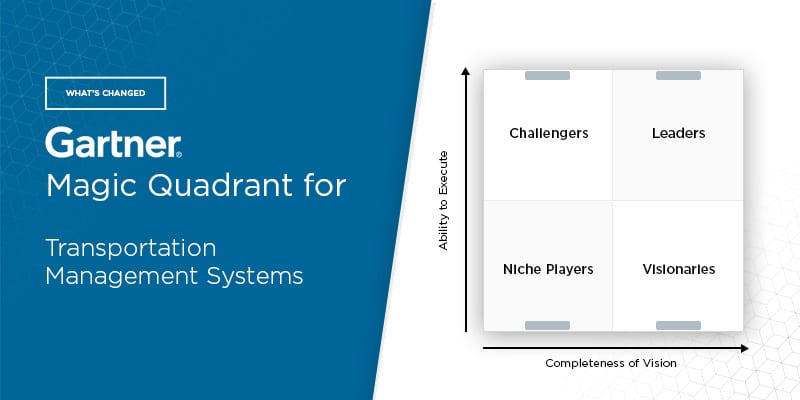 The editors at Solutions Review highlight what's changed in the 2022 iteration of the Gartner Magic Quadrant for Transportation Management Systems (TMS) and analyze the new report.
Analyst house Gartner, Inc. recently released the 2022 version of its Gartner Magic Quadrant for Transportation Management Systems. Transportation Management Systems (TMS) is a category of systems designed to help businesses manage supply chains, mitigate risks, address disruptions, and streamline the many processes involved in moving goods through a supply chain. While the 2022 version of the report is not yet available on Gartner's website, you can find the 2021 iteration here.
According to the Gartner report, the core capabilities of a TMS software suite include strategic freight sourcing, procurement, transportation execution, planning, carrier communication tools, visibility, event management, performance management analytics, and settlement features. The report also lists expanded capabilities that some solutions offer. These secondary features include appointment and dock scheduling, parcel optimization and manifesting, vehicle routing, transportation forecasting, scheduling tools, 3D load building, and transportation modeling.
In this updated Magic Quadrant, Gartner identifies what it considers to be the most significant providers in the Transportation Management Solutions marketplace. The analysts on the report—Brock Johns, Oscar Sanchez Duran, and Carly West—also evaluate each listed vendor's strengths and weaknesses and rank them on the signature "Magic Quadrant" graph. The chart is divided into four quadrants: leaders, challengers, niche players, and visionaries.
What's Changed: Gartner Magic Quadrant for Transportation Management Systems
---
As the TMS market evolves, Gartner adjusts its criteria to evaluate providers, which means the vendors listed on this year's report are different from last year. For example, BluJay Solutions is no longer listed, as it was acquired by E2open, while 3Gtms was added. A breakdown of each category listed and the companies associated with it is below.
Leaders
Oracle and its Fusion Cloud Transportation Management solution is the top Leader in Gartner's report. The platform's capabilities include planning, fleet management, execution, and logistics network modeling. Meanwhile, its product roadmap emphasizes additional artificial intelligence (AI), ETA prediction, shipment optimization, and capacity forecasting features. Oracle primarily works with large companies but has many small and midsize organizations across consumer goods, manufacturing, high tech, and logistics markets worldwide. Gartner spotlights Oracle's geographic strategy, customer experience, and industry strategy as its most competitive strengths.
Blue Yonder, which Panasonic acquired in 2021, follows closely behind Oracle with a TMS solution designed to help businesses manage all of their transportation functions from a single platform. Capabilities include warehouse management systems (WMS), supply chain planning, control tower, and labor management. The company works with enterprises worldwide and specializes in large organizations in manufacturing, consumer products, retail, and third-party logistics (3PL). Strengths include successful sales execution, industry strategies, and a growing product suite.
SAP's transportation management solution focuses on equipping clients with tools for optimizing freight procurement, transportation planning, freight settlement, and transportation execution. Its operations focus on enterprise-level organizations in consumer products, automotive, retail, and chemical industries. While SAP's transportation management customers are concentrated in Western Europe, Gartner notes that it still has one of the most extensive distributions of customers worldwide. Other standout qualities of SAP's TM offering include its global go-to-market strategy, an ecosystem of partners and integrators, and its track record of product development.
Manhattan Associates rounds out the Leader category with the Manhattan Active Transportation Management (TM) solution, which is included in its Manhattan Active Supply Chain product suite, consisting of warehouse management systems, order management, supplier enablement tools, and supply chain planning. It focuses on global clients in the retail, grocery, manufacturing, and wholesale distribution industries. Despite trailing behind other Leaders with its product strategy, Gartner reports that Manhattan Associates has an in-depth understanding of the marketplace and is expanding its extensive capabilities accordingly.
Challengers
E2open kicks off the Challenger quadrant with E2open TMS, which focuses on bringing a company's transportation management efforts together with visibility, connectivity, and global trade management features collected on a cohesive platform. The company works with large enterprises worldwide but focuses most of its outreach on small and midsize manufacturing, logistics, retail, and food and beverage businesses. While Gartner notes that E2open is lagging behind other vendors in innovation, it makes up for it with a strong vision, solid market understanding, and competitive price point. Its acquisition of BluJay Solutions in 2021 has also helped the brand provide additional support to clients with expanded functionalities.
With Alpega Group's TMS, companies of all sizes can access a solution that broadly focuses on supply chain operations with products bundles that can be scaled to meet the needs of each client. The scalable solution benefits from Alpega Group's industry-specificGroup'sgies that support a diverse range of verticals for shippers and logistics service providers. Other strengths that Gartner identifies include Alpega Group's market responsiveness and software bundles, which enable buyers to create customized products that bundle the applications they need.
Transplace's TMS platform primarily focuses on providing a self-service transportation management solution to shippers in North America. According to Gartner, Transplace demonstrates a high degree of commitment to the transportation market by investing in its product roadmap with innovations and capabilities that reflect industry trends. Transplace TMS is also well-regarded for its performance management, analytics, and real-time visibility features.
Kuebix, a Trimble Company, offers core and extended capabilities tailored to domestic transportation use cases. While the company is expanding into international markets, most of its operations are focused on small-to-midsize organizations in North America. Despite its limited global reach, Kuebix benefits from an extensive customer base and an optimized, adaptable, easy-to-use solution that earns above-average scores from Gartner Peer Insights on its integration and deployment services.
MercuryGate is categorized as a "specialist" TMS vendor, as it offers a platform broadly focused on domestic and international functionalities. It also provides partnerships with digital freight models to help equip clients with real-time pricing capacities. Over half of MercuryGate's customers come from the 3PL, brokerage, and carrier sectors. Meanwhile, its presence in the shipping sector prioritizes companies in retail, wholesale, manufacturing, and food and grocery. Strengths include its market understanding, as evidenced by its acquisition of Cheetah Software Systems, and its continued emphasis on a streamlined customer experience.
C.H. Robinson (TMC) rounds out the category with Navisphere; a TMS focused on providing shippers with a self-service transportation management platform. Gartner says the company exhibits a compelling product strategy and roadmap, which promises expanded business intelligence features and a continued emphasis on its fully managed transportation solution.
Niche Players
Shipwell is another specialist TMS provider and offers a solution with all of the features that Gartner identifies as core capabilities of transportation management systems. Its platform, the Shipwell TMS, provides users with automated workflows in multiple modes of transportation, real-time visibility via an extensive network of carriers onboarded on the platform, electronic logging device (ELD) connections, and other tools for Level 1 through Level 3 operations. Other strengths identified in the report include its high-rated customer experience and sales execution strategy.
3T's TMS, titled 3T EVENT, focuses on providing shipper organizations and supply chain operations with load optimization, dock scheduling, vehicle routing, and parcel management capabilities. Its customers are concentrated in Europe and tend to be small or midsize companies in food distribution, manufacturing, and consumer goods. Some of its strengths include its fourth-party logistics (4PL), outsourced managed services, and an innovative roadmap that promises complementary features like augmented reality, AI, and voice recognition. However, it's worth noting that Gartner says 3T's geographic strategy is relatively limited outside of Europe, which limits its viability as a TMS vendor.
BlueRock Logistics offers its BlueRock Platform to shippers and 3PL providers with extensive transportation networks across Europe. It focuses its efforts on various areas of the supply chain and provides clients with tactical and strategic capabilities for shipment execution, network optimization, and operation planning efforts. While its limited geographic strategy holds back its viability, BlueRock remains a growing presence in the TMS market thanks to its increasing customer base, in-house logistics expertise, and agile solution capabilities.
3Gtms, the only new vendor added to this year's Magic Quadrant, provides a TMS focused on multimodal capabilities for planning, executing, and tracking shipments. Its clients are primarily small and midsize businesses in North America operating in the food and beverage, logistics, consumer product, and building product industries. 3Gtms's platform offers multiple, centralized solutions, making it a compelling option for 3PL providers, brokers, and shippers looking to expand their transportation services. Other strengths highlighted in Gartner's reports include its total cost of ownership, short implementation time, and adaptable cloud-native architecture.
RateLinx rounds out the 2022 Magic Quadrant for Transportation Management Systems with its ShipLinx solution. ShipLinx focuses on carrier compliance and data cleansing services alongside its fright pay and audit functionalities. While its customer service offerings are currently lacking, its product remains well-regarded because of its data and analytics tools, easy usability, and the opportunities it offers for leveraging multiple capabilities in a single solution.
---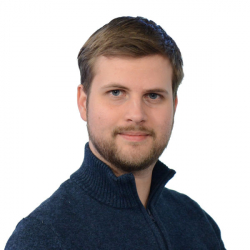 Latest posts by William Jepma
(see all)