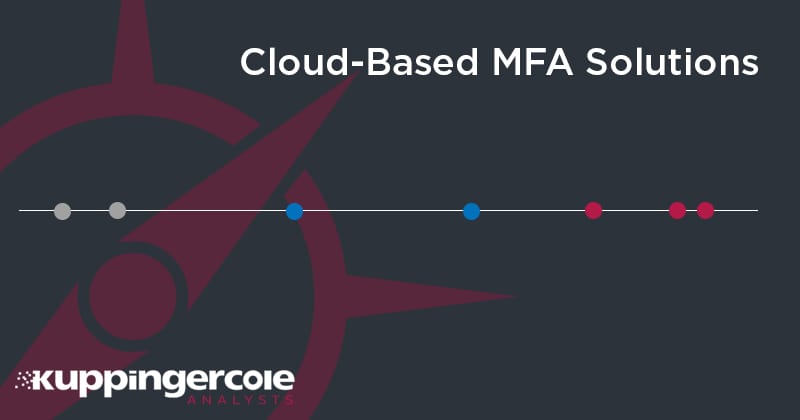 Late last month, international analyst firm KuppingerCole released the latest iteration of its Leadership Compass report for Cloud-Based MFA Solutions.
In its 2018 Leadership Compass for Cloud-Based MFA Solutions, Leader Analyst and Managing Director John Tolbert evaluate the strengths and weaknesses of the 12 products they consider the most significant in the market.
The KuppingerCole Leadership Compass for Cloud-Based MFA Solutions bases its evaluations on their products' innovativeness, market position, and financial strength. The analysts also incorporate their regular security, functionality, and integration assessments of products and vendors; additionally, they call upon "KuppingerCole advisory projects, feedback from customers using the products, product documentation, and a questionnaire sent out before creating the [report]."
The 12 Cloud-Based MFA Solutions vendors listed in the KuppingerCole Leadership Compass include Microsoft, Idaptive, Entrust, Okta, Ping Identity, Symantec, ThreatMetrix, Gemalto, HID Global, ID Data Web, OneSpan, and One Identity.
The editors of Solutions Review read through the Cloud-Based MFA Solutions Leadership Compass. We pulled a few of what we consider the most important takeaways.   
Key Capabilities in Cloud-Based MFA Solutions
KuppingerCole defines this particular market as "the process of using a SaaS solution to gather additional attributes about users and their environments and evaluate the attributes in the context of risk-based policies."
The analysts go into more detail in the report. "The goal of Cloud MFA is to provide the appropriate risk-mitigating assurance levels for access to sensitive resources by requiring users to further demonstrate that they are who they say they are."
To summarize, KuppingerCole considers Cloud MFA the evolution of traditional legacy IAM solutions—and a way to move beyond the traditional username/password paradigm.
Therefore, the required capabilities of Cloud-Based MFA Solutions include:
Multiple Authentication Factor Support

IAM Solution Integration

Behavioral Risk Analysis

Threat Intelligence Integration

Role-Based Administration
7 Leaders in the Market
KuppingerCole selected 7 vendors as Overall Leaders in their report: Entrust Datacard, Idaptive, Ping Identity, Symantec, Okta, ThreatMetrix. and Microsoft. Each offers strong solution offerings with MFA capabilities, according to the analysts.
However, KuppingerCole urges enterprises to critically examine all of the vendors and compare their capabilities before making a selection. Even within the Overall Leaders segment, significant differences abound.
For example, Idaptive received recognition as the Innovation Leader for their authentication techniques and risk analysis. Meanwhile, Microsoft placed as the Market Leader because of it global customer base.
You can download the full KuppingerCole Leadership Compass for Cloud-Based MFA Solutions here.

Latest posts by Ben Canner
(see all)