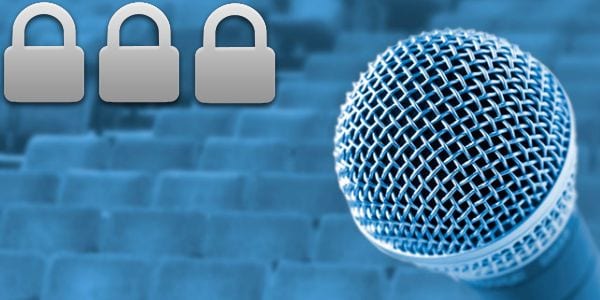 Identity and access management (IAM) is one of the hottest, most important areas in information security today, and it's also one of the fastest going business segments in IT. Federated identity, single sign-on, audit and compliance, cloud security, IAM, IDM, IDaaS — it can all get a little dizzying.
Here at Solutions Review, we do our best to provide IT professionals with the top IAM best practices, news and buyer's guides, but sometimes you need a little extra push, the kind you can only get in person.
We understand, and that's why we've created this list of the top IAM conferences for Q4 2015. If you're looking for top-notch speakers, vendor demos, and networking opportunities, then these should be your go-to events, so check them out:
Complementary Resource: The 2015 Identity Management Solutions Buyer's Guide
Compare the top 24 IAM, IGA, and IDaaS providers
Executive-level market overview
5 Questions to ask yourself before choosing
5 Questions for prospective providers
Evanta CISO Summit Series
Date: October 29-December 9th, 2015
Location: Multiple
Notable Speakers/Vendors: Multiple
Driven by an agenda created "by CISOs, for CISOs," this invitation-only gathering has been designed to minimize time commitments while maximizing the depth of a true peer-to-peer engagement in an intimate setting. Based on insights from the very individuals who are creating new risk, talent, and information security practices, establishing new investing benchmarks, and deploying strategies to drive growth, the conference features content from practicing CISOs and current industry thought leaders.
The CISO Executive Summit series consists of 32 summits taking place through December 9th, 2015
Oktane15
Date: November 2-4, 2015
Location: Las Vegas, NV
Notable Speakers/Vendors: Okta Leadership
Brought to you by Okta, Oktane15 is designed for IT leaders and application developers looking to unleash the full potential of cloud and mobile in the enterprise. Over 1,000 IT leaders, leading cloud ISVs, industry analysts and influencers will gather to explore the latest in identity and mobility management, share strategies for implementing and managing cloud and mobile technologies, and examine new technology trends and their impact on the future of IT. Join us for this unique opportunity to network with your peers, and learn more about the evolving role of IT in the enterprise at Oktane15.
Black Hat Europe
Date: November 10-13, 2015
Location: Amsterdam, Netherlands
Notable Speakers/Vendors: TBA
Black Hat Conferences are perfect for those with a technical predilection. These events are famous for showcasing the latest and greatest advances in security techniques and technology, as well as exposing security flaws and vulnerabilities.
Black Hat Europe is mostly geared towards topics such as "infrastructure hacking" and "offensive IOT exploitation," but also features some technical tracks that could be extremely useful to the Identity professional, such as courses on social engineering and network monitoring.
Whitehall Identity Management 2015
Date: November 11, 2015
Location: London, UK
Notable Speakers/Vendors: Sarb Sembhi, Past President, ISACA London Chapter; Dr Floyd Millen, Head of Identity, Post Office; Harry Bains, Assurance Risk and Control, Euroclear SA/NV, and more.
Whitehall Media's 12th biannual IDM event will bring together hundreds of senior IAM thought leaders and innovators to discuss and shape the future of secure, risk-driven and business-centric IAM. The event will identify new frontiers and opportunities, discuss ways to transform IAM into an actionable critical business resource and review the latest trends and technologies shaping the IAM sector to help delegates stay ahead of the curve.
Bsides Charleston
Date: November 14, 2015
Location: Charleston, NC
Notable Speakers/Vendors: Jeffrey Man
BSides is a community-driven framework for building events for and by information security community members. The goal is to expand the spectrum of conversation beyond the traditional confines of space and time. It creates opportunities for individuals to both present and participate in an intimate atmosphere that encourages collaboration. It is an intense event with discussions, demos, and interaction from participants. It is where conversations for the next-big-thing are happening. BSides Charleston was started in 2012 and has been held at the College of Charleston annually. Since its existence BSides Charleston has been attracting security professionals from all over the Lowcountry area for this one-day event.
Gartner Identity and Access Management Summit 2015
Date: December 7-9, 2015
Location: Las Vegas, NV
Notable Speakers/Vendors: Gartner analysts, research directors and fellows
Today's IAM delivers more than security and efficiency. The best IAM programs support digital business transformation by improving agility and the user experience. At this year's summit, you'll learn how to craft and implement an IAM vision and strategy for the digital age.
Gartner IAM Summit was designed for individuals in the following roles: IAM Leaders, IAM Architects, and Security Leaders.
Attendees will attend roundtable discussions and one-on-one meetings with Gartner analysts.
Black Hat Executive Summit 
Date: December 8-10, 2015
Location: Scottsdale, AZ
Notable Speakers/Vendors: Rod Beckstrom, Jane Holl Lute, Richard Bejtlich, Dr. John Johnson
Introducing: Black Hat Executive Summit, an invitation-only event that will bring together the most recognized Information Security thought leaders and top-level executive attendees for two and a half days of collaboration, networking, and strategic insights on the state of cybersecurity.

Latest posts by Jeff Edwards
(see all)