International Analyst firm KuppingerCole has released the latest iteration of its Leadership Compass report for Access Management and Federation.
In the 2016 Leadership Compass for Access Management and Federation, KuppingerCole Founder and Principal analyst Martin Kuppinger evaluates the strengths and weaknesses of 17 vendors that he considers most significant in the Access Management market and provides readers with graphs separating the vendors into followers, challengers, and leaders. Kuppinger compares vendors across four graphed categories: Overall Leaders, Product Leaders, Market Leaders, and Innovation Leaders.
KuppingerCole's ratings are based on a wide range of input and a long experience in that market segment. Input consists of experience from KuppingerCole advisory projects, feedback from customers using the products, product documentation, and a questionnaire sent out before creating the KuppingerCole Leadership Compass, plus a variety of other sources.
Vendors featured in the report are Identity Automation, Evidian, EmpowerID, Ergon, GlobalSign, Atos, Dell, Forum Systems, WS02, SecureAuth, AdNovum, Oracle, CA Technologies, Micro Focus, IBM, Ping Identity, and ForgeRock.
At Solutions Review, We read the 53-page report, available in full here, and pulled a few of what we considered the most important takeaways.
What is Access Management and Federation? 
Before jumping into the big takeaways we should probably clarify exactly what KuppingerCole mean when they talk about Access Management and Federation.
According to the report, Web Access Management and Identity Federation are technologies that "enable organizations to manage access both from and to external systems, including cloud services, in a consistent way."
Specifically, Access management is the process of managing a user's login and access across a wide range of applications, systems, and resources belonging to an organization. Most IAM solutions manage user access to resources but leave access authorization decisions to the application owners.
Identity federation is the process of linking all of an individual's disparate electronic identities and attributes, which may be stored across multiple identity management solutions.
The primary focus of this report is on solutions that are available on premises, but the report also takes into account the fact that several of these solutions also are offered from as cloud services.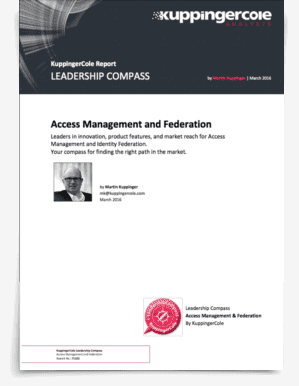 The KuppingerCole Leadership Compass for Access Management & Federation is here.
Top 17 providers compared.
Insight into key market trends.
Vendors compares across four categories.
Download the Report
Young Companies Lead The Way
Perhaps the most eye-catching takeaway from the report, with the exception of the product innovation category, five vendors—CA Technologies, Micro Focus, IBM, Ping Identity, and ForgeRock, show up in the leaders segment of every single category.
Micro Focus falls into the challengers segment for product innovation, though Kuppinger noted that the company is still "close to entering the leaders segment."
It's no surprise that established vendors such as CA Technologies, Micro Focus, and IBM would show up in the leaders category so often—these vendors typically offer mature products with strong platform support, to a large number of customers. What really caught my attention is the presence of newer companies such as ForgeRock and Ping Identity in the leaders segment of every single category.
This sort of evaluation points to a strong growth in market share from these young companies, as well as a strong record of product innovation and offerings.
Kuppinger praised ForgeRock for offering what he called the "leading open source solution" in the Access Management and Federation market, and for their strong multi-platform support, and broad support for various authentication mechanisms.
Ping Identity received praise for its strong support of all Identity Federation requirements, for their strong track record in rapid deployments, and for good support for both on-premise and cloud environments.
However, as Kuppinger notes, leadership doesn't always mean that a vendor is the best fit for a specific customer requirement. Kuppinger recommends a thorough evaluation of requirements and a mapping to the features provided by the vendor's products before choosing.
Download the full report here. 

Latest posts by Jeff Edwards
(see all)