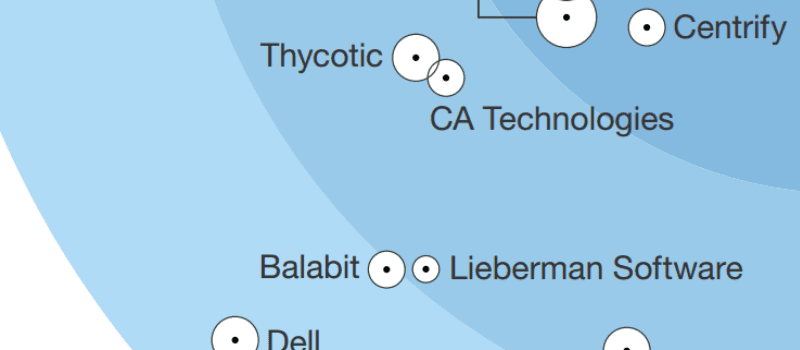 Cambridge-Ma based analyst house Forrester Research has released the latest iteration of its flagship Wave report for Privileged Identity Management (PIM).
In his 22-criteria evaluation of PIM vendors, Forrester researcher Andras Cser identified the 10 solutions providers whom Forrester considers most significant in the category — Balabit, BeyondTrust, Bomgar, CA Technologies, Centrify, CyberArk, Dell, Lieberman Software, ManageEngine, and Thycotic— then researched, analyzed, and scored them.
The Wave report details their findings and examines how each vendor meets (or falls short of) Forrester's evaluation criteria and where vendors stand in relation to each other.
In order to help security and risk (S&R) professionals select the right partner for their PIM needs, The Forrester Wave Report also outlines the current state of the market and separates the top providers into Leaders, Strong performers, and Contenders.
Forrester's Wave Reports also include a grid chart with ratings on vendor's current offerings, strategy, and market presence.
At Solutions Review, we read the report, available here, and pulled a fewof thee most important takeaways.
Want to Know More? Check Out the full PIM Wave Report
10 Leading Vendors Compared.

Evaluate Current Offerings, Future Strategies, and Market Presence.

Find Out Who Leads the Pack with the Most Current and Complete Solutions
Three Vendors Lead the Pack
Forrester's research found a stratified market in which Centrify, BeyondTrust, and CyberArk lead the pack, with Thycotic, ManageEngine, CA Technologies, and Lieberman Software offer competitive options and Balabit, Dell, and Bomgar lagging behind.
Forrester praised Centrify for offering the first SaaS PIM password safe in the industry, and lauded BeyondTrust for its excellent session management capabilities. On the other hand, vendors on the opposite spectrum of the 'Wave' were criticized for aging password vault technologies, and for lacking support for widespread initiatives such as SAML integration and endpoint discovery capabilities.
Cloud is the Future
As with most IT markets in 2016, Forrester found evidence that the PIM market is moving towards the cloud. According to Forrester's research, most vendors plan to expand support for IaaS and SaaS APIs to allow the PIM solution to fully orchestrate admin and business user actions, and nearly all PIM vendors  have plans to expand the RESTful APIs available to program policies. Additionally, many vendors are working to update their policy storage to support multitenancy of policy stores natively. Finally,  Forrester found that some vendors are embracing the software-as-a-service (SaaS) cloud delivery model—Centrify already has a so-called PIM-as-a-service password safe, and Forrester expects others to follow suit.
Behaviorial Analytics are a Key Differentiator 
According to Forrester, Most InfoSec professionals see PIM as "part of the layered solution to address their top cyberthreat and data breach prevention challenges."
As the PIM market matures says Forrester, customers are looking to see "proven, easily manageable, and scalable" solutions that offer their own behavioral analytics of privileged sessions, something taht had previously been ahrd to come by.
Forrester noted that, in the coming years, most vendors plan cyberincident response and remediation or at least integration with security analytics and SUBA vendors.
For more information, check out the full Forrester Wave: Privileged Identity Management Q3 2016 report, available here. 
Now watch this: 

Latest posts by Jeff Edwards
(see all)