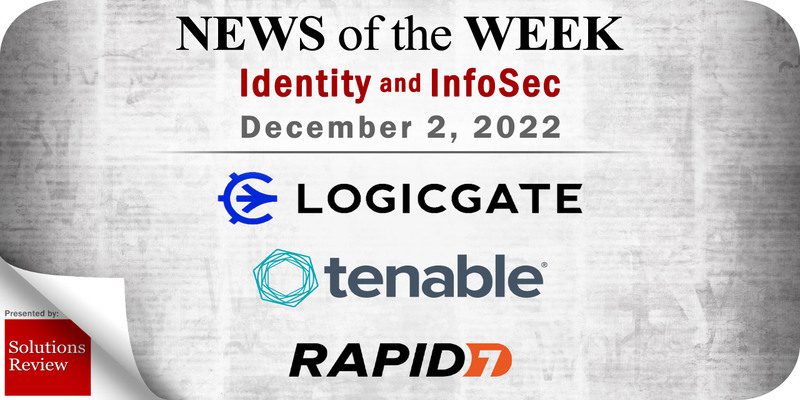 The editors at Solutions Review have curated this list of the most noteworthy identity management and information security news for the week of December 2. This curated list features identity management and information security vendors such as LogicGate, Tenable, Rapid7, and more.
Keeping tabs on all the most relevant identity management and information security news can be a time-consuming task. As a result, our editorial team aims to provide a summary of the top headlines from the last month, in this space. Solutions Review editors will curate vendor product news, mergers and acquisitions, venture capital funding, talent acquisition, and other noteworthy identity management and information security news items.
Identity Management and Information Security News for the Week of December 2
---
KnowBe4 and Netskope Collaborate for New SecurityCoach Integration
KnowBe4, a security awareness training and simulated phishing platform, announced that its new SecurityCoach product now integrates with Netskope. The two security organizations have collaborated together to help reduce risky behavior with product integration to support real-time security coaching of users. SecurityCoach helps IT/security professionals by enabling real-time security coaching of their users in response to risky security behavior. Leveraging an organization's existing security stack, security teams and administrators can configure their real-time coaching campaigns to immediately deliver a SecurityTip to their users related to a detected event via Slack, Microsoft Teams or email.
LogicGate Launches Cyber Risk & Controls Compliance Solution
LogicGate, creator of the transformative risk and compliance management platform Risk Cloud, has launched its Cyber Risk & Controls Compliance Solution. LogicGate's solution enables cyber teams to translate cyber risk into financial impact, prioritize cyber risk response and resource allocation, and seamlessly connect their cyber risk management and enterprise risk management programs.
Delinea Introduces New Granular Privileged Access Controls on Servers
Delinea, a leading provider of Privileged Access Management (PAM) solutions for seamless security, announced the latest release of Cloud Suite, its solution that controls privileged access and authorization for on-premise and cloud servers. A new granular privilege elevation workflow allows users to request elevated privileges to execute specific commands or command sets that require full administrator rights. New functionality also enables administrators to assign privileged roles on Linux servers with more detailed control, helping to ensure that productivity does not compromise security.
Tenable Research: "72 Percent of Organizations Remain Vulnerable to Log4j"
Tenable, the Exposure Management company, announced the results of a telemetry study examining the scope and impact of the critical Log4j vulnerability, known as Log4Shell, in the months following its initial disclosure. According to the data collected from over 500 million tests, 72 percent of organizations remain vulnerable to the Log4Shell vulnerability as of October 1, 2022. The data highlights legacy vulnerability remediation challenges, which are the root cause of the majority of data breaches.
Lacework Announces Support for Amazon Security Lake
Lacework, a cloud security company, announced support for Amazon Security Lake, allowing Lacework customers to share rich insight from the Lacework Polygraph Data Platform with the new AWS service to reduce the cost and complexity of making their security solutions' data accessible to address a variety of use cases such as threat detection, investigation, and incident response.
HYPR Raises $25M in Series C1 Funding
HYPR, a passwordless authentication company, announced a $25 million Series C1 led by Advent International through Advent Tech, the firm's dedicated global technology fund. The investment brings HYPR's total funds raised to $97 million and includes participation from existing investors including .406 Ventures, RRE Ventures, Top Tier Capital, and Comcast Ventures. Enterprises who have deployed HYPR's phishing-resistant MFA on a worldwide basis include 2 of the 4 largest US banks, Fortune 500 manufacturing conglomerates, and global insurance providers.
OneSpan Awarded Frost & Sullivan's 2022 Product Leadership Award
OneSpan, the digital agreements security company, announced it was named by Frost & Sullivan with the 2022 North America Product Leadership Award for passwordless authentication. The award recognizes OneSpan as an innovator in the industry with strong overall performance. OneSpan's product leader award recognition comes on the heels of the momentum it has created through new product offerings, new executive leadership, and a key industry accolade. Specifically, OneSpan recently announced two new solutions, Virtual Room and DIGIPASS CX, strengthened its executive team over the last 12 months with the addition of several new talented C-level executives, and won the 2022 SC Award for Best Mobile Security Solution for its Mobile Security Suite.
SpyCloud Announces Damon Fleury as Chief Product Officer
SpyCloud, a cybercrime analytics platform, announced Damon Fleury as its new Chief Product Officer. Fleury will be responsible for the strategy and development of SpyCloud's diverse portfolio of fraud and cyberthreat prevention products. Throughout his nearly 30 year career in the security industry, Damon has served in a range of leadership positions in engineering, product management, market strategy, security services, and incident response, working to develop innovative and disruptive products and services. Prior to joining SpyCloud, Damon served as the CTO and VP of Cybersecurity Services at CyberDefenses Inc., a Texas-based MSSP where he built cybersecurity services, for commercial and SLED clients, from the ground-up.
Panelists Finalized for Executive Roundtables at the #InfoSecInsightJam
The InfoSec Insight Jam is a community web event that shares expert insights and proven best practices for evaluating, deploying, and using Identity Management, Endpoint Security, and InfoSec solutions. The Solutions Review editors are bringing the best and brightest minds in the InfoSec industry together for a one-day social media gathering. Participants will include industry analysts, experts, influencers, practitioners, and software solution providers under the hashtag #InfoSecInsightJam.
SPHERE Receives $31 Million for Series B Funding
SPHERE Technology Solutions (SPHERE), an identity security solutions vendor, announced a $31 million Series B investment led by Edison Partners, a Princeton-based leading growth equity firm, with participation from existing investor Forgepoint Capital. As part of the transaction, Edison General Partner Lenard Marcus will join SPHERE's board of directors.
Rapid7 Debuts New Cloud Security Capabilities at AWS re:Invent 2022
Rapid7, Inc., a  cloud risk and threat detection platform, is showcasing several new capabilities focused on cloud detection and response (CDR) and vulnerability assessment this week at Amazon Web Services (AWS) re:Invent 2022 in Las Vegas.
---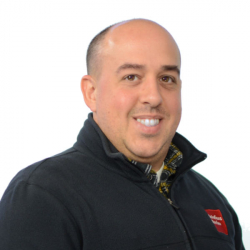 Latest posts by Mike Costello
(see all)