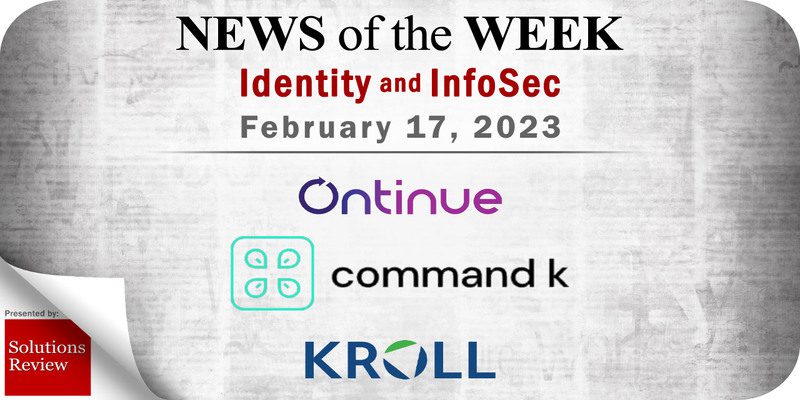 The editors at Solutions Review have curated this list of the most noteworthy identity management and information security news for the week of February 17. This curated list features identity management and information security vendors such as Ontinue, CommandK, Kroll, and more.
Keeping tabs on all the most relevant identity management and information security news can be a time-consuming task. As a result, our editorial team aims to provide a summary of the top headlines from the last month, in this space. Solutions Review editors will curate vendor product news, mergers and acquisitions, venture capital funding, talent acquisition, and other noteworthy identity management and information security news items.
Identity Management and Information Security News for the Week of February 17
---
Open Systems Launches New MDR Platform, Ontinue
Open Systems, a cybersecurity solutions provider, this week announced the launch of Ontinue, its new MDR division. Ontinue is a managed extended detection and response (MXDR) provider that leverages AI-driven automation, human expertise and the Microsoft security platform to continuously assess and protect an organization's environment and advance its security posture for digital transformation. Ontinue's newly launched MXDR service, Ontinue ION, delivers "Nonstop SecOps" with 24/7, always-on protection. The Ontinue ION service has advanced capabilities baked into its platform that enable faster detection and response, a deeper understanding of a customer's environment for more proactive threat protection and the ability to maximize current Microsoft security investments for greater efficiency.
OneSpan Announces New Cloud Notarization Solution
OneSpan, a digital agreements security company, this week announced the launch of OneSpan Notary, a next-generation, all-in-one, cloud-connected solution to notarize documents in a secure and trusted environment. OneSpan Notary was co-designed in collaboration with commissioned notaries across industries to ensure security and help achieve compliance with a streamlined user experience. This solution provides a level of flexibility, making it easy for notaries and signers to transition from a cumbersome paper process to complete and trusted end-to-end notarization in the cloud.
Ping Identity Announces Partnership with Deloitte
Ping Identity, an identity security solutions provider, has formed a new strategic alliance with Deloitte, a leader in global security consulting services, to help the organizations' shared clients improve advanced Identity Access Management (IAM) Solutions selection and onboarding. Through the alliance, Ping and Deloitte's shared clients will be able to streamline digital identity management and effectively authorize which employees, customers, vendors, and suppliers can access sensitive corporate resources.
Lightspeed Packs Enterprise Security Startup, CommandK; Raises $3M
CommandK, a startup offering a dedicated platform to manage enterprise security, has raised $3 million in a seed round led by Lightspeed. The San Francisco-based startup lets companies deploy its solution within their virtual private cloud to protect their sensitive data and keys without requiring advanced security skills. The startup's solution comes as a mix of software development kits and APIs with which existing developers in a team can easily interact to enhance their security. The platform's dashboard acts as a central control panel to inform about what is broken in the system to ensure data protection. CommandK has an all-remote team of seven employees, consisting of engineers and one designer. The startup is also hiring more senior staffers to enhance the product further until it's ready to be available out of beta.
QuSecure Expands its Board of Directors with Lisa Hammitt
QuSecure, Inc., a leader in post-quantum cybersecurity (PQC) enterprise software, this week announced it has named Lisa Hammitt as its first independent director. Hammitt joins QuSecure as the company continues to gain traction by deploying PQC with both Federal and Commercial customers. Hammitt brings more than 30 years of leadership to QuSecure's Board of Directors. Hammitt currently serves as Chairwoman of the Board of Directors for Intelsat, operator of the world's largest integrated satellite and terrestrial network, as well as an outside director with Glassbox Ltd. and Clear Channel Outdoor. She has served as CEO at two startups and has held pivotal roles in Fortune 500 organizations, notably running Watson at IBM; serving as Global Vice President, Data and Artificial Intelligence at Visa; and holding senior positions in AI and Data at Salesforce and Hewlett Packard.
Tenable Launches Cyber Insurance Report
Tenable, an exposure management company, announced this week it has added a Cyber Insurance Report within its Tenable Vulnerability Management solution, which summarizes exposure information relevant to cyber insurance providers in an effort to streamline the policy underwriting process for both insurers and customers. The Tenable Cyber Insurance Report will enable insurers to measure preventive security programs by sharing vulnerability data that resides within the firewall. Tenable has also partnered with Measured Analytics and Insurance on a referral program that provides qualifying Tenable customers with savings on cyber insurance policies. The relationship represents a new data-driven model for the cyber insurance business, with tangible savings offered to customers.
Kroll Report: "Tech and Manufacturing Targeted as Ransomware Peaks for 2022"
As the year drew to an end, ransomware hit a peak, primarily due to the rise in attacks impacting the manufacturing, health care, technology and telecommunications industries. This came after a dip in ransomware during the third quarter of 2022, suspected to be due to the disbandment of the Conti ransomware group. Kroll's research found that several other familiar threats remained highly active throughout 2022, such as a significant increase in phishing and a notable rise in unauthorized access, increasing from 18 percent of cases in 2021 to 25 percent in 2022. Notable new initial access methods included an infection method leveraging Google Ads to spread credential-stealing malware and a rise in the use of USB-borne malware as a means to spread infection throughout a network.
---
Expert Insights Section
Watch this space each week as Solutions Review editors will use it to share new Expert Insights Series articles, Contributed Shorts videos, Expert Roundtable and event replays, and other curated content to help you gain a forward-thinking analysis and remain on-trend. All to meet the demand for what its editors do best: bring industry experts together to publish the web's leading insights for enterprise technology practitioners.
Navigating the Confusing Compliance Environment of the DoD's CMMC 2.0
First, the bad news. Although the Department of Defense (DoD) has simplified the original version of its Cybersecurity Maturity Model Certification (CMMC), version 2.0 of the program still leaves a lot of contractors' questions unanswered. But the good news is that the DoD is clearly trying to make the compliance process less complicated. And with the proper guidance, your company can get there– even if you're not cybersecurity experts.
The 8 Best Coursera Courses for Cybersecurity in 2023
The editors at Solutions Review compiled and curated this shortlist for the best Coursera courses on cybersecurity in 2023 to give the aspiring cybersecurity expert a strong starting point in their career. The Coursera cybersecurity courses listed below are entry-level and can be a great starting point for anybody trying to kick-off their learning this year. They're also a great reference point for established experts looking to brush up on their knowledge. Whatever your motivation to learn more, Coursera will provide.
Solutions Review participates in affiliate programs. We may make a small commission from products purchased through this resource.
---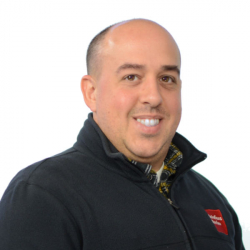 Latest posts by Mike Costello
(see all)