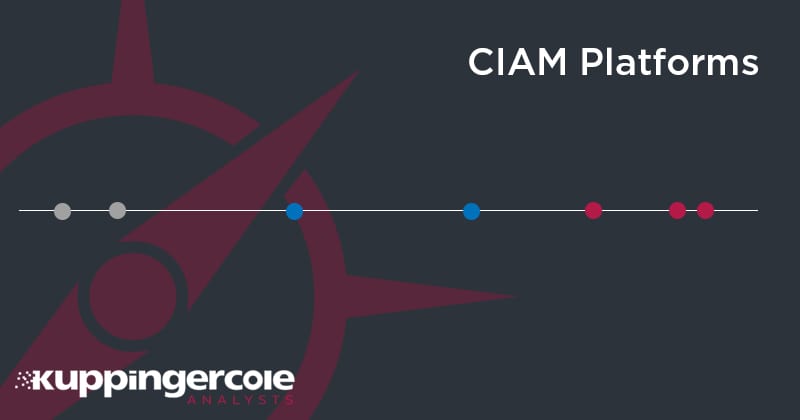 In the last weeks of 2018, international analyst firm KuppingerCole released the latest iteration of its Leadership Compass report for CIAM Platforms. CIAM stands for Customer Identity and Access Management.
In the 2018 Leadership Compass for CIAM Platforms, KuppingerCole Lead Analyst and Managing Director John Tolbert evaluates the strengths and weaknesses of the 18 products they consider most significant CIAM Platforms. To do so, they provide readers with the Leadership Compass graphic; this separates the products into Followers, Challengers, and Leaders.
The KuppingerCole Leadership Compass for CIAM Platforms bases its ratings on "market segment, vendor product and service functionality, relative market share, and innovative approaches to providing CIAM solutions." KuppingerCole also factors in their advisory projects, product customers' feedback, product documentation, and a questionnaire in their decisions.
The 18 CIAM Platforms listed in the KuppingerCole Leadership Compass include Auth0, Cloudentity, CoffeeBean, NRI, ForgeRock, IBM, Janrain, Login Radius, Ping Identity, Salesforce, SAP, EmpowerID, Pirean, Widas ID, WSO2, iWelcome, Microsoft, and Okta.
The editors of Solutions Review read through the CIAM Platforms Leadership Compass and pulled a few of what we consider the most important takeaways.
Key Capabilities in CIAM Platforms?
KuppingerCole defines CIAM platforms as "a sub-genre of traditional Identity and Access Management (IAM) that has emerged in the last few years to meet evolving business requirements."
"CIAM goes beyond traditional IAM in supporting some baseline features for analyzing customer behavior, as well as collecting consent for user data usage, and integration into CRM, connected devices, and marketing automation systems."
In addition, KuppingerCole notes the importance of complying with privacy regulations in these solutions. Additional key features include supporting social logins, supporting self-registration, and collecting and storing information for marketing and fraud prevention. This is in addition to more traditional IAM capabilities such as multifactor authentication, risk adaptive authentication, threat intelligence, and consent management.
In other words, CIAM platforms focus on protecting and connecting with the consumer across all customer-facing applications and network locations.
A Majority Leader Market
In their Overall Leadership Segment—where all of the scores across all of the report sections are combined—KuppingerCole found 8 vendors fit their criteria for CIAM Platforms Leaders: Auth0, ForgeRock, Login Radius, Ping Identity, IBM, Salesforce, Janrain, and SAP. The Leaders, according to the report, offer "high quality customer identity and engagement solutions" even if they differ in delivery and methodology.
KuppingerCole notes the Leader field continues to expand.
Delivery Counts
KuppingerCole notes CIAM vendors can deliver their products to enterprises in a variety of forms. This includes SaaS, on-premises, cloud, IDaaS, multitenant, etc. The diversity of methods could be considered essential as enterprises embrace the cloud in their consumer-facing applications.
You can read more about the CIAM Platforms Leadership Compass by KuppingerCole here.

Latest posts by Ben Canner
(see all)