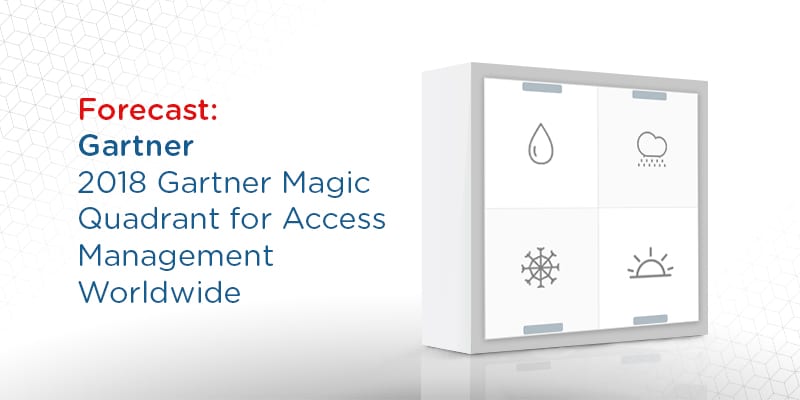 Every year, cybersecurity technology professionals from every subcategory of our vast field eagerly await the arrival of their respective Gartner Magic Quadrant report. Thanks to their proprietary research methodology, Gartner's annual marketplace analyses generate a level of buzz in the tech world only matched by Apple's keynote speeches.
Whether it be for Endpoint Security, SIEM, or Identity Governance and Administration, the Magic Quadrant is heralded Gartner's premier report for each cybersecurity marketplace. IT administrators, solutions architects, and cybersecurity professionals alike use Gartner's findings and advice as a critical jumping-off point for their yearly initiatives and purchasing decisions.
Now, a new Magic Quadrant is fast approaching. The 2018 Gartner Magic Quadrant for Access Management Worldwide is scheduled for release (according to the official Gartner website) on June 4—less than a week away.  
With the release of a prominent report so close to hand, we here at Solutions Review wanted to share our predictions for what the report will show once it becomes available. For the sake of clarity, Gartner defines access management as technologies that "use access control engines to provide centralized authentication, single sign-on (SSO), session management and authorization enforcement for target applications in multiple use cases."
Here are our predictions:
Will IDaaS Matter for Access Management Worldwide?
The 2018 Gartner Magic Quadrant for Access Management Worldwide is only the second such MQ report; Gartner only began tracking access management worldwide as a category in 2017. Previously, the Gartner Magic Quadrant tracked Identity and Access Management as a Service (IDaaS) which Gartner announced they will no longer do.
In our analysis of the 2017 Access Management MQ, we noted that the depreciation of IDaaS seemed unusual given that Gartner claimed that IDaaS will serve as the majority access management delivery model for new purchases by 2021. Further, Gartner actually criticized three of their Leaders for having inadequate IDaaS offerings.
However, perhaps the ubiquity of IDaaS explains why Gartner chose to broaden the scope to all of access management as a field. According to the summary on their 2017 MQ download page, "vendors offering an IDaaS option outnumber those that don't." Given its prevalence, Gartner may see IDaaS as a standard feature of AM solutions and therefore may want to emphasize other features as determinants for positioning in their Magic Quadrant.
Therefore, while we believe IDaaS options will be a part of the assessment in the 2018 Gartner Magic Quadrant for Access Management Worldwide for where vendors are placed, we don't believe it will serve as a major deciding factor as much as it will be a basic expectation in AM services.
Instead…
The Cloud Takes Precedence in Access Management Worldwide
Here at Solutions Review, we've written a lot about the cloud, specifically about enterprise cloud adoption and digital transformation. Moreover, we've explored the challenges of identity and access management on the cloud and the opportunities to enterprises therein.
In the previous Access Management Worldwide MQ, we noted that Gartner itself made mention of the need for Contextual Access Management to handle the demands of the modern IT environment. Contextual Access Management utilizes time, location, endpoint information—such as browser and software characteristics—and IP address to make the most accurate access decisions possible.
Most likely, Gartner will evaluate vendors for their contextual access management via how they apply to cloud-based enterprise IT environments. As enterprises embrace the cloud in greater numbers, the problems of the modern IT environment will only become more exaggerated due to extended digital networks and increased endpoints. We predict that how solutions providers respond with their access management will be key: more specifically, how they handle the decentralized IT environment and the endpoints therein with consistency and security.  
New Names…And Also New Leaders?
The Identity and Access Management market is big. That may be an underwhelming statement, but it remains true—it's a market that is growing as enterprises increasingly recognize the importance of identity in their cybersecurity schemes. Mid-way through 2018, we've seen huge deals and funding rounds surrounding identity and access management solutions made the cybersecurity headlines again and again. New names appeared on the scene, already carving out their particular niches. 
So we, therefore, expect that the 2018 Gartner Magic Quadrant for Access Management Worldwide will feature new names apart from the original class of 15 that appeared in 2017 as more vendors reach the minimum market requirements for Gartner's consideration. Furthermore, 2018 saw plenty of announcements of innovations (including IDaaS deployment options), which could imply future shifts in the positioning of Leader and Visionary vendors. 
Will these predictions for the 2018 Gartner Magic Quadrant for Access Management Worldwide come true? Only time will tell. We'll be sure to break down the report once it comes out on June 4. 

Latest posts by Ben Canner
(see all)