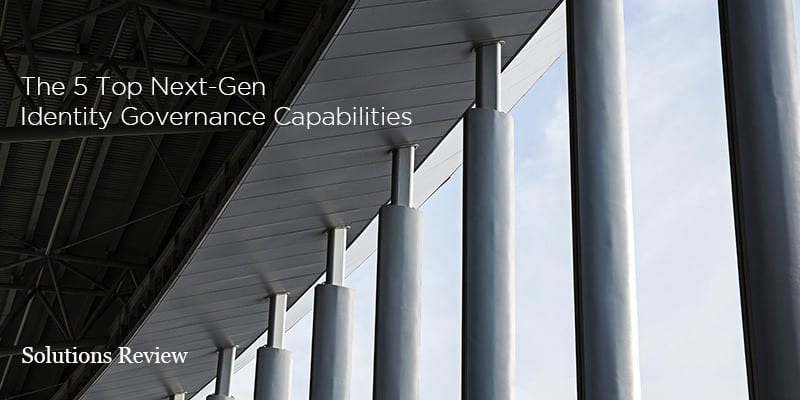 Of all the branches of identity and access management, identity governance and administration (IGA) remains one of the most widely neglected. Enterprises often fail to understand how identity governance solutions can contribute to their identity security or overall cybersecurity policies. Certainly, their identity management tools don't seem as straightforward as privileged access management or biometric authentication.   
However, with next-gen identity governance capabilities deployed on your network, your enterprise can enjoy far more visibility and control over your digital identities. Here's why:
Why You Need Next-Gen Identity Governance Capabilities
Enterprises tend to understand the importance of privileged access management solutions; after all, privileged credentials provide hackers with a convenient and consistent attack vector. In fact, according to Centrify, 74% of all breaches begin with a privileged account.
However, even non-privileged accounts can acquire power beyond their station. If allowed to acquire permissions unchecked, ordinary identities could become infected with access creep. Only IGA solutions can help prevent access creep and help security teams evaluate and remove unnecessary permissions.     
Yet enterprises continue to neglect IGA solutions, and their identity security suffers because of it. Next-gen identity governance capabilities provide much-needed visibility into their networks and digital identities. Cybersecurity and identity management relies on visibility; the recurring mantra among InfoSec experts states "you cannot protect what you cannot see."  
Indeed, enterprises struggle with identity security visibility. According to the SailPoint 2018 Identity Report:
Only 20% of enterprises have visibility over all of their users.

7% have no visibility whatsoever.

88% of enterprises are not governing access to data stored in files.

Only 10% of enterprises monitor and govern user access to data stored in files.  
Next-gen identity governance capabilities can help enterprises correct these issues and improve their business processes. Moreover, better governance ensures more secure access deliverance and threat protection by controlling the permissions each identity possesses.
Additionally, identity governance monitors data flows and data traffic; it watches who accesses and uses what data, as well as when and how, to ensure appropriate usage.    
The Top 5 Next-Gen Identity Governance Capabilities
Of course, no list of next-gen identity governance capabilities could completely encompass the full potential of an IGA solution. However, we hope this list helps guide your identity and access management thinking concerning identity governance. With this list, you should begin weighing the viability of your current solution and considering whether it may be time for an upgrade.
The top 5 next-gen identity governance capabilities include:        
Role Management
At the core of any identity governance and administration solution is role management. Ideally, your identity and access management should carefully regulate the permissions each user possesses on your network.
In fact, role management in IGA ties deeply into the Principle of Least Privileges. This Principle states employees and users only have the minimum permissions necessary to fulfill their job functions. Role management allows IT security teams to determine which permissions constitute the bare minimum for each job in your enterprise.
Additionally, role management allows your IT security team to monitor permissions and privileges on each user's account. With this visibility, the security team can remove any unnecessary permissions they detect or in rare cases grant the necessary privileges neglected previously.       
Centralized Access Requests
The average enterprise network accommodates dozens, if not hundreds or thousands, of applications, processes, and databases. Each bombards your IT security team with thousands of access requests a day. Furthermore, each application and database handles their access requests, provisioning, and approvals differently.
Without centralizing the access requests, your IT security team must handle each request manually—a nightmarishly frustrating and time-consuming process. To prevent this, your next-gen identity governance capabilities must include a centralization portal for your access requests.
Through centralization, you can connect all of the applications in your IT environment. Additionally, your administrators can submit and process access requests, approvals, and denials in a far more efficient manner.
Moreover, through this portal, your IT security team can process requests for temporary permissions necessary for specialty projects. Through the centralization portal, your administrators can monitor the usage of these special permissions and maintain time limits on them for automatic removal at the project's conclusion.             
Identity Lifecycle Management
In identity and access management, Identity Lifecycle Management refers to the processes utilized in creating, managing, and removing a user identity from your network. The onboarding and offboarding processes come fraught with perils; providing the wrong permissions might create cybersecurity issues or even business process delays. After all, without the right permissions, how can your employees perform their jobs?
Offboarding proves just as critical. Even a slight delay between the end of employee's time with your enterprise can put you in danger of an insider threat in retaliation.     
Identity governance solutions can help your IT security team onboard and offboard permissions efficiently and with security in mind. Moreover, IGA also helps IT security teams adjust users' identities as they progress and change roles within the organization, ensuring they follow the principle of role management throughout.         
Compliance Reporting and Certification
With access certification, your IGA solution allows your security team to validate the access rights of your employees within your enterprise's networks; this is absolutely vital to fulfilling compliance mandates.
Indeed, by providing next-gen identity governance capabilities, your enterprise often fulfills its compliance mandates, both governmental and industrial. For example, many compliance obligations require identity lifecycle management. Additionally, IGA often provides out-of-the-box templates for compliance reports for easy fulfillment.  
Managed Identity Services
One of the key considerations enterprises must make is whether they can handle the identity and access management demands of their enterprise. Your enterprise can't only monitor and protect the identities of your employees and privileged users. Additionally, you also must protect and monitor the permissions of your third party-users and applications, vendors, customers, and partners.
Each of these other identities also requires identity governance to function securely. If your enterprise's IT security team can't handle governing all of these users, your IGA solution provider can help you manage these tasks remotely. Through managed services, they can provide the 24/7 identity monitoring necessary to proper cybersecurity without risking burning out your security team. In addition, managed identity security services can process the role management, compliance reporting, and access request features.

Latest posts by Ben Canner
(see all)