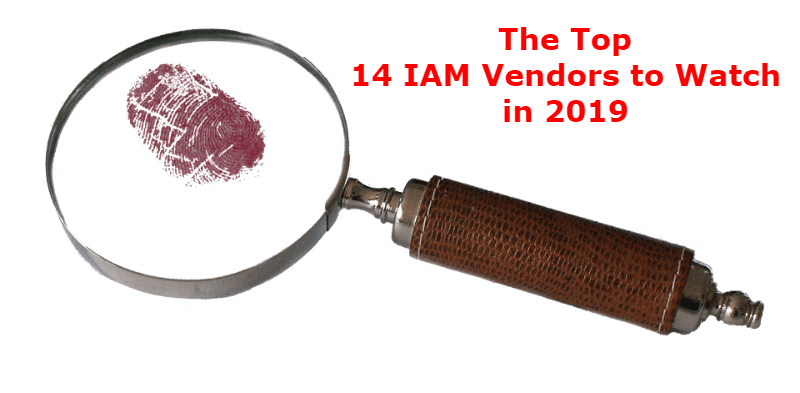 2018 proved a pivotal moment in enterprise identity and access management. Data breaches as a result of stolen credentials increased dramatically, further blurring the distinction between the physical and the digital realms. Perhaps this is of no great surprise: the average professional is keeping track of dozens of username/password combinations, which comprise the majority of Identity and Access Management platforms.
Repeated passwords, weak passwords, new devices—all of these can create vulnerabilities your identity and access management solution must be capable of handling to keep your regular and privileged users safe. The IAM market has never been larger or more diverse, filled with distinct solution providers worthy of your attention.     
But which solution providers are worth watching in 2019?
To answer this critical question, Solutions Review offers our list for the Top 14 IAM Vendors to Watch in 2019. The vendors are in alphabetical order:  
Avatier's 2018 was marked by high achievements: They were named in Gartner's Midmarket Context: "Magic Quadrant for Identity Governance and Administration" report. They were named in the KuppingerCole Leadership Compass for Access Governance & Intelligence as a Leader. CEO Nelson Cicchitto has been published in Forbes Magazine multiple times this year as well. 2019 appears as another excellent opportunity for Avatier to display their identity security expertise, in both their communications and their solutions.  
2018 has been one of intense changes for BeyondTrust. 2019 might prove to be a year of fulfilled promises as a result. BeyondTrust was acquired by Bomgar this year, who actually took on the BeyondTrust name rather than absorb BeyondTrust into their brand. Bomgar, a privileged access management solution provider, also acquired long-time PAM player Liberman Software this year, adding even more privileged capabilities into their portfolio.
Furthermore, BeyondTrust was named in the Forrester Wave for Privileged Identity Management before the acquisition by Bomgar. With so much experience and technological capability available to them, BeyondTrust is on this list for IAM Vendors to Watch in 2019 for good reason.
Centrify is another member of the IAM Vendors to Watch in 2019 who underwent huge successes and changes in 2018. Centrify recently announced their plans to split into two different units: Centrify plans to focus on their privileged access management capabilities, while Idaptive will emphasize IDaaS solutions.  
In addition, Centrify has garnered significant recognition across the identity access management field this year. They've been recognized by Gartner's Magic Quadrant for Access Management, Worldwide, Gartner's Peer Insights Customers' Choice for Access Management, Worldwide, and named as a Leader in Privileged Identity Management by Forrester Research.  
What Centrify will accomplish in 2019 following this split should prove fascinating to watch. 
2018 proved a year of both innovation and new products for Fischer International Identity. They released the 7.0 version of their Identity Governance and Administration solution this year, adding to their already substantial IGA capabilities.
Moreover, Fischer International Identity was named as a Challenger in the KuppingerCole Leadership Compass for Access Governance & Intelligence. As one of the top innovators in IDaaS—so much so that their Identity as a Service solution is called IaaS—and with the IDaaS market growing by the day, 2019 could be another brilliant year for Fischer.
FusionAuth made quite an impression in the identity and access management space by launching a new name and look for a solution previously called Passport. FusionAuth offers password control with automated new user password setup, and support of OAuth 2.0 and multi-tenant applications. The company has spent its first few first months innovating their logins, social sign-on, and integrations.
FusionAuth has positioned itself as a customer identity and access management (CIAM) solution provider, which offers enterprises a way to control, secure, and streamline their consumers' identities and user experiences. As a result, consumer-facing businesses may find FusionAuth one of the key IAM Vendors to Watch in 2019.
Of the IAM Vendors to Watch in 2019, this one is perhaps the most intriguing and (currently) the most mysterious. Idaptive is the new solution provider spun out from Centrify, focusing on IDaaS solutions while Centrify focuses on privileged access management. Plenty of Centrify's current team, including CFO Tim Steinkopf (who will serve as Idaptive's CEO) will be joining the Idaptive team, so it will have plenty of expert level IDaaS talent on hand to offer enterprises.
How will they make their mark on the IDaaS market? Only 2019 will tell. Idaptive is due to begin operations in January.  
A longtime powerhouse in the identity and access management market, Identity Automation has made critical moves and produced some astounding research in 2018, cementing them as a key authority in modern identity security. Their research has focused on unique two-factor authentication schemes, onboarding, offboarding, and healthcare security.
Moreover, Identity Automation recently acquired HealthCast, a single sign-on (SSO) provider for healthcare institution. 2019 is another promising year for Identity Automation.  
In 2014, IT Management Software provider Kaseya acquired AuthAnvil. In 2016, AuthAnvil became a scalable Security-as-a-Service (SaaS) platform with two-factor authentication and SSO. Since then they've integrated Bitdefender and acquired RapidFire (an MSP software provider with an emphasis on internal threat detection) and Spanning. How will AuthAnvil integrate these new resources? How will they continue to innovate their password management and password access security? Only 2019 will tell.  
OneLogin has had a busy 2018, marked with product updates and arrivals. They released the OneLogin Protect 4.0 authenticator update this year, as well as an update for their multifactor authentication solution. In addition, they launched their new OneLogin Access product, an IDaaS solution for enterprise access management and cloud application security.  
OneLogin has also received praise for its accomplishments by industry experts and clients: they were named to the Gartner 2018 Access Management, Worldwide Magic Quadrant, and the Gartner Peer Insight Customer Choice 2018 for Access Management, Worldwide. There is also a significant chance OneLogin will appear in the first Gartner Privileged Access Management Magic Quadrant.
2019 may prove an auspicious year for OneLogin. We'll be keeping a close eye on them. 
Ping's Identity security and application conference Identiverse (formerly the Cloud Identity Summit) proved a huge success, one which they aim to repeat in 2019. Moreover, they recently announced a new integration with Microsoft Azure and their own multifactor authentication. Ping also announced a partnership with KPMG LLP earlier this year to offer more CIAM options to clients and customers.
The company was also recognized as a Leader by the Gartner Magic Quadrant for Access Management, Worldwide. Like many of the IAM Vendors to Watch in 2019, Ping Identity is poised to leap to even greater success in the coming year.
PlainID had their 2018 marked by unique success. In a Series A funding round, they raised $11 million. They enhanced their authorization management capabilities. They've been increasing their market share and their visibility, as they are attending events like the Saviynt Converge and the Gartner Identity and Access Management Summit. PlainID has been partnering with SDG Corporation and ID Dataweb through 2017, increasing their brand awareness and their capabilities all at once. 2019 might be the year where PlainID truly explodes on the IAM scene. 
Where to begin with SailPoint's 2018? They partnered with fellow IAM solution provider Okta for their SSO and multifactor strengths, for one thing. For another, they made a major update to their IdentityNow solution—their SaaS identity governance product. SailPoint has been well known for years as a prominent identity governance and administration provider, and 2018 was no exception.
The company was once again recognized as a Leader by the Gartner Magic Quadrant for Identity Governance and Administration, and as a Leader in the Forrester Wave on Identity Governance. They were also named a Leader in the 2018 Leadership Compass for Access Governance & Intelligence by KuppingerCole.
Looking at SailPoint's 2019, we predict more innovations in IGA and in identity security overall.
Of the IAM Vendors to Watch in 2019, few received as many accolades as Saviynt. They were named to the Gartner Magic Quadrant for Cloud Access Security Brokers. They were named as a Leader in the KuppingerCole 2018 Leadership Compass for Access Governance & Intelligence. In addition, Saviynt was named as a Leader in the Forrester Wave: Identity Management and Governance, Q3 2018. They also joined the Leaders' Quadrant in the Gartner IGA Magic Quadrant.
Saviynt hasn't just seen success in terms of awards. They raised $40 million in a Series A funding round, which they plan to use to release faster product updates. 2019 will show how Saviynt's efforts bear fruit. 
Ubisecure focuses on the CIAM side of identity and access management. Their efforts in 2018 have helped push CIAM into the forefront of the IAM conversation. Their IAMwithUBI London Conference proved a marked success, which concluded with the announcement of their new London product launch. They updated their identity platform to include new Authentication Adaptor technology. In addition, they also had a successful Series A Funding Round from Octopus Investments, providing them with the means to expand across the Nordic regions and establish their new presence in the U.K.
2019 may see the results of these investments and this research and thus may catapult Ubisecure to greater success among the IAM Vendors to Watch in 2019.

Latest posts by Ben Canner
(see all)