The 7 Best 5G Courses on Udemy for IT Professionals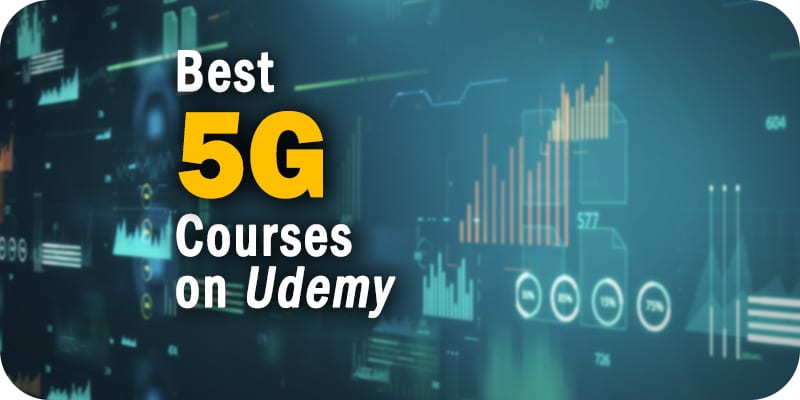 Solutions Review compiled the top 5G courses on Udemy for mobile and IT professionals of all skill levels.
5G networks continue to be a hot topic among mobile and IT professionals, especially as providers continue to deploy their networks. As 5G devices and networks creep into the business world, learning about how to secure and manage them is a critical task for IT and mobile professionals. Online courses and training are great resources who those who want to learn more about network monitoring.
With this in mind, the editors at Solutions Review have compiled this list of top-rated 5G courses on Udemy to consider taking. Each course in its catalog is taught by industry experts in software, technology, and business skills. Courses are listed in no particular order.
7 5G Courses on Udemy
OUR TAKE: For a crash course of 5G and wireless network communication for absolute beginners, this is the course for you. Cerulean Canvas covers everything from how 5G and wireless networks operate to how IT professionals and businesses can benefit from 5G technology.
Description: A complete guide with technical concepts, business insights, and future prospects. You'll learn about 5G, cellular networks, wireless and mobile communications, and consumer insights about 5G.
---
OUR TAKE: Taught by instructor and researcher Sathishkumar Jagadeesan, this masterclass course on the architecture and core mechanics of 5G goes over topics such as RAN procedures, 5G network functions, RAN protocol stack, call flows, and 5G core, among others.
Description: Learn the key concepts, network functions, and mechanisms in the 5G system. A basic understanding of wireless communications and networking is required.
---
OUR TAKE: Having spent over 30 years in the telecommunications industry, instructor Brian Newman has deployed cutting-edge technology across multiple projects. Familiarity with wireless technology or being a wireless consumer in business is recommended for this course.
Description: Visualize where 5G fits into the evolution of wireless technologies and at least 3 key capabilities. Brainstorm new ideas, new business opportunities, and new services to take advantage of 5G capabilities. Prepare business plans and strategies for 5G services and products. Identify why 5G is considered the catalyst for the fourth industrial revolution. Identify key communications service providers building and deploying 5G networks.
---
OUR TAKE: The instructor, Dr. Moazzam Tiwana, is a telecom engineer with an M.Sc. degree in Digital Telecommunication Systems with over 19 years of industrial and academic experience. He covers topics like dual connectivity, 5G standardization, network slicing, and NFV.
Description: 5G explained according to 3GPP specifications, including 5G air interface channels, voice over 5G, and security in 5G.
---
OUR TAKE: This course discusses topics like call flows, 3GPP, cloud-native technologies, and interworking between 4G and 5G. The instructor, Suryabh S, is a senior network engineer with over nine years of experience in designing, operating, and optimizing 4G/5G networks.
Description: Network-Architectures, 4G-5G interworking, Cloud-Native technology enablers, Call flows and practical tips/tricks.
---
OUR TAKE: Instructor Aladdin Saleh is a mobile telecom expert with a PhD in electrical and electronic engineering and an MBA in International Management. For students, a basic understanding of mobile systems is recommended for this course but not required.
Description: Deep coverage of the Service-Based Architecture, NR, core, SDN, NFV, network slicing, MEC, MR-DC, and applications. 
---
OUR TAKE: Students of this course should understand the basic concepts of mobile telecommunication, GSM, 3G, 4G, and the basic concepts of 5G. Instructor Honey Charnalia has delivered training to clients and in-house team members in over 50 countries across the globe.
Description: Introduction to 5G Air Interface, 5G Link Budget, Propagation Model Tuning, Concepts of 5G coverage simulations, Initial Parameter Planning (PRACH Planning).
---
Solutions Review participates in affiliate programs. We may make a small commission from products purchased through this resource.
---
Looking for more info on the benefits of mobility management? You should check out our free Mobility Management Buyer's Guide. We profile the top vendors in the mobility management field, list their key capabilities, and determine our Bottom Line for each.
Check us out on Twitter for the latest in Enterprise Mobility news and developments!
Latest posts by Daniel Hein
(see all)