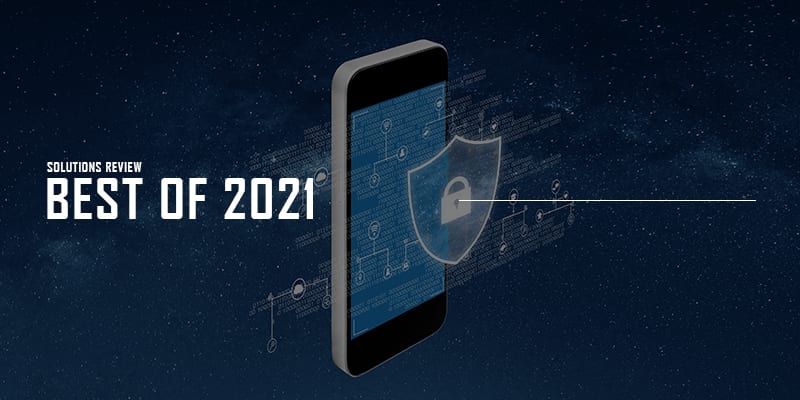 Solutions Review's listing of the best enterprise mobility management software is an annual sneak peak of the solution providers included in our Buyer's Guide and Solutions Directory. Information was gathered via online materials and reports, conversations with vendor representatives, and examinations of product demonstrations and free trials.
The editors at Solutions Review have developed this resource to assist buyers in search of the best enterprise mobility management software to fit the needs of their organization. Choosing the right vendor and solution can be a complicated process — one that requires in-depth research and often comes down to more than just the tool and its technical capabilities. To make your search a little easier, we've profiled the best enterprise mobility management software providers all in one place. We've also included platform and product line names and introductory software tutorials straight from the source so you can see each solution in action.
Note: Companies are listed in alphabetical order.
Platform: Amtel by NetPlus Mobility
Description: Amtel by NetPlus Mobility is a SaaS-based enterprise mobility management platform that combines mobile device management, app management, and expense management. Amtel focuses on reducing mobile expenses for clients while also improving an enterprise's return on investments for its mobile solutions. By leveraging real-time visibility into usage information and proactively taking action to eliminate overages and penalties, Amtel's solution helps users control mobile communications expenses while also securing mobile devices and endpoints.

Platform: Codeproof
Description: Codeproof Technologies Inc. is a workforce management and cybersecurity company providing solutions that enable organizations to secure, deploy, and manage corporate data on company-owned and BYOD devices. The company's flagship offering is the cloud-based Codeproof UEM platform, which emphasizes ease of use and a wide range of features. The vendor's UEM solution supports management of iOS, Android and Windows devices in a number of form factors, including smartphones, PCs, wearables, rugged devices, and IoT devices.
Platform: Filewave
Description: FileWave offers a multi-platform endpoint management solution that includes enterprise mobility management features. The vendor provides mobility management software, which enables users to secure, manage, and maintain devices, content, updates, and settings. The provider's tools are used across many industries, including enterprise, education, and government. FileWave's multi-platform tool supports all major operating systems for desktop and mobile, including macOS, Windows, iOS, Chrome OS and Android, through a single console.
Platform: Hexnode MDM
Related Products: Hexnode Secure Browser, Hexnode Unified Workspace
Description: Hexnode's unified endpoint management solution, Hexnode MDM, provides users with mobile and endpoint management capabilities designed with BYOD management in mind. Hexnode MDM is equipped with all standard unified endpoint management features, including management and provisioning tools, remote set up and configuration, application control and distribution, compliance checks, and remote lock and wipe. Additionally, Hexnode offers email, security, application, and content management for businesses.

Platform: IBM MaaS360
Related Products: CloudIdentity, IBM Trusteer Mobile SDK
Description: IBM MaaS360 is an enterprise mobility management platform that provides an artificial intelligence and cloud-based approach to mobility management. By taking advantage of IBM's Watson technology, IBM MaaS360 delivers AI-driven analytics and security insights on all devices and endpoints managed within the software. IBM MaaS360 lets admins enroll devices over the air; the product's multi-OS mobile device management platform can manage Apple, Android, and Windows devices alongside rugged devices and IoT devices.
Platform: Avalanche
Related Products: Ivanti Unified Endpoint Manager
Description: Ivanti Unified Endpoint Manager is a unified endpoint management product that formed from the vendor's enterprise mobility management (formerly offered under the Landesk name) and client management tool. The Ivanti platform provides network-connected device discovery, automated software delivery, login performance features, and IT solution integration. Ivanti UEM implements several capabilities from its Endpoint Manager, including OS provisioning, automatic alerts, and agent and agentless device support.
Platform: Desktop Central
Related Products: Mobile Device Manager Plus
Description: ManageEngine Desktop Central is a mobility management solution that takes care of enterprise mobility management, including all features of mobile application management and mobile device management. The tool also provides client management for a diversified range of endpoints — mobile devices, laptops, computers, tablets, server machines, etc. With ManageEngine Desktop Central, users can automate their regular desktop management routines like distributing software, installing patches, managing IT assets, and imaging and deploying OSes.
Platform: Microsoft Intune
Related Products: Microsoft Endpoint Manager, Azure Active Directory, Microsoft Cloud App Security
Description: Microsoft Enterprise Mobility + Security is an intelligent mobility management and security platform. The solution combines unified endpoint management with identity and access management, threat protection, information protection, and a cloud access security broker. Microsoft's enterprise tools and technologies can help IT administrators maintain security across all device types, regardless of whether the devices are corporate or personal assets, and establish security measures that protect their organizations' systems, data, and networks.
Platform: Miradore
Description: Miradore provides cloud-based solutions for managing IT and mobile devices. Miradore combines mobile device management, enterprise mobility management, and unified endpoint management features. With Miradore, IT Service Providers and IT departments can secure and control IT devices while reducing costs and creating value-added IT automation. The vendor provides organizations with a single dashboard view and remote access for a range of end user devices, including those running Windows, macOS, Android, and iOS.
Platform: Scalefusion MDM
Description: Scalefusion is a mobile device management solution that allows organizations to manage and secure mobile devices. The Scalefusion MDM platform offers multi-OS management capabilities and comes integrated with EVA Communication Suite, the company's unified communication and call management tool. Scalefusion supports Android, iOS, Windows 10, and Mac OS endpoints, including smartphones, tablets, laptops, rugged devices, mPOS, and digital signages. Based in India, Scalefusion was founded by Karishankar Kannan in 2014.
Platform: Sophos Mobile
Related Products: Sophos Central, Sophos Wireless
Description: Sophos Mobile is a unified endpoint management solution that helps administrators secure both traditional and mobile endpoints. The tool integrates natively with next-generation endpoint security programs and supports management of Windows 10, macOS, iOS, and Android devices. Companies can deploy Sophos Mobile on-premise or manage the solution through Sophos Central. Sophos' self-service portal also allows users to enroll their device, reset passwords, and receive support which enables an independent BYOD policy.
SOTI
Platform: SOTI MobiControl
Related Products: SOTI ONE Platform, SOTI Connect
Description: SOTI MobiControl is an enterprise mobility management solution that delivers enhanced features like application management, content management, location services, and remote help. SOTI MobiControl's advanced security features enable your business to maintain full control over who is using your mobile devices and how they are using them. SOTI unifies mobility and endpoint management from a single console, removing the complexity from managing a multi-operating system, multi-vendor, and multi-purpose mobile ecosystem.

Platform: Workspace ONE
Related Products: Workspace ONE Mobile Flows
Description: VMware AirWatch Workspace ONE is a mobility management tool that providers end-users and administrators with a digital workspace. Workspace ONE gives mobility professionals the flexibility to manage multiple use cases, including unified endpoint management, end-to-end security from devices to data center, and integration across enterprise systems. The administrator console delivers visibility into all enrolled corporate-owned, employee-owned, and shared devices, regardless of platform, device type, or operating system.
---
---