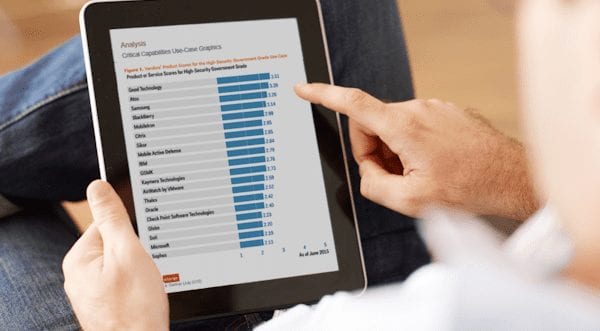 Gartner is one of the biggest resources in enterprise technology and is constantly consulted when it comes to choosing a solution and enterprise mobility isn't an exception. While the Gartner Magic Quadrant for EMM is a great way to find out who the top enterprise mobility contenders are, it doesn't give a very in-depth analysis behind what each solution offers and if it performs well across all industries.
There are a few other Gartner resources out there that act as companions to the Magic Quadrant, one of them being the Critical Capabilities for High-Security Mobility Management. The Gartner Critical Capabilities reports are relatively new, but they offer a more specific and in depth look at where these solutions excel and where some fall out of contention.
While the Magic quadrant is great for identifying which vendor is on top, what the Critical Capabilities Report does is give you a more definitive list as to who's on top consistently and why they are there. As stated in our recently featured article:
Each solution is analyzed and evaluated across six use cases based upon twelve points of criteria. These use cases are high-security government grade, high security commercial, shared data, shared devices, nonemployee and BYO (Bring Your Own). The points of criteria are, Certifications and awards, secure life cycle management, hardened platform, app security, data security, authentication and access protocols, attack prevention and mitigation, hardened VPN, multiuser devices and kiosk mode, geo/time tracking and fencing, forensics, and scalability and portability.Full descriptions of these instances are available at the bottom of the Critical Capabilities Report.
Not only does the Critical Capabilities Report include comparison graphs for each use case, it also has more in depth descriptions of each solution based on each point of comparison.
When considering investing in an EMM solution, it's hard to wade through all of different flashy websites and get to the real information that you're looking for. By checking the Magic Quadrant, then comparing the solutions that stood out against the components you're looking for in the Critical Capabilities Report. This will easily eliminate solutions that will not work with your company for reasons that might not be clear if you were to just check their website or go into a sales call blind.
If you're looking for a straight forward, side-by-side look at what each solution provides in addition to the details and analysis offered by these two Gartner reports, check out the new Solutions Review Enterprise Mobility Buyer's Guide to get a little more background information and a straight forward answer as to what each of these top solutions provides.
These three documents can cut a lot of time and effort out of the decision making process by skipping the tedious internet searches of solutions that will never meet the criteria you are looking for. Starting with the Magic Quadrant and making a list with the top ranked solutions in mind, then deciding what's important to you and consulting the Critical Capabilities Report to make sure the solutions you are looking for have the capability to provide what you need them to do. Once you've made your shortlist, the Solutions Review Buyer's Guide will lay out what components of EMM, like MDM, MAM and MCM, each solution provides, what key features they offer and a bottom line description.
These three documents work together to make the selection process for an enterprise mobility solution a little easier. There are plenty of solutions out there, but only a few will really provide you with the product you're looking for.