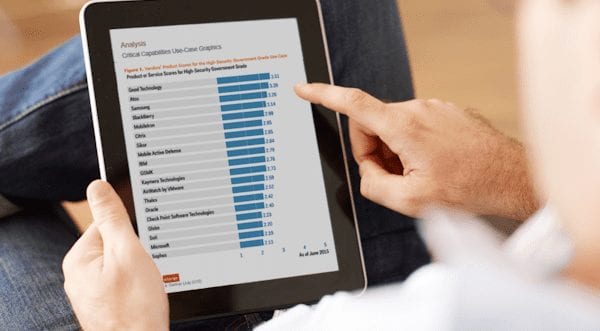 In their latest comparison of the enterprise mobility market, Gartner has organized the top vendors into categories based on the security they offer for six different use cases. This Critical Capabilities for High-Security Mobility Management is the first edition of this report for mobile and shows you how each solution stacks up on different levels that the traditional Gartner Magic Quadrant does not.
These use cases are high-security government grade, high security commercial, shared data, shared devices, nonemployee and BYO (Bring Your Own). Full descriptions of each of these instances are available at the bottom of the report.  Each solution is evaluated in each use case based on twelve points of criteria.
These points are: Certifications and awards, secure life cycle management, hardened platform, app security, data security, authentication and access protocols, attack prevention and mitigation, hardened VPN, multiuser devices and kiosk mode, geo/time tracking and fencing, forensics, and scalability and portability. Descriptions of these components of the critical capabilities definition are available at the end of the report.
Compare the top enterprise mobility solutions in a more in-depth way with Gartner's latest generation of analysis reports: Critical Capabilities for High Security Mobility Management. Find out exactly where each solution lies across six specific use cases and twelve easy to compare categories.  
Solutions Review has gone through each use case and identified the top five solutions in random order, who consistently performed well across all categories. These solutions stood out from the pack across all six categories and prove to be the true winners. When considering an enterprise mobility management solution, it's important to choose a solution that performs well across all uses, even if some of them might not be relevant to you. A solid overall solution will do much better than one that performs well in only your category.
Here are the Top Five solutions across all six Gartner use cases:
Citrix XenMobile Enterprise appears in the top four of six of the categories and scores particularly high in the shared data and BYO use cases. They excel in secure life cycle management, app security, data security, hardened VPN and geo/time tracking and fencing. XenMobile delivers mobile device management (MDM), mobile application management (MAM) and enterprise-grade productivity apps in one comprehensive solution. XenMobile enhances the user experience on BYO or corporate devices without compromising security.
Good Technology Good Work came out on top in every use case making it the strongest over all in the specific capabilities Gartner was looking for. Good Work makes your mobile workforce more productive, while keeping your company's data secure, no matter who owns the device. Good Work provides everything you need to securely mobilize your work, including email, calendar, contacts and advanced document collaboration. But what will happen to the EMM powerhouse once BlackBerry takes over?
BlackBerry BES 12 scored in the top five of each use case except BYO where it was number eight. This may have to do with Gartner evaluating not only BES 12 but also BlackBerry 10 + handset. They have just acquired Good Technology, but fall behind Good in every category; however they remain a top contender performing particularly well in data and app security, secure life cycle management, and multiuser device and kiosk mode. BES 12 lets you securely and efficiently manage enterprise mobility across iOS, Android (including Android for Work and Samsung KNOX), Windows Phone and BlackBerry devices. It allows you to strike the right balance between offering your employees choice of device, and keeping your organization's confidential data secure.
Samsung KNOX scores in the top five of four out of the six use cases. They score seventh in the nonemployee category and eighth in the shared data category. They were reviewed well in the hardened platform, forensics and data security categories. KNOX is a partner with many of the biggest MDM solutions which can potentially make up for any weaknesses in the stand- alone product. KNOX is a fast and simple way to secure your mobile device without the hassle of involving IT. Use the familiar Android experience to secure your work email and other important data and apps, while also protecting your personal data.
MobileIron Platinum is a bundle of EMM services that create a complete EMM solution. MobileIron scored top five in five out of the six use cases and was evaluated as sixth in the nonemployee use case. MobileIron scored well in secure life cycle management, data security, and scalability and portability.The EMM Platinum bundle is for organizations ready to go Mobile First all the way. Specifically designed for customers on the cutting edge, this bundle includes the latest innovations from MobileIron, enabling IT to efficiently adopt Mobile at scale.