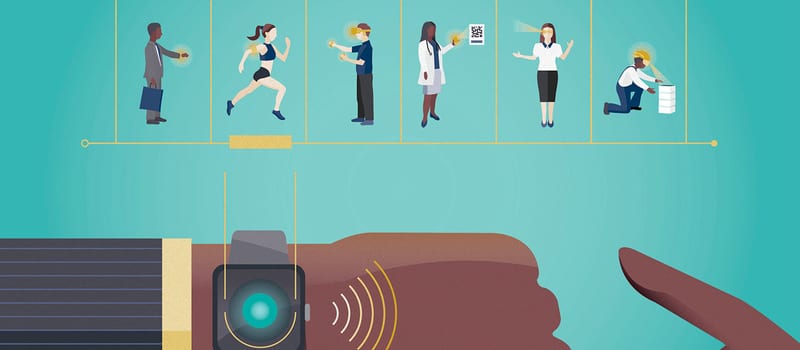 Last month we wrote about the possibilities of wearables breaking into the enterprise, well news from Samsung SDS may be a sign of things to come. We referenced an IDC report which stated that smartwatches will be used in enterprise pilot programs looking to replace smartphones next year to communicate timely data. This news obviously peak our interest. While the introduction of these mobile devices creates convenience in the enterprise they will also increase security risk and concern.
In what looks like an attempt to stay ahead of this growing market the IT service affiliate of Samsung Group launched the Tizen operating system (OS)-based security solution, wearable Enterprise Mobility Management (EMM), at this year's Consumer Electronics Show (CES) in Las Vegas, seeking to expand its presence in the wearable security industry. ZDNet reported that "The app is directly installed on smartwatches and is optimized for workers who need hands free while constantly on-the-go, as well as continuous coordination between co-workers." With a clear focus on the field worker industry Samsung SDS actually said that the wearable EMM would be best suited for stewardess, airport employees, and managers at theme parks etc.
Just because the device has a different look and feel that does not mean that wearable EMM will lose any of the traditional Mobile Device Management functions that are so critical to securing sensitive corporate data. Companies can remotely manage the devices controlling apps and programs that may contain confidential corporate data. The device can be remotely locked in case it is lost or stolen as well as offering minimal battery draining capabilities by allowing managers to control functions such as Near-Field Communication and GPS.
"Unlike existing EMM products designed for smartphones, our new security solution can be directly applied to wearable devices," Samsung SDS said in a statement. So this obviously begs the question, will the more traditional MDM/EMM providers follow suite and how quickly? With IDC claiming that there will be a surge of wearables into the enterprise it is safe to say that a handful certainly with be addressing these new security issues.
For your more traditional MDM/EMM solution options check out our all new 2017 Mobile Device Management Buyers Guide