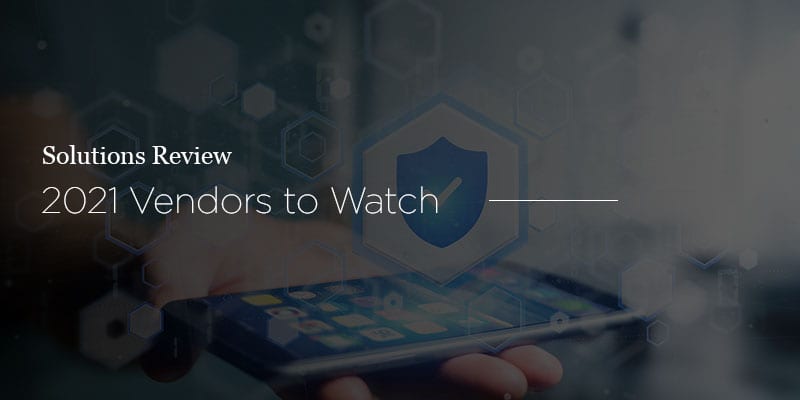 Solutions Review's Mobility Management Vendors to Watch is an annual listing of solution providers we believe are worth monitoring. Companies are commonly included if they demonstrate a product roadmap aligning with our meta-analysis of the marketplace. Other criteria include recent and significant funding, talent acquisition, a disruptive or innovative new technology or product, or inclusion in a major analyst publication.
Mobility management tools continuously observe all enterprise mobile devices and allow an administrator to deliver security mandates from a single management console. These products not only ensure that all mobile devices are functioning properly, but also that they protect your organization from mobile-related security incidents. What makes mobility management even more important is the value it holds for the future of your enterprise. Computers are only becoming smaller; laptops and IoT devices are considered mobile devices to most of the top vendors, not just smartphones. Sooner than you realize, all kinds of endpoints will be a necessity as the lifestyle of the workplace continues to change. Ignore this and you may have a collection of inefficient employees.
These mobility management Vendors to Watch have met at least two of our five points of inclusion and represent to some degree the evolution of the marketplace. It's in that spirit we turn our attention to the immediate future. Vendors are listed in alphabetical order; names and logos are linked so you can learn more.
42Gears is a unified endpoint management provider, offering the SureMDM solution to secure, monitor, and manage all business endpoints, including mobile devices. SureMDM offers device and app provisioning, OS configuration, remote wipe, and remote viewing. The tool provides app management, file synchronization and sharing, data security tools, and facilitates remote troubleshooting of technical issues. SureMDM also provides app management capabilities that help IT manage apps on enrolled devices.
---
BlackBerry UEM is a unified endpoint management tool that combines endpoint management and policy control for enterprise device and application fleets. The solution provides an integrated view of the users, devices, apps, and policies in a company's infrastructure across all ownership models and types of users, as well as management for native container solutions. BlackBerry UEM's onboarding capabilities include zero-input activation using QR codes, support for Active Directory-linked groups, and Apple and Samsung Knox enrollment programs.
---
Codeproof Technologies Inc. is a workforce management and cybersecurity company providing solutions that enable organizations to secure, deploy, and manage corporate data on company-owned and BYOD devices. The company's flagship offering is the cloud-based Codeproof UEM platform, which emphasizes ease of use and a wide range of features. The vendor's UEM solution supports management of iOS, Android and Windows devices in a number of form factors, including smartphones, PCs, wearables, rugged devices, and IoT devices.
---
Hexnode's unified endpoint management solution, Hexnode MDM, provides users with mobile and endpoint management capabilities designed with BYOD management in mind. Hexnode MDM is equipped with all standard unified endpoint management features, including management and provisioning tools, remote set up and configuration, application control and distribution, compliance checks, and remote lock and wipe. Additionally, Hexnode offers email, security, application, and content management for businesses.
---
MobileIron UEM is a unified endpoint management solution that places mobile security as its key focus. The platform is built on MobileIron's mobile-centric, zero-trust enterprise security framework, which emphasizes authentication and perimeter-less mobile security. This allows administrators to take advantage of security and access management features like zero sign-on, multi-factor authentication, and mobile threat detection. In addition to UEM, MobileIron also offers BYOD security, mobile data protection, and cloud access security solutions.
---
TinyMDM is an Android EMM solution that focuses on app management, security compliance, and content management, among other capabilities. The vendor delivers a number of critical mobile management and security features, including silent application install/uninstall, update and permissions management, password reinforcement, remote wiping, and business data containerization. TinyMDM is an official Android EMM Partner, Android Enterprise Zero-touch Enrollment Partner, Samsung Knox Mobile Enrollment Partner.
---
Looking for more info on the benefits of mobility management for your company's mobile devices? You should check out our free 2020 Mobility Management Buyer's Guide. We profile the top vendors in the mobility management field, their key capabilities, and our Bottom Line for each.
Check us out on Twitter for the latest in Enterprise Mobility news and developments!
Latest posts by Daniel Hein
(see all)