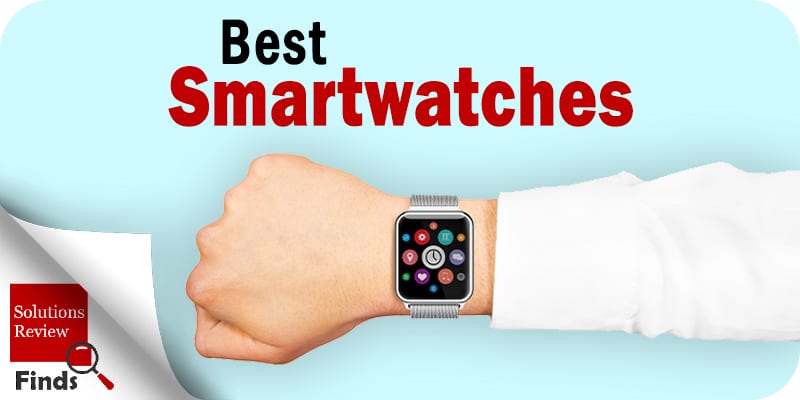 For each Solutions Review Finds post, our site editors shop for the best products, sift through the reviews, measure the top sellers and report back with our picks.
Here are the Best Smartwatches for 2021.
Wearable technology has come a long way since the early days of calculator watches and shoes that helped you cheat at Las Vegas card games. The modern world is obsessed with technology on the go, and both software and hardware manufacturers have stepped up to provide their own products. Wristwatches with computing technology were a natural evolution as the market shifted towards smaller mobile devices, as watches provide constant and easy access to the wearer. Smartwatches combine the advantages of smartphones that can handle numerous tasks and watches that exist on the wearer's arm at all times.
There are several smartwatches on the market, including devices geared for both general and specialized use. With so many options available, it can be difficult to determine which smartwatch is right for your needs. To that end, we've listed eight of the top smartwatches currently available, including their key features, strengths and weaknesses, and improvements over previous models. We've also included links to each smartwatch so you can further compare devices.
Apple Watch Series 6
SUMMARY: The Apple Watch Series 6 introduces an all-new Blood Oxygen feature that offers users even more insight into their overall wellness. According to Apple, the new Series 6, "delivers many notable hardware improvements, including a faster S6 System in Package (SiP) and next-generation always-on altimeter, along with its most colorful lineup yet, featuring a beautiful palette of new case finishes and bands. watchOS 7 brings Family Setup, sleep tracking, automatic handwashing detection, new workout types, and the ability to curate and share watch faces, encouraging customers to be more active, stay connected, and better manage their health in new ways."
PROS
All-new blood oxygen monitoring.
The most style options; finishes, bands.
New watch face options.
CONS
Still mostly similar to Series 5.
Options can add major costs.
Isn't compatible with older iPhones.
OUR TAKE: Like all Apple products, not every new generation is groundbreaking. But the quality of the Apple Watch Series 6 is impeccable and the integration with an iPhone is flawless. Unless you are desperate to continuously monitor your blood oxygen levels, there are enough similarities with the previous Series 5 to make an upgrade debatable. If cost is a concern, first-time buyers may want to check out the Apple SE watch at $279. However, as an aspirational wearable, Series 6 brings the bling with new clock faces, lots of style options, and enough big fashion to make a statement. And your wrist will approve this message.
SAMSUNG Galaxy Watch3
OVERVIEW: The new Galaxy Watch3 sports a timeless round face design with premium materials like stainless steel and leather — and now also available in a titanium model. The Galaxy Watch3 also features the popular rotating bezel from previous watch models, which can easily toggle between widgets, open apps, and scroll-through notifications. This new version is 14% thinner, 8% smaller, and 15% lighter than the previous model. According to Samsung, "The Galaxy Watch3 offers new experiences in health and wellness monitoring. The Blood oxygen (SpO2) feature will soon measure and track oxygen saturation over time, for fitness and wellness purposes2. Galaxy Watch3 will also be home to the new Samsung Health Monitor app once launched, which will include blood pressure (BP) monitoring and electrocardiogram (ECG) readings in markets where these apps have been authorized."
PROS
Return of rotating bezel input selector.
Excellent workout sensors and features.
Strongest speaker for calls.
CONS
8GB of storage seems light at this price.
Minimal hardware and software upgrades.
Inconsistent Bixby voice-assist.
OUR TAKE: In the war for the wrist, Samsung has opted for classic fashion with the design of the Galaxy Watch3. This round-faced beauty sits at the top of the Android heap in terms of features and application integration. The return of the rotating bezel gives this watch a unique tactile interface reminiscent of an old iPod. The fitness sensors are as complete and accurate as any smartwatch on the market and the post-workout reporting is comprehensive. If you can stand wearing a watch 24/7, it will even monitor and report on your sleep habits. However, if fitness tracking is your main goal, then you may want to consider the less expensive SAMSUNG Galaxy Watch Active 2 at $199.
Fitbit Sense Advanced Smartwatch
OVERVIEW: Fitbit has been relentlessly advancing its wearable technology from activity tracking to a full-featured smartwatch for several years. The new Fitbit Sense Advanced Smartwatch is its most sophisticated effort to date. Much of that evolution is due to the availability of its OS 5.1 software update, which according to Fitbit, "expands on its existing health capabilities and brings new convenience features to Fitbit Sense™ and Fitbit Versa 3™. This update provides more ways to track SpO2 (blood oxygen saturation) so users can better manage their wellbeing and delivers enhanced on-device voice-enabled capabilities with the availability of Google Assistant in the U.S., Bluetooth calling, and audible replies for Alexa users."
PROS
New Fitbit OS on this device (and Versa 3).
Built-in GPS on Device (no need for phone).
On wrist audio calls for all smartphones via Bluetooth.
CONS
Heart rate and sleep sensors not always accurate.
Latest Health Metrics App Available on older Fitbits.
Not all features of Google Assistant integrated.
OUR TAKE: With its sleek, polished profile, the Fitbit Sense Advanced Smartwatch projects an athletic image on your wrist. True to its roots, Fitbit focuses primarily on fitness tracking and reporting with a solid, featureful mobile application. The company also offers advanced personalized health and fitness guidance through premium subscription apps at between $50 and $100 per year. With the Google acquisition of Fitbit now complete, Fitbit smartwatch owners should reap the benefits of greater Google Assistant integration with each new update. If cost is a factor in choosing a Fitbit smartwatch, you may want to consider the less expensive Fitbit Versa 3 Health and Fitness Smartwatch and still get all of the benefits of the new OS and Google Assistant.
Willful Smart Watch
OVERVIEW: Leave it to Amazon to offer a full-featured smartwatch for under $50. With 50,000 user reviews and a 4.3 out 5 star rating, it is hard to argue not including the Willful Smart Watch on our list of the best wearable devices to consider. Compatible with most iOS 8.0 and Android 4.4 above smartphones. The Willful includes the free "VeryFitPro" app that enables incoming mobile calls and texts, along with calendar alerts. It provides a wide range of fitness tracking along with 24/7 heart rate monitoring and sleep tracking. It also boasts of an IP68 waterproof rating and offers a significantly long battery life.
PROS
Price: you can find this below $50 on Amazon.
Battery life is mentioned often in reviews.
Compatible with standard watch bands.
CONS
Accuracy of sensors is questionable.
Application offers basic activity tracking.
VeryFitPro app has mediocre ratings on Play Store.
OUR TAKE: As an overwhelming favorite on Amazon, the Willful Smart Watch is worth a glance. Serious smartwatch enthusiasts will look elsewhere, but this low-cost entry into fitness tracking might be the gateway drug to a full blow wearable addiction. Though we believe that mission can be accomplished more reliably with the purchase of a Fitbit Inspire 2 Health and Fitness Tracker for under $70. Still, it is hard not to be impressed by the massive amount of positive reviews for the Willful Smart Watch. If you do pull the trigger, be prepared to buy a replacement band straight away as the included one is not built for the rigors of an active lifestyle.
Garmin Venu GPS Smartwatch
OVERVIEW: Given that Garmin has specialized in GPS technology since its inception, it's unsurprising that the company would offer the

Garmin Venu GPS Smartwatch

as an active lifestyle smartwatch with an emphasis on GPS integration. Garmin advertises up to six hours of battery life in GPS mode with music, ensuring active wearers won't have to worry about their device dying no matter how long their workout is. The watch also features numerous fitness profiles centered around different exercises, including running, cycling, yoga & pilates, strength training, and swimming. Some supported exercises also feature guided workouts with animations to help train users on proper form. The Venu also allows for downloaded music stored on-device from streaming services like Spotify, Deezer, and Amazon Music.
PROS
Long battery life even with GPS on.
Fitness apps a big help for workouts.
Screen has good readability in direct sunlight.
CONS
Heart rate sensor not always accurate.
Software often slow to respond.
Pairing with phones not always reliable.
OUR TAKE: 

The

Garmin Venu GPS Smartwatch

should be a consideration for anyone looking for a serious fitness smartwatch that will last a long time with GPS tracking enabled. While it is not the cheapest active lifestyle watch on the market — the Garmin vívoactive 3 offers similar functionality for $100 less when comparing list prices — the Venu's GPS capabilities and robust fitness applications make it a worthwhile consideration. Those who favor outdoor exercises will especially benefit from the long-lasting battery in GPS mode and bright screen that stays visible in sunlight. We recommend pairing this smartwatch with a decent heart rate monitor, as the Venu's monitoring does not always produce accurate results.
Fossil Gen 5 Smartwatch
OVERVIEW: Fossil made a major smartwatch splash in 2019 with the release of the Fossil Gen 5 Smartwatch. Given their timepiece pedigree, the fashion watchmaker delivered a beautiful form factor with a retro-inspired round shape and packed it with the best tech at the time: a Snapdragon Wear 3100 processor powering Wear OS by Google, untethered GPS, WiFi, optical heart rate sensors, a barometric altimeter, an accelerometer, gyroscope, and more. A recent update has delivered new features, including an optimized activity tracker, sleep tracking, V02 max estimates (to measure cardio fitness), and cardio fitness tracking. Plus, improvements in the Wellness app reduce the battery power needed during workouts.
PROS
Rotating crown navigates Wear OS smartly.
Fossil knows style and it shows.
Solid microphone and speaker.
CONS
Battery life is limited when all features are running.
Snapdragon 3100 processor is a bit dated.
Watch bezel is a dust and crumb collector.
OUR TAKE: Unlike other companies in this segment, Fossil is a watchmaker first, so the Fossil Gen 5 Smartwatch is easily one of the most stylish available. If you are looking for something that does not scream "SMARTWATCH!" then you should take a close look here. Furthering the elegance of this pick is the rotating crown navigation which perfectly matches the Wear OS feature set. Battery life can be managed simply through onboard settings; however, limited battery life with full features makes power management a necessity. Released in 2019, the Gen 5 has been around for two years and there are rumors of a new Gen 6 coming soon with the latest Snapdragon Wear 4100+ processor found in the Ticwatch Pro 3. Good news: if you can't wait for a newer version, the price of the Gen 5 has never been better.
Ticwatch Pro 3 GPS Smart Watch
OVERVIEW: Launched in 2020 and billed by Ticwatch as "the first Wear OS by Google smartwatch to use the Qualcomm Snapdragon Wear 4100 Platform," the

Ticwatch Pro 3 GPS Smart Watch

boasts smoother and more precise performance compared to other Android-supportive smartwatches. Built into a stainless steel bezel, the watch contains auto-adjustable brightness and a fingerprint-resistant screen. Using the power of the Snapdragon Wear 4100 Platform, this device is comparatively faster while consuming less battery life than previous Ticwatch watches. Fitness options include 24-hour heart rate monitoring, multiple sports modes, and newly-added sleep tracking and stress monitoring features.
PROS
Essential Mode extends battery life to up to 45 days.
Over 1,000 downloadable watch faces.
Strap is comfortable and easy to clean.
CONS
Health apps put serious strain on battery.
Charger is slightly finicky to attach.
Wear OS's software may turn people away.
OUR TAKE: 

Consumers who are looking for a smartwatch that only requires the bare minimum features and won't be using health and fitness applications often will get plenty of mileage out of the

Ticwatch Pro 3 GPS Smart Watch

with its touted 45-day battery life via Essential Mode. With a sleek, comfortable strap, a lightweight build, and a plethora of watch faces to download via Google Play, the Pro 3's form factor and customization options are outstanding. Those who care about fitness capabilities should look elsewhere, however; the

Garmin Venu GPS Smartwatch

 

delivers more advanced health monitoring and statistics for a similar price.
Amazfit GTS 2 Mini Fitness Smart Watch
OVERVIEW: The Amazfit GTS 2 Mini Fitness Smartwatch offers a vibrant 1.55-inch AMOLED screen and 50+ watch faces to choose from, with most also having a matching Always-on Display. It can monitor your sleep patterns and heart rate, measure SpO2 and stress levels, and even deliver a PAI (Personal Activity Intelligence) health score by processing data about your heart rate and other captured health information. With Amazon Alexa built-in, you can ask it questions, get translations, set alarms or timers, create shopping lists, check the weather and even control your smart home devices.
PROS
Battery life is exceptional.
Smaller design a plus for fitness activity.
The AMOLED screen is clear and detailed.
CONS
Users complain about unstable Bluetooth connection.
GPS and heart rate monitor not always accurate.
Lots of setting tweaks to optimize battery.
OUR TAKE: For under $100, the Amazfit GTS 2 Mini Fitness Smartwatch delivers a powerful combination of features and quality hardware. The curved square design and borderless glass cover stylishly frame the brilliant AMOLED screen. It packs loads of functions into its diminutive dimensions but suffers from a generic operating system that is no match for the biggest name brands. Like the Willful Smart Watch also present on this list, the Amazfit deserves consideration as an entry-level smartwatch. Be sure to check for operating system updates and tweak a few battery-draining settings and this little smartwatch will deliver value throughout an active day.
---
Solutions Review participates in affiliate programs. We may make a small commission from products purchased through this resource.
Latest posts by Daniel Hein
(see all)